LA Companies Shine at Auto Show
AUTOS: EV makers, service companies roll out products and court investors
Friday, November 22, 2019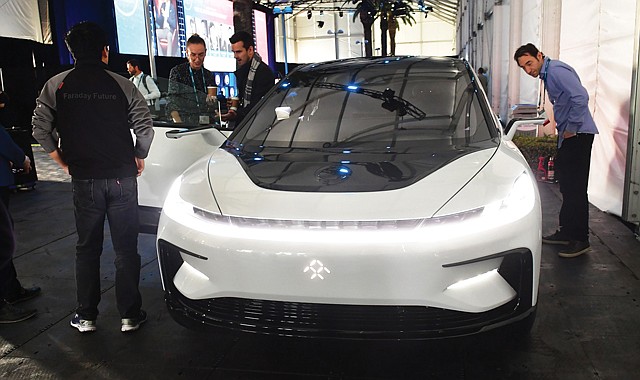 While brands from Detroit, Japan, South Korea and Germany are still cornerstones for the Los Angeles Auto Show, a host of L.A.-based companies also features prominently at this year's event.
Local electric vehicle makers, service-oriented auto firms and even tech companies showed up to court investors and attract customers at the event, which started with press previews on Nov. 19 and is open to the public through Dec. 1.
The city's burgeoning EV industry was well represented, including a turn from Torrance-based Canoo Inc. Although the company didn't take a booth on the exhibition floor, Chief Executive Ulrich Kranz participated in a question-and-answer session and showed off the company's new battery-electric vehicle, dubbed the Canoo.
Commercial electric truck manufacturers Chanje Energy Inc., based in Hawthorne, and Xos Trucking Inc., headquartered in North Hollywood, also put in appearances.
Several locally based service-oriented auto firms were in attendance, including El Segundo-based RepairSmith Inc., which brings on-demand auto repair to homes and offices.
Faraday's future plans
Gardena-based Faraday & Future Inc. took center stage on opening day. Newly appointed Chief Executive Carsten Breitfeld addressed concerns about the company's viability while showing off a working prototype of the company's flagship electric sedan, the FF 91.
"The challenge and our job is to convince investors right now that it makes sense to invest this money," Breitfeld said. "If people get belief in that, there's a real potential, an IPO would be the next step,"
Faraday has yet to put a car on the market, and its delay in delivering has spooked investors, Breitfeld admitted.
"There was one step missing at Faraday, which is (to) make something out of it, put it together and launch a product, bring it to the customer, sell it and make the business work in steps," said Breitfeld, a former BMW executive. "This is where I can bring in my value — this is my track record over the last 25 years to make things happen."
Faraday is seeking investment from technology startups and original equipment manufacturers that have money to burn and are more willing to take risks than venture funders.
"Private equity and venture capital is still difficult because they are becoming more and more cautious right now," Breitfeld said. "But we have the technology so (original equipment manufacturers) and tech companies might be interested."
Breitfeld said Faraday is "talking to some well-known tech companies" and added that "the first priority might not be investment but using the technology in their own products, and then as a logical consequence, to invest."
The company's Hanford plant, Breitfeld said, is about "35%-40% finished."
The FF 91 car showcased at the Auto Show will retail for around $200,000. Faraday hopes its more affordable FF 81 model will compete with Tesla Inc.
The automaker hasn't determined the vehicle's price.
"The FF 81 will play in the league of a Tesla Model S and has the potential to go beyond 100,000 units a year worldwide," Breitfeld said, adding that the company is working to "push to a preproduction stage next year."
Locals only
Faraday wasn't the only local electric vehicle manufacturer to attend this year.
Though the show floor was dominated by new models from legacy automakers like BMW, Audi, Cadillac, and GMC, local companies were well represented.
Smacircle Inc., a subsidiary of China-based Smacircle Technology had a small booth showcasing its new foldable electric bikes. Backed by Carson-headquartered toy giant Wham-O Inc., Smacircle manufactures in Shenzhen, China.
Notably absent this year was Torrance-based electric vehicle maker Fisker Inc. A spokesman said the company decided to forgo the Auto Show in favor of prioritizing an announcement at the 2020 Consumer Electronics Show, held January 7-10 in Las Vegas.
Fisker announced its new SUV, the Fisker Ocean, on Nov. 1 and will begin accepting orders Nov. 27.
Keep on truckin'
Nonconsumer EV companies also attended the Auto Show with commercial vehicles in tow.
Chanje Energy showed off a battery
electric-powered cargo van, and so did competitor Xos Trucking (formerly known as Thor Trucks).
Chanje was one of 10 finalists in the show's annual startup competition, which awards a growth grant of $150,000 to the winner.
Xos' primary offering is its ET-One truck, which is capable of hauling 80,000 pounds with a range of 300 miles per charge. It also developed a medium-duty electric delivery truck with a 200-mile-per-charge range, said co-founder Giordano Sordoni.
Xos provided United Parcel Service Inc. with two test trucks in late July 2018 as part of a pilot program and is now under contract to develop and test a fully electric Class 6 delivery vehicle for UPS. UPS is evaluating which companies to buy from as it moves to transfer a quarter of its fleet to low-emission vehicles by 2020.
Xos also works with cash-transfer firm Loomis Armored US to provide electric armored trucks.
Xos wouldn't disclose how much funding it has raised to date.
"Last year we had a very successful year at Automobility LA. ... We were part of the startup pitch competition, and we won best startup that year, so this year is our victory lap and we have a new truck here," said Sordoni.
For reprint and licensing requests for this article, CLICK HERE.