FlyawayHomes Creates Housing for Homeless
Group uses HHH funds to build out modular units
Friday, November 22, 2019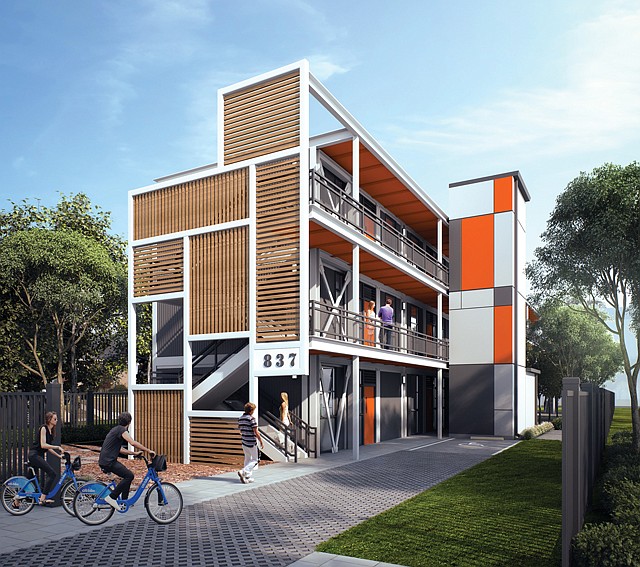 In an effort to mitigate L.A.'s substantial homelessness issue, nonprofits and developers are working to build more permanent supportive housing to get people off the streets.
One such group is Arlington Heights-based FlyawayHomes, which was founded three years ago and has a handful of projects underway around the county.
FlyawayHomes' first development was at 820 W. Colden Ave. in South L.A. The project, the Steaven K. Jones Community Center, is now home to 33 formerly homeless individuals.
Its second project is on 82nd Street, also in South L.A. The foundation for the site has been poured, and the project will be completed in the next few months.
FlyawayHomes is in escrow on one additional site and is looking at a handful of others.
"The only way we are going to be able to solve the homeless situation in Los Angeles is to get more housing on the ground faster and cheaper," said Michael Parks, chief executive of FlyawayHomes.
The group is trying to get 20,000 people into permanent supportive housing by 2028. In the next 28-30 months, FlyawayHomes is expecting to complete 200 units to house 400 people.
FlyawayHomes is a partnership between The People Concern, Steaven Jones Development Company Inc. and Bella Vista Property Management Inc.
According to the Los Angeles Homeless Services Authority, there are nearly 60,000 people without permanent housing in the county.
"We started Flyaway to put together a model for building homeless housing faster and cheaper by using modular housing," Parks said. "We are trying to put together a model which is scalable to the point where it can really make a difference in providing more housing faster and cheaper to get people off the streets."
Modular housing units are fabricated in an offsite factory and are usually put into place on the land by a crane. It's not a new concept, but it's one that seems to be growing in popularity.
Noyan Uras, chief development officer of FlyawayHomes, said there are many benefits to the modular model.
Once permitting is complete, the group can start grading the site and pouring the foundation while prefab units are being built. Installation only takes two weeks.
"That concurrent process helps our schedule tremendously," Uras said. "With modular builds, we get more consistency and higher-quality product."
FlyawayHomes isn't the only group using modular housing to address L.A.'s housing shortage.
Playa Vista-based KTGY Architecture and Planning is using factory-made shipping containers for affordable housing, such as an 84-unit transitional housing project in Westlake called Hope on Alvarado.
Funding from Proposition HHH has been a big boost for FlyawayHomes. The city has awarded the group $19.5 million in HHH funds, which come from a bond measure paid for by property taxes.
"The HHH funding will enable these projects to move forward more quickly," Parks said. "The HHH funding has been important for a lot of developers and important for us. We are looking to bring more units in at a lower cost than others with HHH funding."
For reprint and licensing requests for this article, CLICK HERE.