Cadiz Joint Venture Harvests Test Hemp
AGRICULTURE: SoCal Hemp Co. anticipates first commercial crop next year
Friday, November 22, 2019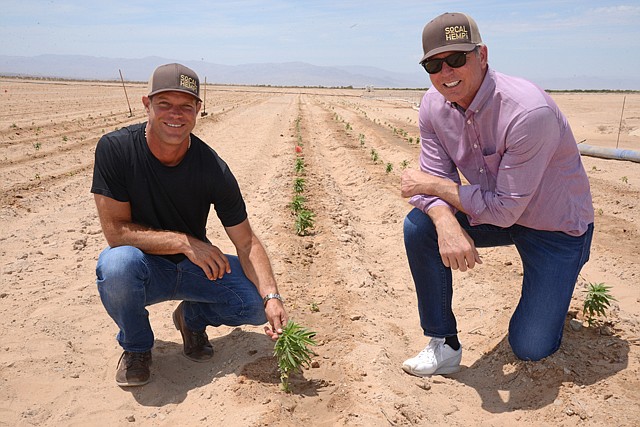 A new joint venture between downtown-based water developer Cadiz Inc. and Long Beach-headquartered cannabis company Glass House Group has harvested its first test hemp crop atop Cadiz' aquifer in the Mojave Desert and plans to grow industrial hemp commercially starting in the first quarter of 2020.
The joint venture, known as SoCal Hemp Co., announced Oct. 31 that it had completed its first harvest of a trial hemp crop that was set aside for research. Several varieties of hemp were planted in July to see which would perform best in the harsh desert climate.
During those three months, the area sustained temperatures above 100 degrees Fahrenheit and experienced monsoonal rains, hailstorms and high-wind episodes.
Cadiz Chief Executive Scott Slater said the successful test crop served as a "proof of concept" that the company's desert land could sustain hemp crops.
"We sought to test whether we could farm a sun-grown, organic hemp product at Cadiz, and we now are confident that hemp can be successfully cultivated in this desert environment."
According to Cadiz spokeswoman Courtney Degener, that test crop is now being studied in the lab to obtain data on how each hemp variety performed, and how easy it is to dry the hemp and extract the cannabidiol to prepare both for market.
Degener added that a second test crop is now in the ground and is set for harvest in January or February.
By the end of the first quarter, Degener said, the first commercial hemp crop is set to be planted on up to 1,280 acres of Cadiz land, with harvest coming in late spring or early summer.
Within five years, the joint venture's total acreage under hemp harvest could grow to 9,600 acres and employ up to 1,000 people on site.
Cadiz owns 45,000 acres of land in a valley north of Joshua Tree National Park; the company has been trying for a quarter-century to get plans approved to pump water from the aquifer and transfer it via pipeline and aqueduct to several water agencies in Southern California.
Earlier this year, Cadiz came close to starting construction of its well system to extract the water, but that was halted when the state Legislature passed a bill requiring further state environmental review of the project.
As Cadiz waits for final approvals on its water project, it now has an opportunity to make money as early as next year with industrial hemp and cannabidiol sales, thanks to recent federal legislation that legalized hemp, which is culled from marijuana plants.
In August, Cadiz formed the joint venture with Glass House Group, a vertically integrated marijuana and hemp producer that has 500,000 square feet of warehouse space near Lompoc for cannabis cultivation and several retail cannabis operations in Southern California.
Proceeds from hemp sales to clothing manufacturers and cannabidiol retailers would be split evenly between the two companies.
"Hemp and its many products can support a more sustainable climate and environment, and offer tremendous, undiscovered benefits for humans, plants and animals," Graham Farrar, president of Glass House Group and chief executive of SoCal Hemp, said in the announcement.
For reprint and licensing requests for this article, CLICK HERE.