El Segundo Building Sells for $97 Million
Wednesday, November 20, 2019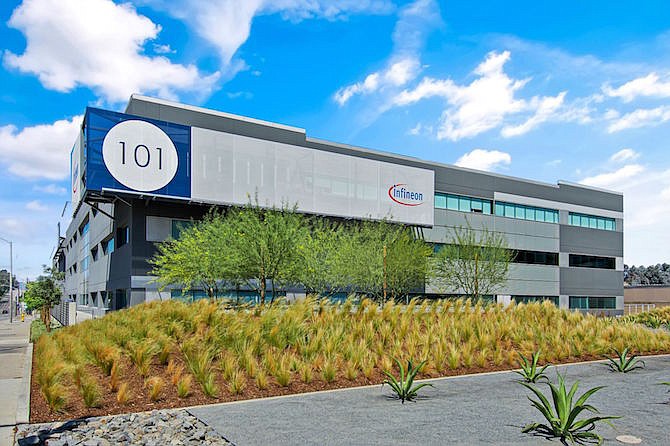 The El Segundo office market shows no signs of slowing down.
A partnership of Nuveen Real Estate and Graymark Capital purchased a creative office building at 101 PCH for $97.15 million, brokerage Newmark Knight Frank announced Nov. 20.
NKF's Kevin Shannon, Ken White, Rob Hannan, Laura Stumm and Michael Moll represented the seller, a joint venture of AEW Capital Management and North Sea Capital Advisors. Nuveen Real Estate and Graymark Capital were self-represented.
The nearly 201,000-square-foot building was 91% leased to four tenants at the time of the sale, including 67% as the U.S. headquarters to Infineon Technologies, a German semiconductor manufacturer.
NKF's Eric Lastition and Geoff Ludwig were the leasing agents for the property.
"With rents approximately 25% below market and a weighted average lease term of 7.23 years, the new ownership has the opportunity to realize an upside in rents as the leases expire, as well as long-term cash flow and appreciation of this attractive, functional and well-located asset," Hannan said in a statement.
In the last three years, AEW Capital Management and North Sea Capital Advisors spent $20 million to renovate the building into creative office space. The building was completed in 1984 and sits on nearly three acres.
The partnership worked with Mul-Mac Architecture on the updates.
"We looked to contemporize and reimagine the tenant feel and experience of the property from the outside in, which included new drought-tolerant landscape, electric charging stations, balconies, courtyards and lobbies," North Sea Capital Advisors President Scott Burrin said in a statement.
Burrin said the changes were "received extremely well."
El Segundo has become an increasingly desirable office market. During the third quarter of the year, the market saw vacancy rates of 18.2%, down from 19.4% the previous quarter. Asking rents for Class A buildings were $4.39 a square foot, up 5 cents over the previous quarter, according to data from Jones Lang LaSalle Inc.
"Rents in this market have accelerated more than 50% over the last five years, largely driven by the repositioning and value-add initiatives of assets like 101 PCH," Shannon said in a statement.
This isn't the only building to get a makeover in El Segundo. In the last few years developers have been buying up property in the city, especially old aerospace buildings, and converting them into creative office space.
TA Realty purchased the 101 Continental Blvd. building from Vereit Inc. for $138.5 million after Northrop Grumman announced plans to leave; Boeing is moving out of the El Segundo office building it had been leasing after the property sold for $51 million this summer; Raytheon has listed 30 acres at its El Segundo campus, most of which is unused parking lots; and Northrop Grumman sold a manufacturing and warehouse complex in El Segundo to Hackman Capital Partners, which is turning the property into creative office space.
Commercial real estate reporter Hannah Madans can be reached at hmadans@labusinessjournal.com. Follow her on Twitter @HannahMadans.
CORRECTION: An earlier version of this story misstated the partnership that renovated 101 Pacific Coast Highway prior to selling the building. The partnership consisted of AEW Capital Management and North Sea Capital Advisors.
For reprint and licensing requests for this article, CLICK HERE.