Women Execs Warm to Men's Watches
FASHION: Luxe timepieces viewed as a sign of progress
Friday, November 15, 2019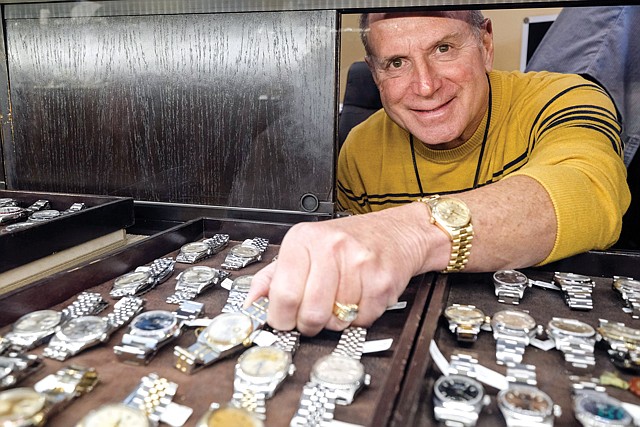 Elana Rosenblatt, a vice president for a local fashion brand, had always dreamed of owning a very particular luxury wristwatch: a vintage 1985 36 mm Rolex Day-Date President model in yellow gold with a champagne dial.
She almost missed her golden opportunity to own one just last month.
Rosenblatt found that specific model for sale at Wanna Buy A Watch, a timepiece and jewelry boutique on trendy Melrose Avenue in West Hollywood. She put the watch on hold and arrived to claim the Rolex just before it went home with another buyer.
Rosenblatt's large-face 36 mm watch is traditionally a men's model, particularly among business leaders. Coincidentally, the other buyer who almost nabbed Rosenblatt's dream watch was a man, said Wanna Buy A Watch owner Ken Jacobs.
Jacobs described the 36 mm gold Rolex President — with an average sale price $13,000 — as the longtime "traditional man's CEO watch."
Not anymore.
Watch dealers say large luxury watches, especially by Rolex, are fast becoming the preferred watches of women executives, a symbol that women are taking their places at the top of the corporate ladder.
Alyssa Weinberger, senior managing director of Lido Advisors, a Century City-based wealth management firm, bought her men's Rolex with a diamond bezel a few years ago to show she's ready to compete in her male-dominated profession.
"It's definitely a man's world out there," Weinberger said. "Every year at the end of a busy season, I would buy myself a gift to remind myself how hard I had worked and how far a female had come in a business that is male dominated. I specifically got this watch to remind myself how times have changed."
Ellie Altshuler, a partner at the downtown office of law firm Nixon Peabody, said she makes most of her clothing choices to please other women. But "when it comes to my timepiece, which is often a symbol of success, I like to wear classic pieces appreciated by all. … I want men to notice it, in a good way."
Altshuler added that men often recognize the larger model because they aspire to own it for themselves.
High-end watch sellers including Jacobs say their women customers have been preferring large-case watches, that is, from 31 mm to 44 mm, over smaller models such as Rolex's 26 mm Lady-Datejust.
Jacobs added that when men come in wanting to buy a gift and ask for a women's Rolex, his team steers them toward the 36 mm gold President. In an effort to attract female buyers, Jacobs said the store no longer lists "women's watches" but now promotes various sizes, including larger ones, as "watches for women."
Switzerland-based Rolex Group did not respond to a request for comment, but the company discontinued the once-popular 26 mm ladies' model in 2016. It still produces a 28 mm model under the Lady-Datejust name.
Jacobs, as well as other Los Angeles dealers such as Feldmar Watch Co. Inc. in Pico-Robertson and Leslie Gold Watch Co. in downtown's California Jewelry Mart, say that for the past decade or so women's preferences for chunky watches has been driven by fashion, with women wearing both inexpensive and higher-end watches in larger sizes.
"I'd say half of the sales, especially for the younger women, are going for the 36 millimeter, which is traditionally the men's size," said Leslie Gold owner Marc Gold.
Local watch dealers say they are seeing more women prefer large watches, particularly the Rolex, for a different reason: They are adopting the tradition of their male counterparts as a highly visible symbol of career success.
"Women are buying these watches for themselves," Jacobs said. "They are not being gifted these watches."
Jamie Hayes, operations manager for Feldmar Watch Co.'s Pico-Robertson and Beverly Hills locations, said plenty of women like large watches as fashion statements. But some do buy men's sizes as a statement of power in the business world.
Feldmar is not an authorized Rolex dealer, but Hayes said he observes many women buying men's-size Cartier, Breitling and other luxury models.
In any size, for any gender, Hayes joked, "If you buy a Rolex, you are not buying it to be subtle." He added that he sees more women looking to join the former men's club.
"(Watch-buying) is thought of as a kind of boy's toy environment," Hayes said. "Classical men's pieces connote a little more strength, a kind of understanding of what it may or may not take to make it in a traditional men's world."
Amina Belouizdad, chief commercial officer of The Private Suite at Los Angeles International Airport, lost her husband to an accident more than a year ago and often wears his large-size Rolex watches in remembrance.
But she also observes that a Rolex makes a statement for a woman in the business world. "It says 'I can afford this.' It's almost like (saying) you can buy yourself a diamond," she said.
Rosenblatt agreed with her female executive counterparts. Her new Rolex "was a piece that I felt like was something I could work towards, being able to get to a place in my career where I could buy it for myself. … For me, that represented success."
Added Rosenblatt, "(The Rolex) symbolizes power and success whether I'm a man or a woman … (but) being a woman makes it even more significant."
For reprint and licensing requests for this article, CLICK HERE.