Swig Co. Renovates Office Spaces
Updates to TrueCar tower attract new tech tenants
Friday, November 15, 2019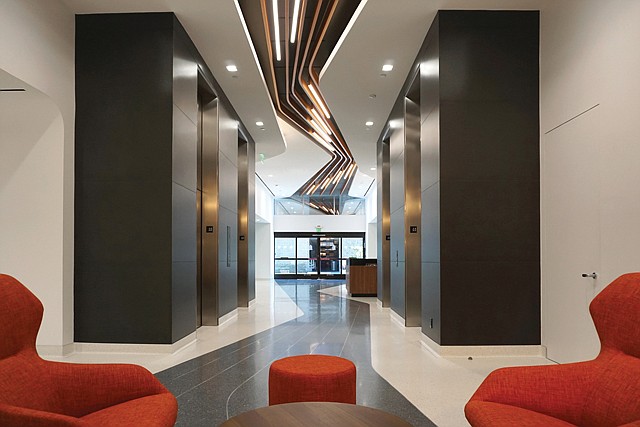 While a host of new office properties are being built around L.A., companies with existing buildings are also investing heavily to renovate older spaces.
Take San Francisco-based Swig Co., which owns or co-owns five properties in Southern California.
The company recently completed a renovation at 3415 S. Sepulveda Blvd., a nearly 180,000-square-foot office tower located alongside the 405 freeway in Palms.
The building, which is adorned by a huge TrueCar sign, was updated with a modern lobby, conference center and an outdoor area for tenants.
Culver City-based Wolcott Architecture worked on the redesign.
Swig Co. has already benefited from the changes.
When the company purchased the building from Newport Beach-based KBS Realty Advisors in 2016 for $68.2 million, it was only 60% leased, according to Cory Kristoff, Swig Co.'s senior vice president of asset management overseeing Southern California. The building is now 90% leased.
"We considered it a value-add asset," Kristoff said of the purchase. "It's a whole different building at this point."
She added that the building had been accomplishing its goal "to increase our occupancy and raise our rates."
Many of the renovations, Kristoff added, were made to cater to creative tech tenants that are flocking to the Westside.
Swig Co. is also remodeling an office building at 6300 Wilshire Blvd. in Miracle Mile. Swig Co. owns the building with Intercontinental Real Estate Corp.
The building was 80% leased when it was purchased in 2015.
In L.A., Swig Co. also owns 617 W. 7th St. downtown, which was completely renovated in 2000; 595 E. Colorado Blvd. in Pasadena near the Old Town Pasadena shopping district; and 443 S. Raymond Ave., lso in Pasadena, which was converted into modern office space.
For reprint and licensing requests for this article, CLICK HERE.