Squar Milner Announces Acquisitions
ACCOUNTING: Deals for SRG and BPE&H team expands presence in LA market
Friday, November 15, 2019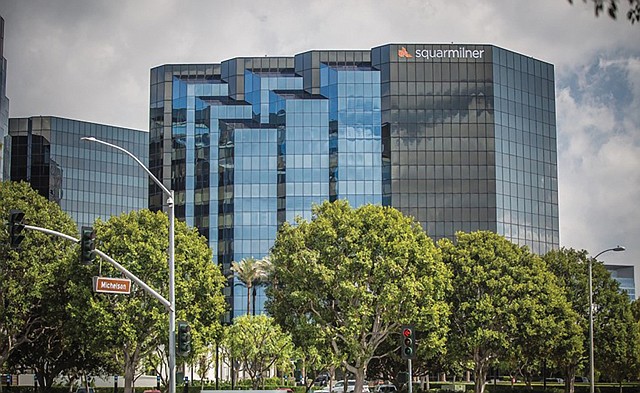 Already one of the largest independent accounting and advisory firms in the Western United States, Squar Milner has been steadily working to expand its presence in Los Angeles for several years.
A pair of deals announced Nov. 18 gives the firm another boost toward its goal of becoming a top 10 accounting business in the L.A. market.
In the larger of the two transactions, Squar Milner acquired SRG. The Woodland Hills-based firm has $11 million in annual revenue and a team of 55 people.
In addition, Squar Milner reached an agreement to bring on BPE&H partners Scott Howard and Suzanne Jacobs as well as 14 other members from that accounting firm.
Terms of the deals were not disclosed, but it's estimated that the moves will increase Squar Milner's projected 2019 revenue to about $125 million.
The mergers bring Squar Milner's employee count to about 620, with 220 in the Los Angeles area. That's up an estimated jump of 26.6% to 190, from 150 local employees in February when the
Irvine-headquartered firm placed No. 15 on the Business Journal's list of accounting firms with operations in Los Angeles.
"There is motivation to get into the top 10 in any location because when you're in the top 10 in the city or county or region, you get invited to the party, and not only with respect to clients, but also with respect to people," said Managing Partner Steve Milner. "Recruiting becomes so much easier because people come to you."
The firm has completed more than a dozen mergers since Milner and a handful of partners formed the company in the early 1990s.
The first notable expansion came in 2006 with the purchase of San Diego accounting firm Peterson & Co., followed by the 2008 purchase of West Los Angeles-based Thomashow Brown & Paialii, which boosted the firm's footprint to four offices in Los Angeles, Newport Beach, San Diego and the Cayman Islands.
Squar Milner's 2011 deal brought the tax and accounting practice of Encino-based White Zuckerman Warsavsky Luna & Hunt into the fold. Then in 2014 Steve Blatt and his Westwood-based business management group spun off from Tanner Mainstain Blatt Glynn & Johnson to join Squar Milner.
At the end of 2015, Squar Milner announced it would merge with Solomon Winnett & Rosenfield in Brentwood and McLean Rotherham & Co. in 2016 in San Diego.
In 2017, three partners and all of the associates from Sobelman Cohen Moss & Associates joined Squar Milner in its Encino office. The firm also expanded to Northern California that year through a merger with Campbell-based Loomis & Co. CPAs, a 12-person firm focused largely on privately held companies.
Squar Milner followed those moves in 2018 with another deal Northern California, joining forces with DZH Phillips in San Francisco. At the time, Squar Milner had more than $77 million in revenue and 350 employees while DZH Phillips had $20 million in revenue and more than 110 employees.
Squar Milner closed out 2018 by welcoming two partners from Oliva Goddard & Wright to its San Diego office and moving its headquarters from Newport Beach to a 43,000-square-foot space in Irvine near John Wayne Airport.
Boas & Boas joined Squar Milner's team in San Francisco in January, and a month later Louie & Wong moved into the same office.
Mergers require extensive networking — accounting firms are usually partnerships owned by several people who all have to agree that the deal makes sense.
"It's literally like the Goldilocks story," Milner said. "You go around, and it isn't that anybody's wrong, it's just they're wrong for you, or we may be wrong for them. You go and you meet people, and you see if [our] cultures are aligned.
"That's actually the first place to start … the financials come later," Milner added. "It's just to see if [they] have similar philosophies in terms of how you treat people, how you work, how you deal with your clients, and once you get past that, then the other things start aligning pretty well."
The firm's latest deal was "largely complementary," Milner said, adding to its expertise in real estate, which accounts for about 25% of Squar Milner's business.
The firm also serves the technology sector, the financial services industry, and has a "very dynamic restaurants group," according to Milner.

"The firm is a reflection of California," he said. "It's a diverse group of clients … from closely held businesses and their owners and high-net-worth individuals to very large public companies."
The latest mergers add a location in Woodland Hills that will bring the firm's office count to nine. It will also provide benefits of scale when it comes to infrastructure cost.
"Whether it's IT or HR departments, they're expensive and (the) more you can spread them over a larger group of people the more affordable it is," Milner said, adding, "We never cut people. … That's not where the synergy comes; it comes in additional clients and people you can get."
For reprint and licensing requests for this article, CLICK HERE.