Ports in a Storm
LA, Long Beach are feeling the impact of tariffs
Friday, November 15, 2019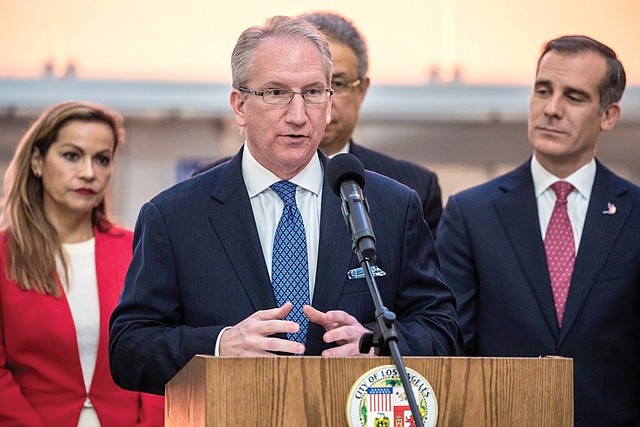 As the fallout from the U.S.-China trade wars intensifies, and the region's economy begins to feel the effects of declining imports, Los Angeles port officials have issued a stark warning.
Gene Seroka, executive director of the Port of Los Angeles, said he expects a soft fourth quarter and a 10% decline in volume for November as the trade war drags on.
"We are now hitting a cliff on what the tariffs have done and the impact they have had on the Port of Los Angeles," Seroka said Nov. 12 at a Washington, D.C., press conference where he unveiled the findings of a port-commissioned study on the tariffs' effect.
The study, by economic consulting firm BST Associates, said tariffs linked to trade at the San Pedro Bay ports could threaten 1.5 million jobs and $186 billion in economic activity nationwide.
"I am not saying that tariffs lead directly to layoffs, but it does lead to underemployment," Seroka said. "Less cargo means less jobs. America needs to know the impact of tariffs on our economy."
About two-thirds of all imported containerized cargo at the Los Angeles and Long Beach ports comes from China. Last month, imports to the nation's largest gateway for trans-Pacific trade plummeted 14% after another round of tariffs was implemented against $112 billion worth of Chinese products.
The study examines how many products hit by tariffs touch jobs across the region, but it doesn't show actual job loss. Still, the weight of tariffs is being felt in the region.
While L.A. County still boasts record low unemployment and consumer consumption is healthy, there are indications that the slowdown of imports from China is chipping away at the economy
The docks have fewer workers and less traffic than last year. In the third quarter, there were 7.5% fewer work shifts for unionized dockworkers, according to the Pacific Maritime Association, which represents port employers.
And there's less cargo on the docks, according to the Pacific Merchant Shipping Association's September data on how long shipping containers sit at the port.
Truck load spot rates have fallen, and intermodal railroad car load traffic has also declined. That's an indication slowing trade with China is affecting truckers, railroad workers and warehouse pickers, said Paul Bingham, director at transportation consulting at IHS Markit Ltd.
"They are a signal of the weakness in the freight industry that's derived from the slowdown in trade that's driven from the change in trade policy," Bingham said.
Retailers hit
The most recent 15% levy hit a wide range of consumer goods including clothes and shoes. Many analysts say retailers have reduced their orders as they deplete inventory stockpiled last year in anticipation of tariffs.
The end game is also unclear, which worries distributors, manufacturers and retailers.
President Donald Trump threatened Nov. 12 to raise tariffs even further if there wasn't a trade deal with China, underscoring the uncertainty of U.S. trade policy.
"If we don't make a deal, we're going to substantially raise those tariffs," Trump said in a speech to the Economic Club of New York.
The administration had said the next round of tariffs, scheduled for Dec. 15, could be avoided if a "phase one" deal with China was reached. But that hope appears to be dashed now, said Jon Gold of the National Retail Federation.

Manufacturing fears
The December tariffs, which will hit consumer electronics, would mean nearly all imported Chinese goods will be taxed.

"We have this looming Dec. 15 date, and folks are trying to figure out how to mitigate against that," Gold said. "A lot of folks have a lot of inventory that they brought in and they are trying to burn through, but the ongoing uncertainty has been difficult on how they plan. It has caused major disruptions."
Gold said he has seen some evidence that retailers and others are pulling back.
"The big hit could be down the road," he said. "Manufacturing contracted for the last three months, and that will continue as the trade war continues. We are trying to figure out what the job impact is going to be."
Brian Leon, a project manager at USC's Western Trade Adjustment Assistance Center, said he's starting to see evidence that tariffs are trickling down to local manufacturers.
"Up and down our supply chain because of the uncertainty, particularly in agriculture as well as companies that rely on metal components in their manufacturing process, (companies) have seen prices jump up dramatically in the tariff war," he said.
The center, which is funded by the Commerce Department, offers grants to small- and medium-sized businesses impacted by trade policy.
Increasingly, these companies are finding their distributors are unwilling to pay for the price increases, leaving the manufacturers in a financial bind.
"We are starting to see companies retract on their hiring, be reluctant to invest in capital equipment and software retraining — the very type of things that are going to help them compete in the blockchain world — because of the uncertainty of their product costs up and down the supply chain," Leon said.
Of course, the trade war doesn't just have an impact on goods flowing into the region. The L.A. and Long Beach ports have also seen 12 months of declining exports.
"The correlation," Seroka said, "is you have less dockworkers punching in and less drivers making deliveries."
For reprint and licensing requests for this article, CLICK HERE.