Growing Pains at Activision
GAMING: Company seeks to balance mobile, console
Friday, November 15, 2019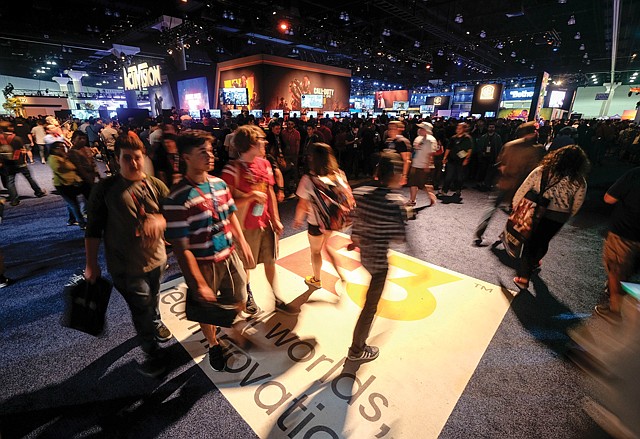 Activision Blizzard Inc. may be one of the oldest game publishers in Southern California, but the company continues to battle growing pains.
The Santa Monica-based maker of the hugely popular "Call of Duty" and "World of Warcraft" franchises posted better-than-expected third-quarter earnings on Nov. 8.
During the call with analysts, however, the company also reported a quarterly loss of 3 million users — a sign Activision is still trying to balance the demands of longtime console players with the needs of a growing mobile audience.
Activision's challenges aren't just about shifting customer interests, though.
In October, despite its best efforts to keep politics out of the gaming space, Activision found itself embroiled in controversy after suspending a star esports player for his post-match comments supporting Hong Kong protesters.
Two weeks later, demonstrators assembled at BlizzCon — Activision's annual signature showcase in Anaheim — prompting Blizzard Entertainment President J. Allen Brack to offer up an apology for how the company handled the matter.
Despite the ups and downs, analysts say, Activision remains well-positioned.
"Activision Blizzard owns some of the most popular and successful (intellectual property) in the world, and we're seeing it maximize the value of that by focusing on all segments in the games market," said Tom Wijman, senior market analyst for video gaming and esports analysis firm Newzoo.
BlizzCon announcements
This year's BlizzCon saw several major announcements, including news that the company would expand "World of Warcraft," and launch a sequel to its popular "Overwatch" title.
And after negative fan feedback during the 2018 BlizzCon around its "Diablo" franchise, Activision appeared to win back fans this year with news that a new console and PC version of the game would be released in 2021.
Activision also received a boost just days before BlizzCon, releasing "Call of Duty: Modern Warfare." The game pulled in more than $600 million in sales during its first three days for sale.
"Recent launches have enabled significant growth in the size of our audiences for our 'Call of Duty' and 'World of Warcraft' franchises," Activision Blizzard Chief Executive Bobby Kotick said in the earnings call.
"As we introduce mobile and free-to-play games based on our franchises, we believe we can increase audience size, engagement and monetization across our wholly owned franchises," he added.
A sizeable number of Activision Blizzard's users are generated by its King Digital Entertainment Ltd. division, which exclusively develops mobile games. In the third quarter, King had 247 million monthly active users, compared to 33 million at Blizzard and 36 million at Activision. Analysts believe that segment will continue to provide growth.
"Activision Blizzard is on track for a strong (fourth quarter), based on the sustainability of King's revenues and the success of both its 'Call of Duty' releases at the beginning of the quarter," predicted Newzoo Marketing Consultant Guilherme Fernandes.
"Nevertheless, it will require a fourth quarter that tops by far their already record-breaking fourth quarter in 2018, in terms of revenues, for (fiscal 2019) to outperform (fiscal 2018)," Fernandes added.
Activision's fiscal 2018 revenue totaled $7.5 billion with net income of $1.8 billion.
In its third quarter this year, Activision Blizzard reported revenue of $1.3 billion, down from $1.5 billion in the third quarter of 2018. Net income for the third quarter was $204 million, down from $260 million year over year.
Net bookings decline
A key driver of revenue for Activision Blizzard is net bookings — or the amount spent in-game by players to purchase upgrades and other perks. Most of this spending happens in mobile games.
"King's games are free to play; however, players can acquire in-game items, either with virtual or real currency, and we continue to focus on in-game advertising as a growing source of additional revenue," Activision noted in its fiscal 2018 earnings report.
In its most recent quarter, Activision's net bookings decreased to $1.2 billion from $1.7 billion in the third quarter of 2018.
But the company remains a dominant player in the market alongside local competitors like Sawtelle-based Riot Games Inc. and smaller mobile-focused publishers like Scopely Inc., Jam City Inc. and Survios Inc.
"Activision Blizzard is still a major player worldwide — which naturally includes SoCal — given their (intellectual property), vast reach and sheer size, both in terms of revenues and monthly active users," Fernandes said.
Newzoo estimates the global mobile games market will be worth $68.5 billion by the close of 2019 while the console market will total $47.9 billion.
"Mobile gaming has grown to the largest gaming segment (by revenues) without cannibalizing much revenue from console and PC gaming, (and) these revenues are mostly additional revenues for the market," said Wijman. "The opportunity of mobile gaming should not be ignored, but it doesn't mean any publisher should stop developing for other platforms."
For reprint and licensing requests for this article, CLICK HERE.