Vertical Farm Signs Lease in Compton
Startup Plenty Unlimited will spend big on buildout
Friday, November 8, 2019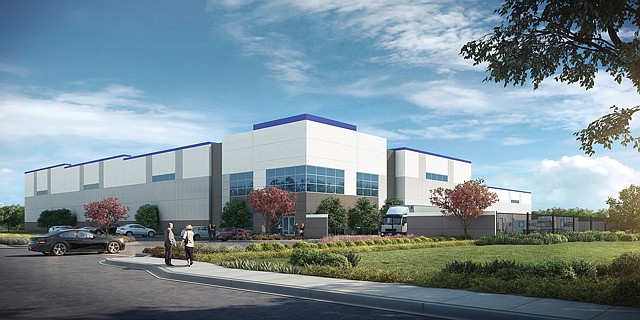 South San Francisco-based Plenty Unlimited Inc., a vertical indoor farming company, has signed a 10-year lease for a nearly 95,000-square-foot warehouse development in Compton.
The project is under construction with completion expected in November. The space at 126 E. Oris St. is being developed by Westcore Properties.
The transaction is another high-profile example of the hot market for warehouse properties in Los Angeles where some companies are looking for space to fulfill fast shipping and ecommerce promises while others are seeking room to expand their operations.
Kidder Mathews' Marc Bonando and Brad Connors represented Westcore in the lease. Plenty was represented by a Savills Inc. team made up of Zack Jamail, David Gordon, David Providenti and Rick Drescher.
"We are thrilled about the partnership with Westcore and the City of Compton to have our first Southern California farm in this state-of-the-art building," said Camille Bamford, business development director for Plenty. "The project fulfilled everything we were looking for, with its functional size as well as its design, location, community and proximity to consumers throughout all of greater Los Angeles." 
The Compton building's 32-foot-high ceilings, which will give the company plenty of height for vertical farming, made it particularly desirable for Plenty. The farming company will spend millions of dollars on the building's technology and buildout, according to a press release.
Plenty also plans to hire employees from Compton and work with local schools to "educate people about healthy eating, vertical farming and entering the professional field of sustainable farming."
Plenty says its vertical indoor farms, which stack the plants and automate the process, use 99% less land and 95% less water than traditional farms. Its crops are pesticide and GMO free.
Other companies doing vertical growing include LA Urban Farms, Bowery Farming Inc., Farm.One and Buckeye Fresh.
Investors are interested in food and agriculture technology startups, which include vertical growing concepts. From 2017 to 2018, the industry's financing grew 43% year over year, according to AgFunder Inc.
L.A.'s industrial market has grown increasingly tight. In the third quarter, the vacancy rate was a mere 1.9%, according to data from Jones Lang LaSalle Inc. The average asking rent for industrial properties was $0.89 a square foot on a triple-net basis, up 2 cents quarter over quarter and 4 cents year over year.
For reprint and licensing requests for this article, CLICK HERE.