Sneaker Attack
Ntwrk blends streetwear style with a QVC approach
Friday, November 8, 2019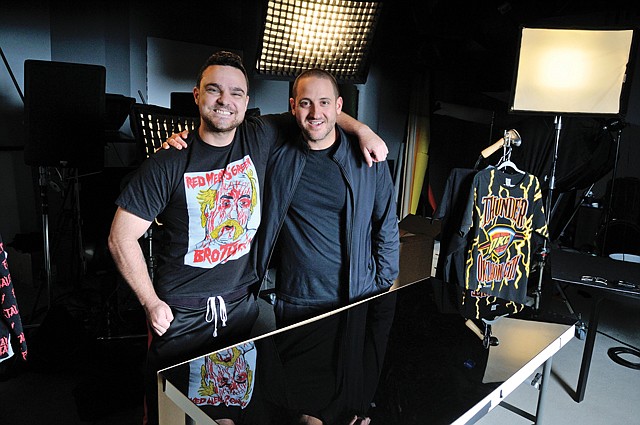 Aaron Levant wants to build a QVC for the social media generation.
The 36-year-old streetwear entrepreneur bills Ntwrk, his 1-year-old video-driven online and mobile shopping platform, as a place where sneakerheads, art enthusiasts and music fans all get their retail fix.
"We set out to create the mobile-first, millennial, Gen Z, new video commerce platform," said Levant while sitting in his graffiti art-filled office at Ntwrk's Hollywood headquarters, formerly the site of the iconic Meltdown Comics store.
"We delivered on that by creating a culturally relevant, pop culture, street culture (platform) and bringing that QVC-esque, HSN feel to this new audience," he added.
Levant brings plenty of street cred to this digital enterprise. At the age of 19, he created Agenda, which would become one of the world's largest trade shows for the lucrative streetwear industry. He also launched the popular ComplexCon festival — a series of high-energy events that blend fashion, music and celebrities.
For Ntwrk, Levant is tapping an extensive group of celebrity investors. Drake, LeBron James and music producer Jimmy Iovine have all invested via MSA Enterprises. Iovine's son, Jamie Iovine, is co-creator of Ntwrk and serves as the company's head of fandom. Levant and Iovine met after the elder Iovine put them in touch.
Earlier this year, Commerce Media Holdings, the company that operates as Ntwrk, raised $10 million in a funding round led by Foot Locker Inc. and Live Nation Entertainment Inc., a testament to the group's "retailtainment" model and its access to talent.
"A lot of (celebrities and brands) have their own platforms and channels, but we have a community that we have built up," said Iovine in his upstairs office, surrounded by comic books and Teenage Mutant Ninja Turtles figurines.
That's attractive to younger buyers who don't just want to someone shilling a product.
"With us, it's curated," Iovine said. "We get rid of the bull."
The Ntwrk app has about 500,000 downloads. Levant wouldn't provide revenue figures, but he said Ntwrk averages about 1,000 new users a day. He said the company is in "the building and investment stage."
The site is most popular among 18- to 27-year-old men who live in urban areas and are enamored with sneaker culture or the street culture that emanates from it. A team of 50 employees in Ntwrk's offices creates videos and other content to sell brands like Nike.
Items range in price from $15 to $2,000, but the company usually targets a $200 to $500 price point. Using sports stars, celebrities and in-house talent to pitch products, Ntwrk sells with a healthy dose of hip.
When Ntwrk launched in October 2018, for example, DJ Khaled posted four times on his social media sites that there would be a "drop" of exclusive headphones made by Beats by Dre. The posts helped bring in 10,000 downloads on that first day.
While many of the products sold on Ntwrk are limited-edition shoes that appeal to the app's core audience, Levant is pushing to eventually reach a larger, more diverse audience.
Ntwrk's mantra, "shopping at the speed of culture," plays out on the app. Singer Billie Eilish recently sold pieces from her clothing line, including a $60 robe, on the site, and jeweler Ben Baller made a cash-counting machine for the site to sell in October.
"Ntwrk's special sauce has been creating a platform that allows Gen Z consumers to interact with pop culture in the way that they cannot elsewhere," said Vladimir Estiverne, vice president of corporate development and strategic investments for Foot Locker. "It's very difficult to speak to this consumer, and Ntwrk knows them better than anyone else."
Foot Locker — which recently invested $100 million in 1661 Inc., which does business as Goat Group, a Los Angeles resale platform for sneakers — is testing selling limited-edition products like the Day N Vegas x Chinatown Market apparel collaboration through Ntwrk's platform. The collection, which is built around the Day N Vegas hip-hop festival, sold out in 90 seconds on the app, according to Estiverne.
As a teenager, Levant was enamored with graffiti and graphics, and he gained a reputation as a hype builder. He spent the last 15 years reimagining trade shows, making them a place to be seen for streetwear brands, retailers and hip-hop stars.
Fashion designer and Complex magazine creator Marc Ecko worked with Levant to bring ComplexCon to life in 2016. The annual streetwear event has become a must-attend show for certain brands.
Levant is trying to replicate the energy of those live events online. He is pairing that momentum with partnerships and activations throughout the year.
Sabrina Helm, an assistant professor at the University of Arizona who specializes in consumer behavior, said Ntwrk's concept may not be new, but the brand does have a fresh twist.
"In a sense, it's the old best recipe of retailing unique merchandise and the celebrity selling it," Helm said. "That's been around for hundreds of years."

To draw people in, Ntwrk reduces costs or offers lotteries on certain products, a tactic Helm said keeps people trained to the app.
It's no surprise Ntwrk has drawn interest from bigger retailers and entertainment companies trying to figure out how to serve multiple audiences in a world filled with digital niches.
"The larger retailers are in a phase of experimentation," Helm said. "These kinds of collaborations are valuable, but it doesn't mean they will be profitable."
In many ways, Levant and Iovine want Ntwrk to be an anti-corporate corporation — like many of the rappers selling high-priced sneakers. They want to shed the trappings of retail.
"If you go to Amazon.com right now, everything is for sale all the time," Levant said. "There's not a lot of urgency. We are selling the opposite of that commodity. We are selling really specialized things in limited quantity that have a lot of urgency and hype around them."
"We are doing the reverse of what the rest of the retail market is doing," he added. "If they are doing on-demand, we are doing appointment-based and do not look or feel or smell like our counterparts in traditional retail."
For reprint and licensing requests for this article, CLICK HERE.