Sneaker Attack
Ntwrk blends streetwear style with a QVC approach
Friday, November 8, 2019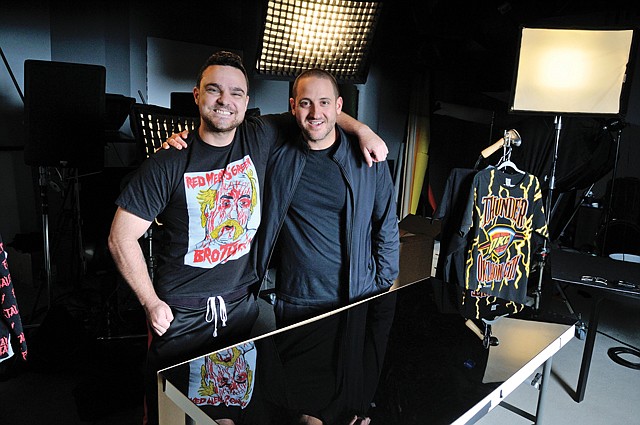 Aaron Levant wants to build a QVC for the social media generation.
The 36-year-old streetwear entrepreneur bills Ntwrk, his 1-year-old video-driven online and mobile shopping platform, as a place where sneakerheads, art enthusiasts and music fans all get their retail fix.
"We set out to create the mobile-first, millennial, Gen Z, new video commerce platform," said Levant while sitting in his graffiti art-filled office at Ntwrk's Hollywood headquarters, formerly the site of the iconic Meltdown Comics store.
"We delivered on that by creating a culturally relevant, pop culture, street culture (platform) and bringing that QVC-esque, HSN feel to this new audience," he added.
Levant brings plenty of street cred to this digital enterprise. At the age of 19, he created Agenda, which would become one of the world's largest trade shows for the lucrative streetwear industry. He also launched the popular ComplexCon festival — a series of high-energy events that blend fashion, music and celebrities.
For Ntwrk, Levant is tapping an extensive group of celebrity investors. Drake, LeBron James and music producer Jimmy Iovine have all invested via MSA Enterprises. Iovine's son, Jamie Iovine, is co-creator of Ntwrk and serves as the company's head of fandom. Levant and Iovine met after the elder Iovine put them in touch.
Earlier this year, Commerce Media Holdings, the company that operates as Ntwrk, raised $10 million in a funding round led by Foot Locker Inc. and Live Nation Entertainment Inc., a testament to the group's "retailtainment" model and its access to talent.
"A lot of (celebrities and brands) have their own platforms and channels, but we have a community that we have built up," said Iovine in his upstairs office, surrounded by comic books and Teenage Mutant Ninja Turtles figurines.
That's attractive to younger buyers who don't just want to someone shilling a product.
"With us, it's curated," Iovine said. "We get rid of the bull."
The Ntwrk app has about 500,000 downloads. Levant wouldn't provide revenue figures, but he said Ntwrk averages about 1,000 new users a day. He said the company is in "the building and investment stage."
The site is most popular among 18- to 27-year-old men who live in urban areas and are enamored with sneaker culture or the street culture that emanates from it. A team of 50 employees in Ntwrk's offices creates videos and other content to sell brands like Nike.
Items range in price from $15 to $2,000, but the company usually targets a $200 to $500 price point. Using sports stars, celebrities and in-house talent to pitch products, Ntwrk sells with a healthy dose of hip.
Prev Next
For reprint and licensing requests for this article, CLICK HERE.