Green Dot Reports Third-Quarter Loss
Friday, November 8, 2019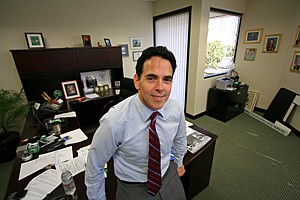 Pasadena-headquartered financial technology company Green Dot Corp. reported a third-quarter loss of $0.5 million compared to a profit of $4.6 million in the same period a year earlier.
The company posted a per-share loss of $0.01, down 113% from the third quarter of 2018. Revenue was up 2% year over year to $240 million, although the gain was offset in part by a 3% rise in operating expenses to $243 million.
It has been a difficult year for Green Dot, as competition from insurgent mobile banking players such as Chime Financial Inc. and Acorns Grow Inc. have eaten into market share.
The company's consumer business — its core revenue generator — has been hit particularly hard. Active accounts fell to 5.18 million in the third quarter, a drop of roughly 250,000 from the same period in 2018. It was the second consecutive quarter of year-over-year declines. Green Dot's now expects an 8% year-over-year drop in operating revenue for its consumer business.
The company is attempting to revamp its product lineup. It also launched an "Unlimited Cash Back Account," which combines the features of a high-yield savings account and a cash-back debit card. On a Nov. 7 earnings call, Green Dot Founder and Chief Executive Steve Streit said the new product helped slow losses in active accounts.
"We are delighted with the performance of the Unlimited product, which is already is having a positive impact on Green Dot's entire Consumer business in just the first 13 weeks since its launch," Steit said in a statement.
To counter the gloomy outlook for its consumer business, the company emphasized the stronger performance of its platform services business. These include its banking as a service platform, payroll debit card, cash processing and tax preparation services and Green Dot Bank. The company projected year-over-year operating revenue growth for 2019 of 26% for this line of business.
Banking and finance reporter James B. Cutchin can be reached at jcutchin@labusinessjournal.com or (323) 556-8332. Follow him on Twitter @jamesbcutchin.
For reprint and licensing requests for this article, CLICK HERE.