Booming Builder
Soteropulos keeps Webcor on track for some of LA's biggest projects
Friday, November 1, 2019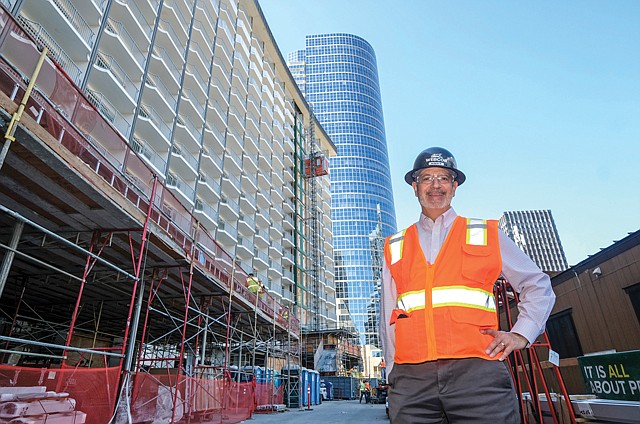 Los Angeles is in the midst of one of its biggest construction booms with cranes visible in every direction from many places around the city.
That translates into very good times for both Webcor Construction, one of the largest contractors working in L.A., and Gust Soteropulos, the company's senior vice president in Los Angeles.
Webcor is based in San Francisco, but Soteropulos oversees the company's sizable footprint in Los Angeles. The construction value of the company's L.A. projects is roughly $2.2 billion, and it placed No. 4 on the Business Journal's recent list of general contractors in the city, with $462 million in billings last year.
Among Webcor's key projects around L.A.: Woodridge Capital Partners' $2.5 billion new Century Plaza project in Century City, which includes refurbishment of the hotel, now a 400-room Fairmont Century Plaza Hotel, and construction of two 44-story condo towers; the 20-story Residences on Vine apartment tower, part of Kilroy Realty Corp.'s $450 million Academy on Vine project; Genton Property Group's Four Seasons Private Residences Los Angeles consisting of 58 luxury condos next to the Four Seasons Hotel in Beverly Grove; and Brookfield Property Partners' 960 W. 7th Street project, a 56-story apartment tower downtown.
Soteropulos is tasked with carrying out these projects and securing future work in the region. The 61-year-old executive joined Webcor 10 years ago from San Francisco-based Swinerton Builders. The Business Journal sat down with Soteropulos to discuss Webcor's L.A. strategy and the state of the local construction market.
How did you come to California?
I grew up in the Midwest. At the start of my career, I worked at a company where I moved from job to job. That was fun at first but less fun after I got married and had kids. I happened to get assigned to a construction job in Los Angeles in the 1990s: the Hyperion sewage treatment facility (near Dockweiler State Beach). The job got delayed, then got even longer, the kids got older, and we decided to stay.
How did Webcor become such a major builder in Los Angeles?
Webcor's first expansion out of the Bay Area was to Los Angeles back in 1991. We started out with relatively small-scale jobs, but then we landed the Ritz-Carlton project in downtown and the W Hotel in Hollywood and a couple other big projects. We started those jobs just before the downturn (of 2008-2009), and they helped see us through what otherwise would have been a very difficult period.
Prev Next
For reprint and licensing requests for this article, CLICK HERE.