Venues Grapple With Ticketmaster Costs
ENTERTAINMENT: Fees can add 30% to ticket prices
Friday, May 31, 2019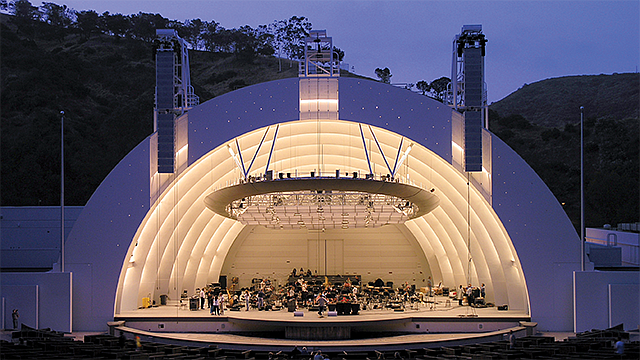 As operator of the Hollywood Bowl, the Los Angeles Philharmonic Association each year must perform an exacting task — setting ticket prices for each section of the 18,000-seat Bowl and for each of the venue's regular season events.
The L.A. County Department of Parks and Recreation, which has owned the iconic venue since 1924, then reviews those prices and brings a proposal before the Los Angeles County Board of Supervisors, which debates the changes publicly before voting on them.
In September, the board unanimously approved the latest prices, passing a measure with a dizzying level of granularity. For the Bowl's "Sunday World Nights," for example, the measure ruled out price hikes "for bench sections D, E, G2, J2, F, K, M, N, L, P, R, S, T & W (11,210 seats)."
But by the time Hollywood Bowl tickets go on sale to the public, the carefully curated ticket prices are often inflated by as much as 30% and sometimes more — fees that go not to the county, the publicly owned Hollywood Bowl or even the L.A. Phil.
The ticketing fees go directly to industry juggernaut Live Nation Entertainment Inc.
Through third-party arrangements, the L.A. Phil uses Live Nation's ticketing subsidiary, Ticketmaster Entertainment, to sell entry to its shows. Ticketmaster collects fees on each
ticket purchase, which are added to the county-
approved price.
While base ticket prices at the Bowl are scrutinized, ticketing fees receive no review or debate before the public. A Business Journal analysis of the Bowl's 2019 summer lineup found that Ticketmaster's fees increased prices by an average of 29%.
"The county wants to make sure that there are some tickets relatively easy to access pricewise," said Kevin Regan, deputy director of the parks department. While Live Nation's fees appear to weaken the county's work to make shows affordable, Regan said having some control over ticket costs by setting the base price is better than having none.
Messages left with Live Nation for comment were not returned.
The business of live music
Ticketing fees help drive Live Nation's business. Last year, the company's ticketing arm grew revenue by 13.2% annually to $1.53 billion, revenue that "primarily consists of service fees charged at the time a ticket for an event is sold," according to the company's annual report.
Beverly Hills-based Live Nation, which acquired Ticketmaster in 2010, controls 80% of the U.S. primary ticketing market for music and sports events, according to trade publication Pollstar.
For reprint and licensing requests for this article, CLICK HERE.
Prev Next