Scooter Wars
More than half a dozen companies are off and rolling in LA's micro-mobility market
Friday, May 31, 2019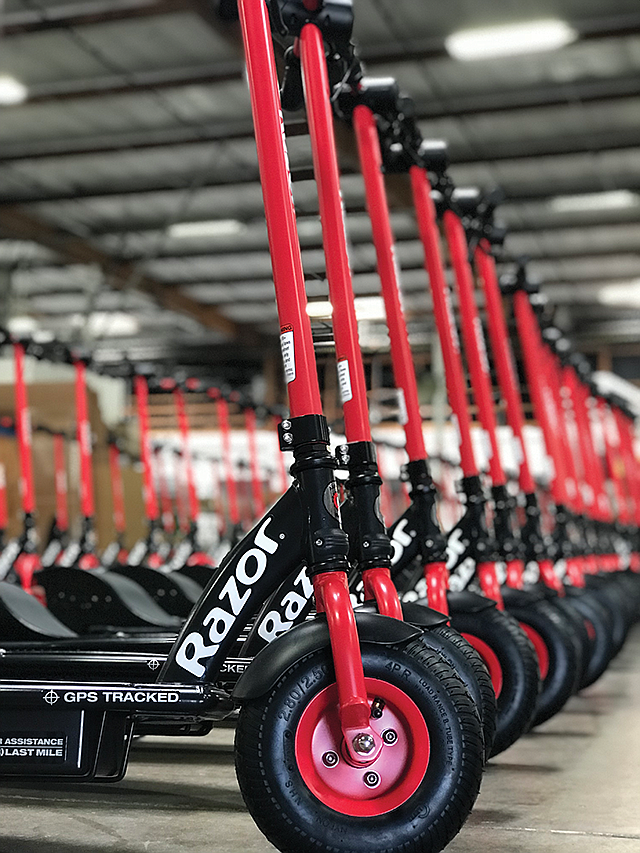 Scooter companies have quickly changed the nature of L.A.'s street scene.
In less than half a year, the micro-mobility movement has taken over the sidewalks, with scooters and ebikes dotting nearly every corner of downtown, Koreatown, Mid-City Venice and other neighborhoods.
The companies are working to offer a solution to the city's public transportation woes. And they've raised a lot of money toward the cause.
Between the seven companies now approved to operate in Los Angeles, several billion dollars have been raised to deploy more than 34,500 micro-mobility vehicles, according to city documents. Five more companies are awaiting permits from the Los Angeles Department of Transportation, which would add another 2,670 scooters to L.A.'s streets, pending approval.
As the scooter companies compete for ridership, the business model is being tested. Investors are betting that rising demand for micro-mobility will cover the cost of maintaining damaged scooters and replacing those that get stolen or thrown away.
It's now up to the market to decide which company will ride off victorious.
Competitors range from startups with $2 billion valuations, like Bird Rides Inc., to ride-sharing firms such as Uber Technologies Inc. that decided to get in on the scooter action. Traditional scooter-maker Razor is also vying for a slice of the market.
•••
COMPANY: Uber Technologies Inc. (Jump)
HEADQUARTERS: San Francisco
FOUNDED: 2009
NO. OF VEHICLES: 3,000 in L.A.,
250 in Santa Monica
REVENUE: $3.05 billion as of first quarter 2019
STATUS: Car-hailing service Uber Technologies Inc. made waves as an early entrant in the ride-sharing market with cars. Uber jumped on the scooter bandwagon by acquiring bike-sharing company Jump in April 2018 for an estimated $139 million. Uber also offers escooters that are made by Chinese company Xiaomi Corp. and were first deployed in Santa Monica in October.
•••
COMPANY: Neutron Holdings Inc. (Lime)
HEADQUARTERS: San Mateo
FOUNDED: 2017
NO. OF VEHICLES: 5,500 in L.A.,
750 in Santa Monica
FUNDING TO DATE: $777 million
REVENUE: NA
STATUS: Neutron Holdings Inc., doing business as Lime, touched down in L.A. at roughly the same time as competitor Bird. Lime now operates a fleet of bright green-and-white escooters in L.A. and secured a permit to drop more scooters in Santa Monica in August 2018. The company is run by Chief Executive Brad Bao and backed by Venice-based Fifth Wall Ventures. Lime has raised roughly $777 million since its 2017 launch.
•••
COMPANY: Razor USA
Prev Next
For reprint and licensing requests for this article, CLICK HERE.