Malibu Mall Nears Completion
Real Estate: Local pushback delayed project
Friday, May 24, 2019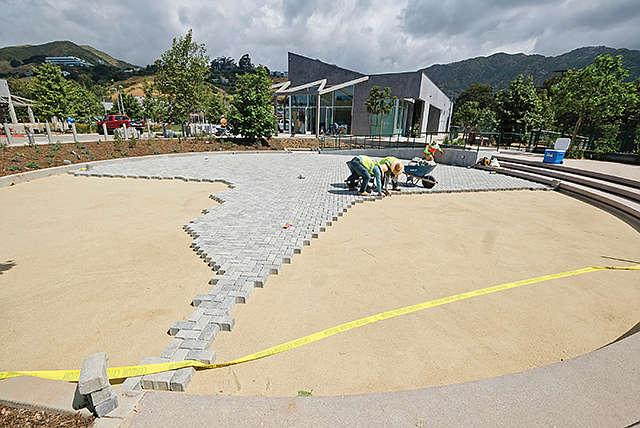 Before Malibu's first Whole Foods opens its doors in June, its 15-year lease will have already expired once.
It took even longer for developer Steve Soboroff and his partners Michael Heslov and Cindy McAfee to finish this shopping center project on a spit of land near Pacific Coast Highway.
The Park at Cross Creek development will have taken more than a decade of bitter political and legal battles before it opens. It represents the area's first ground-up shopping center in a generation — as well as a parable about development in one of the region's toniest coastal hamlets.
Building has never been easy in the small community full of Hollywood A-listers and wealthy families. Residents are particularly protective of their land and wary of any outsider development and chain stores that they worry could erode the city's small-town feel. It's so anti-growth that the city, which was incorporated in 1991, has intentionally never built out a public, citywide sewer system, forcing developers to either build their own or pay into a special assessment district to connect to a limited city-run system for commercial properties.
"The community is very against change," said broker Jay Luchs, an active real estate broker in Malibu. His team at Newmark Knight Frank is handling leases for The Park at Cross Creek, which is roughly 95% leased. "It becomes a challenge to be in a business where you have to fill spaces but also make people happy who don't want any change."
Malibu's resistance seriously challenged Soboroff, president of the Los Angeles Police Commission, political player and a hardened real estate mogul who helped guide two of the region's most controversial development plans: the buildouts of Playa Vista and the Alameda Corridor.
"I geared up for 10 years at Playa Vista, 10 years at Alameda; I wasn't gearing up for a fight to build a park in Malibu," he said.
But that's what he said he's done. Only 15% of the developable land at The Park at Cross Creek was used for nearly 40,000 square feet of retail. Other features including, 80 sycamore trees, a children's garden and a deck overlooking a playground make it feel more like a park than a shopping center. That's also what Malibu officials demanded.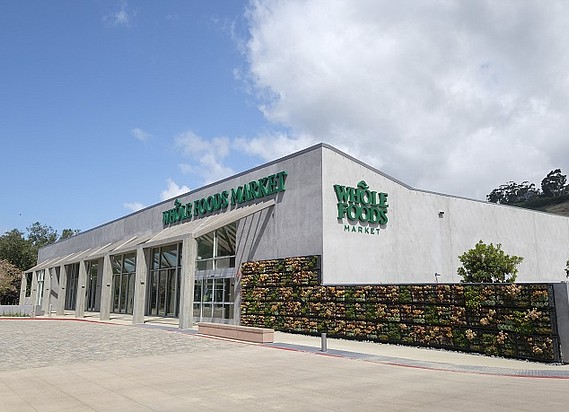 The Park
The Santa Monica Mountains rise over the nearly 6 acre retail project, less than a mile from the glittering Pacific Ocean. Anchored by a 25,000-square-foot Whole Foods, the plaza was built by Torrance-based Del Amo Construction Inc. and is filled with small-format stores under 800 square feet that are designed to cater to nearby residents. Luchs said the small storefronts are rare and "less painful in terms of rent."
Several tenants are locally owned businesses, including D'Amore's Restaurant. There's also a dry cleaner and a nail salon. The practical shops come with a hint of whimsy and a bucolic touch epitomized by a hitching post for horses.
In other communities, The Park at Cross Creek would be called a mini-mall but not in Malibu. Designed by local architect Ron Goldman of Goldman Firth Rossi Architects, the complex offers backdoor entrances for celebrities, plants native to the region and a parking lot lined with individual pavers — not asphalt. The pavers alone added $1 million to the project's cost.  
"All the trellises, all the wood siding and all the finishes — you wouldn't do that in every community." said Heslov, who has built in other areas of Los Angeles. "We wanted to make it really cool."
Neither firm would reveal the project's price tag, but Heslov said the high-end details like the vertical landscaping — at $100 a square foot — weren't cheap.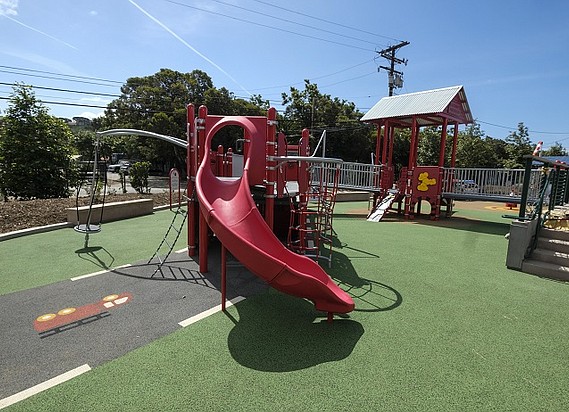 A long time coming
The project was nearly derailed on multiple occasions.
In 2014, Malibu voters approved a measure championed by director Rob Reiner and his wife, Michelle Reiner, that gave the public the ability to veto commercial developments larger than 20,000 square feet and limit the presence of chain stores.
It was a direct attack on developers like Soboroff, who some felt were profiting off the community's international reputation. The Park project was put to a public vote in 2015 with Measure W, and voters promptly shut it down.
Upon its defeat, Soboroff told the Malibu Times, "It's categorically not possible to win an election to build anything in Malibu."
While that may be the case, Soboroff was also pursuing another angle of attack. He brought the battle to court, alleging Measure W was unconstitutional. In 2017 Soboroff won, paving the way for construction.
In the meantime, the battle inspired people like Rick Mullen, a captain with the Los Angeles County Fire Department, who ran for city council on an anti-development platform and won a seat in 2016.
"It was a heated issue at the time. It was sort of a rallying cry," Mullen said. 
Since his election, Malibu has implemented a new rule capping chain stores to 30% of any shopping center, with exemptions built in for businesses including grocery stores and banks.

Tough environment
Luchs said the cap on chains and national retailers is challenging.
"When a city wants to make a place where you can't do national names, it almost becomes: 'What can you do?'" he said. "The national names are mixed in with the locals supporting the locals."
National chains with name recognition can draw shoppers to retail complexes, which should benefit other local vendors there, Luchs said.
Mitchell Hernandez, partner and co-founder at Beta Retail, said it's not just Malibu, but developers in coastal and smaller communities across the state face slow entitlement processes.
Take Rick Caruso's nearby Palisades Village project, for example, which took more than 12 years to come together, according to Hernandez.
Hernandez called The Park at Cross Creek "an exciting and needed complement to the Malibu community" in an email. The Whole Foods especially will benefit the area, Hernandez wrote. "We have no doubt the project will be successful."
For reprint and licensing requests for this article, CLICK HERE.