Long-Awaited Long Beach Mall Names Tenants
'Coastal contemporary' complex to offer shopping, dining, fitness studios
Friday, May 24, 2019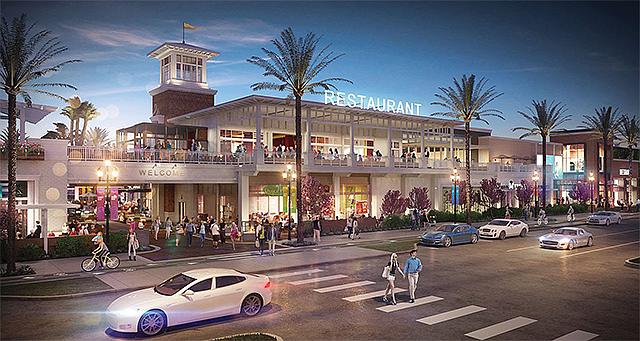 Shake Shack, Free People and Urban Outfitters are among 21 new tenants at the long-awaited Long Beach shopping center, 2nd & PCH. A 45,000-square-foot Whole Foods will anchor the development.
Retail developers CenterCal Properties and Taki Sun Inc. announced the tenants May 20.
The 220,000-square-foot retail complex at site of the former SeaPort Marina Hotel is slated to open this fall after more than two decades of failed attempts by the owner to redevelop the site.
Named after its location near the intersection of 2nd Street and Pacific Coast Highway, the plaza sits at the one of the city's busiest intersections and the main thoroughfare between Orange County's Seal Beach and East Long Beach.
The 11-acre property was purchased in the 1990s by the Lin family, doing business as Taki Sun, who launched several failed efforts to build a multiuse complex there. That development's size and proposed use, which included residential units, would have required a change in zoning. Opposition from neighbors including the Los Cerritos Wetlands Land Trust ultimately doomed those efforts.
Shifting to a purely retail development helped the project to move forward this time around.
An estimated 329,000 square feet of retail construction is expected to come online in the Long Beach and South Bay areas in 2019, including the 2nd & PCH complex, according to a report from real estate brokerage Marcus & Millichap Inc. Retail properties in Long Beach and South Bay have slightly higher vacancy rates than the overall metropolitan area, the Marcus & Millichap retail report found, but 2nd & PCH could be an exception thanks to its higher-end design.
"Retailer demand for high-quality space appears to exist, as the property was nearly fully leased entering the second quarter," researchers wrote in the Marcus & Millichap report.
Developers describe the two-story, open-air complex as "coastal contemporary" architecture. The mall will include Wi-Fi, fire pits, bicycle lanes and water fountains.
Among the other tenants announced are fitness studios Hawt Yoga, Motion Stretch Studio and Barry's Bootcamp; and restaurants The Bungalow, Tocaya Organica, Hungry Angelina, Mixt Greens, Ola Mexican Kitchen and Caffe Luxxe. Women's apparel brand Linne's Boutique also secured a spot.
For reprint and licensing requests for this article, CLICK HERE.