LEVELING UP
Immortals tries new strategy to win more of the $1B esports market
Friday, May 24, 2019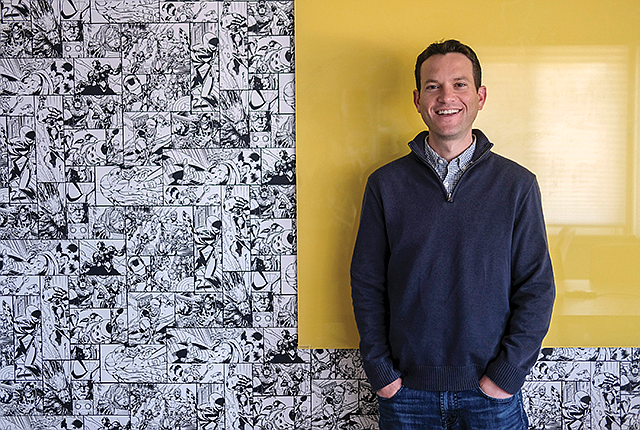 As competition heats up in the esports industry, companies are working out new strategies for winning.
Culver City-based Immortals started out five years ago with aspirations to build professional esports teams. But in the last two years, it's scaled back to focus largely on ownership of one team, the Overwatch League's Los Angeles Valiant, while expanding into other business lines that cater to fans, players and sponsors in multiple markets. It's also beefing up its leadership team, recruiting a new chief executive, and well-known board members and investors.
The goal: to grow the company's share in the nearly $1 billion global competitive videogaming business.
"This is a 10-year journey, not a one-year journey," said Chief Executive Ari Segal, who joined Immortals in 2017 and took over the top spot from founder Noah Whinston late last year.
Segal called today's esports market a "Venn diagram." One circle encompasses consumers willing to pay money to watch professional esports, he said. The other, overlapping circle includes avid gamers who are indifferent to esports leagues. Segal said Immortals is trying to court both audiences.
He wouldn't disclose details of the company's financial performance. He said Immortals is more interested in experimenting with growth models than prioritizing profitability.
Outside observers say it's wise for the esports company to diversify beyond its "Overwatch" team — particularly as it remains unclear to many in the industry how best to capitalize on the rising popularity of professional esports leagues.
Nontraditional players
Immortals burst onto the scene under the guidance of then-21-year-old Whinston, part of a wave of entrepreneurs seeking to build professional teams.
Segal joined the company in 2017 after years in traditional sports, working for professional hockey teams including the National Hockey League's Arizona Coyotes. Segal joked that hockey might not seem like an ideal sport for a desert city, but he said he liked the challenge of getting locals interested in a new pastime. As he called it: "Traditional sports in nontraditional contexts."
While working for the Coyotes, Segal repeatedly came into contact with Anschutz Entertainment Group Inc. through its venues and facilities. The downtown-based company, which owns L.A. Live among other properties, invested in Immortals in 2017 as part of a wave of established entertainment companies putting money into upstart esports ventures.
According to Segal, AEG encouraged him to take a leadership role at Immortals where he'd take on the challenge of developing a business model for another sport in a nontraditional context.
Whinston, who remains a shareholder in the company, has characterized Segal's takeover as amicable. Efforts to reach Whinston were not successful, but Segal said the two remain in touch.
Since taking over, Segal has pursued a more diversified strategy.
The Valiant team is gaining prestige and drawing in esports fans, and Segal said the team expects to play at L.A. Live soon. Immortals is also expanding into global markets, targeting both fans and players through its acquisitions of Brazilian esports team MiBR and Brazil's Gamers Club, a platform that matches videogame players with potential opponents at similar levels. Brazil's esports market is the third largest in the world, according to research firm Newzoo.
Immortals now counts about 100 employees after its acquisition of Brazilian Gaming Club. Segal said the club has more than 1 million registered users, and he hopes to move the site to a subscription business model, with some revenue still collected from advertising.
Big-name backers
Segal's tenure has coincided with Immortals recruiting and raising money from big-name backers.
Immortals announced this month a $30 million Series B funding round with money from Lions Gate Entertainment Corp. and Steven Kaplan of Oaktree Capital Management. The company wouldn't disclose how much it raised before the latest funding round.
Former financier turned philanthropist
Michael Milken has also invested an undisclosed sum into Immortals.
"Our investors are not traditional venture capitalists," Segal said. "They are well-
capitalized strategic investors, with a long-
term horizon."
EBay Inc. founder and current Quibi Chief Executive Meg Whitman, who joined the board of Immortals in October, also participated in the company's latest funding round.
Segal said the company has deployed Whitman to work with its newly acquired businesses in Brazil. "She's run multiple technology businesses," Segal said of Whitman. "She understands how to do due diligence in different geographies."
Multiple growth models
Segal said it can be difficult to make money operating esports teams because the video-
games are owned separately by game developers, who make money off their intellectual property.
"Overwatch" game developer and league owner Activision Blizzard Inc. controls disseminating and televising league games. Streaming platform Twitch, which is owned by Amazon.com Inc., pays $45 million per year to Activision to stream "Overwatch" competitions, and the gaming giant also pulls in an undisclosed sum from Walt Disney Co. to air contests on ABC and ESPN. The money is split between Activision and the 28 esports teams that are part of the league.
Revenue from media rights alone isn't enough to sustain esports leagues, experts said, because esports don't have the audiences that sports leagues like the National Basketball Association do.
"We're not there yet," said Anthony Borquez, co-owner of the Overwatch League's Dallas Fuel, who also teaches at the USC Marshall School of Business.
Sponsorships are the biggest revenue source for the Overwatch League, with revenue shared between Activision and the teams. The Immortals team, the Valiant, has a few of its own sponsorship deals including with Nestlé's Kit Kat candy bars.
Segal is also looking to boost the outfit's revenue from esports events. After playing its games in Activision's Blizzard Arena in Burbank, the Valiant will begin hosting contests at L.A. Live including an August homestand at Novo, an indoor club at L.A. Live with a seating capacity of 2,400.
Some analysts are skeptical as to whether the Overwatch league in particular has the fan base to achieve profitability. Drew Holt-
Kentwell of Singapore-based Catalyst Esports Solutions said "Overwatch" isn't as popular as some other games like "League of Legends."
Immortals once fielded a North American "League of Legends" team but does not currently compete in competitions. Segal declined to comment about rumors Immortals is looking to rejoin "League of Legends," which is operated by Riot Games Inc.
For reprint and licensing requests for this article, CLICK HERE.