SEAN MCVAY
2019 LA500
Monday, May 20, 2019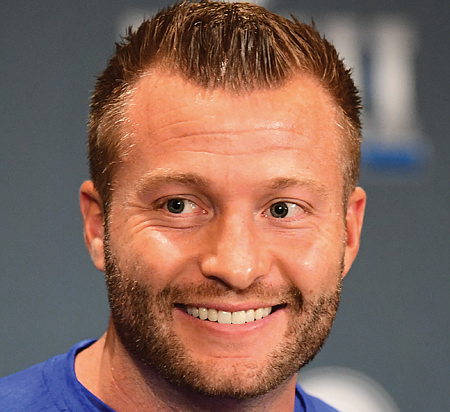 Head Coach, Los Angeles Rams
THE LATEST: When he was hired by the Rams in 2017, then-30-year-old McVay became the youngest NFL head coach in more than 60 years. This year, he became the youngest head coach to reach a Super Bowl. During his brief tenure, McVay has not only elevated the Rams from pretenders to contenders, his fresh approach and offensive innovation have helped change the face of the league. He's also made the Rams a must-see attraction as they prepare for their 2020 move into Los Angeles Stadium at Hollywood Park.
BACKGROUND: In 2017, the Associated Press named McVay Coach of the Year, making him the youngest to receive the honor. Before joining the Rams, McVay worked with the Washington Redskins, including three years as offensive coordinator and three years as the tight end coach.
WORTH NOTING: McVay played wide receiver from 2004 to 2007 at Miami University of Ohio, where he earned the school's Scholar-Athlete Award.
YEARS ON THE LA500: 1
For reprint and licensing requests for this article, CLICK HERE.