Mutual Trading Nabs Warehouse
REAL ESTATE: Japanese food supplier to consolidate in new El Monte facility facility
Friday, May 17, 2019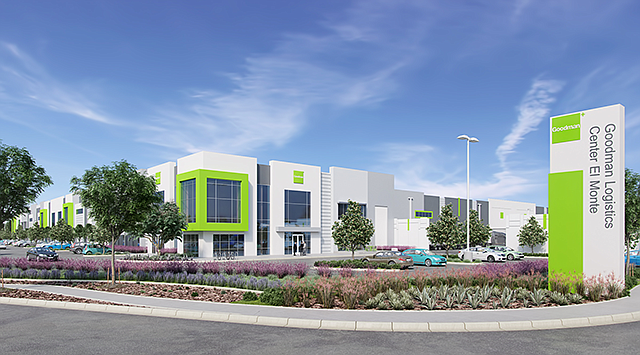 A Japanese food, beverage and restaurant supplier has leased nearly 300,000 square feet at a new logistics facility in El Monte. Mutual Trading Co. will consolidate from five locations to one in a move the company said will improve efficiency.
The lease is for the Goodman Logistics Center El Monte, a more than 1.2-million-square-foot facility that is under construction. The two-building facility, owned by Goodman Group, is slated to open before the end of this year. It still has leases available for up to 935,657 square feet.
Demand for space in the new facility has been strong, said Louis Tomaselli, who represented Goodman along with fellow Jones Lang LaSalle Inc. agent Zach Niles in the deal with Mutual Trading Co.
The rising popularity of ecommerce and demands of speedy shipping have led to a tightening of warehouse supply in the region. In the first three months of the year, 9.3 million square feet of industrial space was sold or leased countywide, according to data from JLL. The vacancy rate was a mere 2.2%. 
Tomaselli said tenants are looking for features like 36-foot clearance, cross dock loading and plenty of truck parking, all in locations that are easily accessible to dense population centers — a combination that can be difficult to build in the Southern California market.
"That commands a lot of land. That makes the building much more expensive … and the rent higher. It used to be that developers just put the biggest building on the land that you could," Tomaselli said. "Now they're putting the most efficient building, which includes trailer and truck parking."
Projects the size of the El Monte facility are rare. It is replacing a 1-million-square-foot Albertsons distribution facility.
"It is hard to find land sizes close to L.A. that can hold these facilities," Tomaselli added. "The demand is outstripping supply two to one."
Mutual Trading Chief Executive Masatoshi Ohata said in a statement that the company had been growing due to an increased interest in Japanese cuisine. Mutual Trading was founded in 1926 as a co-op. It is now one of the largest Japanese foodservice suppliers.
CBRE Group Inc.'s Kenji Sakai represented Mutual Trading in its deal with Goodman.
The new location, Ohata said, is closer to many of the company's customers.
The company will move into the building in November.
For reprint and licensing requests for this article, CLICK HERE.