PLAYING TO WIN
Local toy shops take advantage of Toys R Us void
Friday, May 10, 2019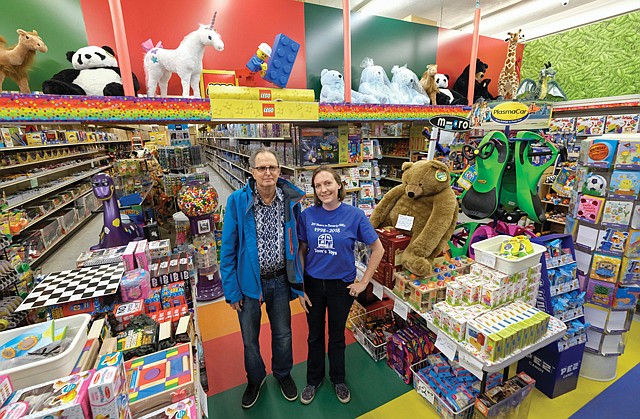 Nearly a year has gone by since Toys R Us — the nation's largest toy retailer — went belly up, liquidating inventory and shuttering hundreds of stores across the United States.
The dominant chain's departure from the toy retail market left a void in the industry — but it also created opportunity. Independent toy stores in Los Angeles say not only have they seen a notable bump in business after Toys R Us shut down, but the giant retailer's failure provided some lessons.
"I have seen the closing as an overall positive thing for us," said Dana Chavez, owner of Wonder Emporium in Whittier. "People are coming in."
Carrie Harr, the owner of the Miracle Mile Toy Hall in Mid-Wilshire, said sales have jumped about 12% in the last year. "Since September, we have had tons of people come in. They say there is no other toy store," she said.
Stores like Harr's and Chavez's only account for about 1% of all toy sales in the United States, according to market research firm NPD Group Inc. Aside from giants like Toys R Us, the bulk of toy sales go through online and big-box retailers like Amazon.com Inc., Walmart Inc. or Kohl's Corp.
Still, toy shops are one of the few segments in the industry that have been growing. Last year, with the failure of Toys R Us, the $21.6 billion U.S. toy market logged a 2% drop in sales after four straight years of growth. But specialty toy stores saw a 16% jump in sales in the fourth quarter of 2018, NPD reported.
The American Specialty Toy Retailing Association said a survey of 900 of its toy store members at the end of last year found that business was trending up.
"There was a ripple effect when TRUs closed," said Kimberly Mosley, president of the association.
Formidable competition
Even as sales inch upward, independent toy shops continue to face many of the same challenges that brought down Toys R Us, including growing competition from ecommerce outlets and the rising cost of operating a brick-and-mortar storefront.
Toy shop owners often pay outsized rents because they want to be in prime retail locations in order to reach more customers. But for many busy parents, it's still easier — and often cheaper — to order merchandise online from Amazon or Walmart. Storefront retailers are missing out on many of those sales.
"Although the competition of Toys R Us is gone, the pressures of competitive online pricing and rising rent factors are still the biggest challenges for most independent toy stores," said Jill Wahlquist, vice president of Tom's Toys, which operates three stores in Beverly Hills, Montrose and San Luis Obispo. "Add to that the fact that the significant independent toy retailer population is aging and, in many cases, do not have the knowledge or budget to tap into online branding resources to capture the eyeballs of millennial parents."
Online sellers and big-box retailers like Kohl's and Target Corp. also have an advantage because they can negotiate directly with popular toy manufactures like Mattel Inc., Hasbro Inc. and others to get products at a lower cost, which keeps their prices down. Small stores often have to work through distributors that markup product prices, several said.


While Mattel and Hasbro appear to have recovered somewhat from the initial pain of losing Toys R Us, some smaller toy manufacturers that relied on the retailer's aisles of shelf space have been hurt. The Wonder Emporium's Chavez said at least one of the toymakers she worked with was forced to close when Toys R Us went bankrupt.
Some mom-and-pops prefer not to compete directly with big-box retailers on the most mainstream toys, and avoiding heavy inventories of those items helps keep costs down, they said. Still, many admit they have to stock some of the most popular toys, or they risk losing customers.
Ted Frankel, who has owned Tom's Toys for more than 30 years, said the company's three stores offer the scale needed to buy larger inventories of some popular items at a discount.
Offering expertise and an experience
But scale isn't always an advantage. For Toys R Us, its behemoth footprint is a large part of what led to its demise, experts said.
"Toys R Us was a warehouse," said Daryn Fillis, chief executive of El Segundo-based Distroller North America, the U.S. operation of Mexico City-based toy boutique Distroller.
In the last two years, Distroller has launched three storefronts in the United States, including one in Glendale. Fillis describes the shop as "retail entertainment."
The concept toy store lets children "adopt" alien babies that come spinning around the shop from a winding tube that's purportedly connected to a fantastical planet. Fillis is projecting $5 million in revenue for the U.S. stores this year.
Industry insiders said Toys R Us failed in part because shopping there was unpleasant.
"One of the challenges for Toys R Us is that it had become more of a transactional type of experience," said Mosley, of the toy association. "It wasn't as much a customer experience anymore. It used to be magic."
Toys R Us isn't completely dead. New Jersey-based Tru Kids Brands, run by a former Toys R Us executive with intellectual property rights to the store's brands like Geoffrey the Giraffe and Babies R Us, is plotting a return this holiday season. The company is reportedly looking at smaller format stores, but it has not announced any locations.  
The small format store niche is where independent retailers across many industries are finding they may have what it takes to survive — even as ecommerce continues to grow. Bookstores, which have competed directly with Amazon longer than any other industry, are among the first segments of independent operators to prove it's possible to thrive. Between 2009 and 2018, the number of independent bookstore locations grew by 50%.
Miracle Mile Toy Hall's Harr has found a way to distinguish her brand by focusing on a specific segment of the market. She caters to what she calls "Whole Foods moms," who are looking for nonbattery-operated toys made with specific materials.
Inside her 4,000-square-foot store, parents and children can romp through different themed rooms: One has a toy racetrack and costumes, another is full of toys for babies. There are dinosaurs and magic kits, doll houses and stuffed animals. There's also a 1,400-square-foot event space for parent-and-child classes and magician performances.
Tommy Yip, the second-generation owner of Tom's Model in Little Tokyo, said he provides expertise and friendly service to his clientele.
When customers come into the store, they can get information about production runs, manufacturing and pricing for novelty items. The store also runs a consignment business. Since Toys R Us' closure, Yip said he's seen a 15% in-store sales bump. Last year, the store brought in more than $1 million in revenue.
The 31-year-old took over Tom's Model from his father who began the business at swap meets during the 1980s. Since its founding, the business has had several iterations moving from wholesale to retail — adjusting to whatever made sense for customers at the time. Early on, the store focused on lower-end battery-operated imported trinkets, then die-cast collectibles and later remote-control toys. Its main products are now collectible vinyl figurines.
Yip said he sells many of the same products that the big-box stores do, and his biggest competitor is Amazon. To counter that, he works on building rapport with the community and gathering a following on Instagram.
"The way I see it, there are other big-box retailers that offer the same product," Yip said. "But I believe our service supersedes theirs."
For reprint and licensing requests for this article, CLICK HERE.