Industrial Appeal
Ecommerce's popularity sparks foreign interest in SoCal market
Friday, May 3, 2019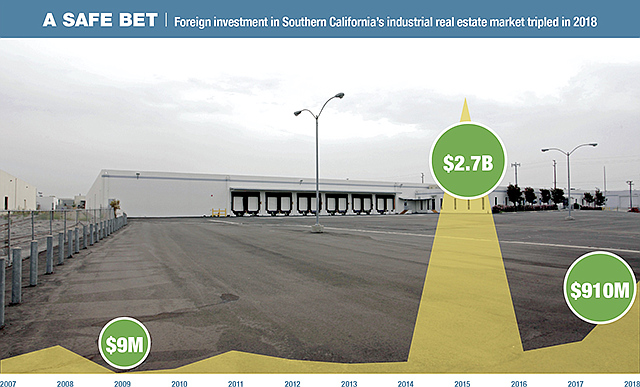 Foreign investors are diving back into Southern California's industrial real estate market as rising demand from ecommerce businesses and the region's proximity to bustling international trade hubs has sent rental rates soaring.
According to a report by CBRE Group Inc. and Real Capital Analytics Inc., foreign investment in industrial assets in Los Angeles, Orange County and the Inland Empire nearly tripled in 2018 from the year prior.
"Industrial has become the golden child of the commercial real estate world," said Colliers International Senior Executive Vice President Mark Zorn.
The region's industrial real estate market notched $910 million in foreign investment last year, or 6.3% of all foreign investment in the U.S. market in 2018 — the most of any region in the United States. The investments amount to a 100-fold increase from the $9 million low seen during the Great Recession in 2009.
An earlier round of ecommerce-driven development drew a $2.7 billion spike in foreign investment in 2015. Foreign investment dropped in 2016 before jumping once again.
The Dallas-Fort Worth, Chicago, Atlanta and New York markets also recorded large amounts of foreign investment, the report found.
Nationally, foreign investors made $14.4 billion in industrial real estate acquisitions in 2018, up 152% year-over-year. Foreign investment accounted for 21% of total U.S. industrial real estate investment.
"It has been the highest or second highest product in demand for the last couple years primarily because there's been significant rental value increases," said Kurt Strasmann, an executive managing director at CBRE.
Ecommerce delivers value
Much of the growth in industrial demand is due to the rising popularity of ecommerce and promises retailers are making for speedier deliveries. To meet those promises, products have to be stocked closer to population centers.
"We're a consumer-based economy out here," Zorn said. "Most of the industrial space is queued for or around distribution warehousing, fulfillment, ecommerce and transportation."
As people "have found new ways to shop," retailers' appetites for industrial facilities have become "just insatiable," said Paul Sablock, an industrial specialist at Jones Lang LaSalle Inc.
That means available warehouse space in urban areas is getting scarcer, which drives up values and rents, Strasmann added. "Ecommerce has just exasperated the situation (from) a scarcity standpoint," he said.
Trade-heavy SoCal is a safe bet
The Los Angeles market is among the most attractive to foreign investors because of its access to some of the continent's busiest seaports, five airports and a variety of consumer and distribution businesses, Strasmann said.
L.A. is a "safe haven," for foreign investment, he said. "It's a great place to do business, and it's proven to be extremely profitable."
The fact that it can take at least two years for new development to get approved and built in Southern California is another factor that makes the market attractive to investors, Zorn said.
Still, he said warehouses are seen as such a strong, safe investment right now that some investors are shifting funding from other opportunities to invest in the industrial market.
"Investors are allocating more of the pie to industrial real estate and out of some of the slower growing areas like office and retail," Zorn said.
For reprint and licensing requests for this article, CLICK HERE.