Financial Firms Sail into Ports
TRADE: Infrastructure assets offer stable investment return
Friday, May 3, 2019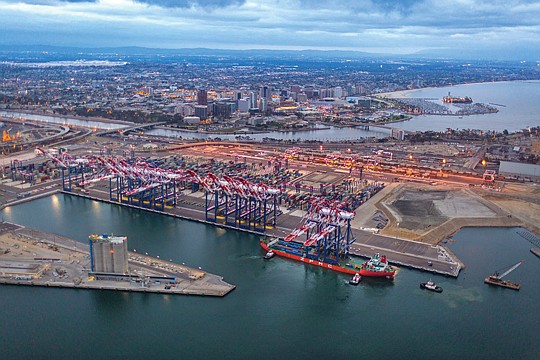 Australian investment firm Macquarie Group Ltd. took a major stake last week in one of the West Coast's largest and most technologically advanced seaport operations at the Port of Long Beach, buying out Hong Kong-based shipping company Orient Overseas International Ltd.
And, while it may not appear that Macquarie's expertise is hauling and handling container cargo, it's not the first financial firm to bet big on infrastructure assets at Southern California's ports.
Analysts said the long-term nature of port operating agreements and the consistent flow of global trade translate into steady returns, which has made the San Pedro port complex — and many other top trade hubs around the world — targets for private equity groups, infrastructure funds, alternative asset managers and others.
"Infrastructure, particularly in premier locations, offers low volatility and somewhat of a protected downside and most importantly, in the example of container terminals, a really strong cash yield," said Patrick Bird, managing director and head of global advisory at New York-based Seabury Capital. "There is clearly interest across the space."
Macquarie is leading a consortium that plans to pay OOIL $1.78 billion for rights to run the Long Beach Container Terminal, OOIL said April 30. The container-handling terminal is known as one of the most advanced in California, with fully automated equipment capable of moving the equivalent of 40% of the entire port's 2018 volume.
"It's an eye-popping number," Bird said. "The asset itself is clearly world class. All things considered, it is a fair price."
If the deal is approved by the port and U.S. officials, Macquarie will control the operating company that holds a lease with the Port of Long Beach extending through 2051. OOIL will continue providing stevedoring and terminal services at LBCT for 20 years as part of the deal.
Moody's Corp. analyst Moses Kopmar said the structure of the deal is typical for North American terminals, which are often run by an operating company, partnered with a shipping line and a financial backer. That's the case for nearly all of the dozen terminals on San Pedro Bay.
"The capital to fund investment in terminals wasn't always available to shipping companies," Kopmar said. "It can be tough for a terminal on its own to finance a $500 million or $300 million project."
Port authorities that lease terminals can be wary of financial entities trying to flip terminals for short-term financial gains, so they often impose a series of contract provisions that ensure minimum volumes, investments and other protections.
For reprint and licensing requests for this article, CLICK HERE.
Prev Next