WeWork Accelerates LA County Expansion
Co-working giant signs NoHo, downtown leases as part of local growth plan
Friday, March 29, 2019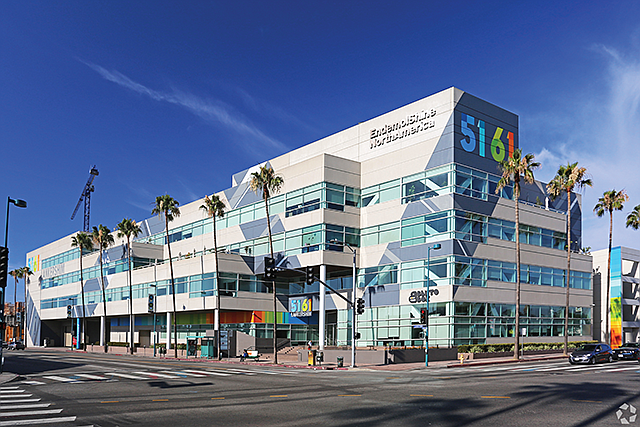 WeWork Cos. Inc. is adding two more L.A. locations as the co-working giant gains traction around the county.
WeWork signed leases on the new office spaces, which are located in North Hollywood and the Arts District. Terms of the leases were not disclosed.
The 40,000-square-foot North Hollywood location, at 5161 Lankershim Blvd., can house roughly 570 people and is slated to open in the summer. The property is owned by Beacon Capital Partners with Jones Lang LaSalle Inc. acting as the leasing agent.
The average asking rent for Class A offices during the fourth quarter of 2018 in the San Fernando Valley was $2.78 a square foot, according to JLL data, putting the value of the lease at roughly $1.3 million a year.
WeWork will also take 55,000 square feet at The Maxwell in the Arts District, located at 1019 E. 4th Place. The location is expected to open in the fall and can house roughly 960 individuals.
The company already has downtown locations at the Fine Arts Building at 811 W. 7th St. and the Gas Company Tower at 555 W. 5th St. Earlier this year, WeWork announced plans for another 78,000-square-foot location at 1031 S. Broadway, in a building known as the Western Pacific.
The Maxwell, which was built in 1924, was formerly called the Maxwell Coffee Building. Hudson Pacific Properties Inc., the building's owner, is overhauling the property to create a five-story creative office complex. CBRE Group Inc. is the leasing agent for the development.
The average asking rate for Class A office space in downtown during the fourth quarter was $3.70 a square foot, putting the value of WeWork's lease at roughly $2.4 million a year.
• • •
ServiceTitan Expands Glendale HEADQUARTERS
Glendale-based ServiceTitan Inc. is expanding its headquarters, leasing 125,000 square feet in a building across the street from its current home.
Beacon Capital Partners, owner of the building at 800 N. Brand Blvd., announced the deal March 26. Terms of the lease were not disclosed.
Ara Mahdessian, ServiceTitan's co-founder and chief executive, said the company has more than 600 employees and has plans to grow in 2019.
"This is a welcome partnership with Beacon to create a new dynamic office environment to support our growth," Mahdessian said in a statement.
In November, the company raised $165 million in Series D Funding.
Jones Lang LaSalle Inc.'s Jim Lindvall represented Beacon in the lease. Cushman & Wakefield Inc.'s Suzanne Lee represented ServiceTitan.
For reprint and licensing requests for this article, CLICK HERE.
Prev Next