Fledgling VC Outfit Takes Flight
FINANCE: Unicorn Venture Partners to seed local tech
Friday, March 29, 2019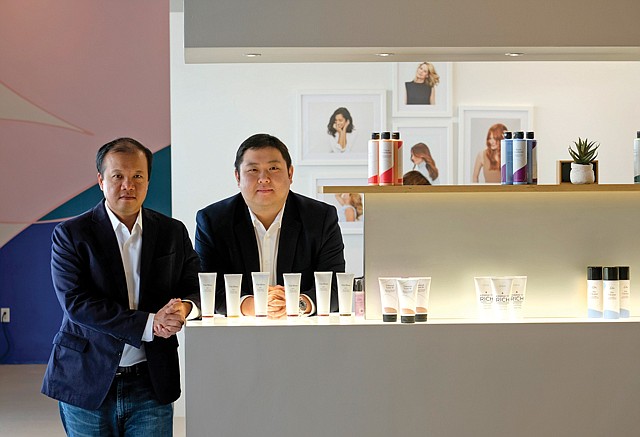 Playa Vista-based Unicorn Venture Partners, a new startup venture capital firm headed by a triumvirate of investors, including the son of a Texas billionaire, has begun investing in a handful of local startups as it gears up for a major capital raise.
The firm, which has already raised approximately $25 million from its three founding partners since its formation in August, is targeting an additional $25 million raise by the end of September.
Unicorn backs seed and early stage funding rounds in technology and consumer-focused startups, the investors said in a meeting with the Business Journal at the headquarters of eSalon, an El Segundo-based company and one of Unicorn's first investments.
The founders of Unicorn are Phillip Sarofim, the 32-year-old son of Texas billionaire and fund manager Fayez Sarofim; Jonathan Hung, a 36-year-old wealth manager formerly with investment banks Morgan Stanley and UBS in New York City; and 40-year-old David Lin, formerly a chief financial officer of both Culver City-based Maker Studios Inc. and TicketMob in Sawtelle. Both those firms have had successful exits, with Walt Disney Co. purchasing Maker for $975 million in 2014, and hospitality management software firm Cvent Inc. acquiring TicketMob in 2013.
Unicorn invested an undisclosed amount of capital in eSalon, which generates in excess of $30 million in revenue annually through the sale of hair products that are custom made at its El Segundo warehouse. Other seed investments include Santa Monica-based HomeLister, a technology-powered online real estate brokerage, and San Francisco-based Coinbase Inc., a digital currency exchange used to buy, sell and store cryptocurrencies such as Bitcoin. It also has invested in San Francisco-based e-scooter and bike rental startup Neutron Holdings Inc., which does business as Lime.
Unicorn's investments have ranged in size from a few hundred thousand dollars to a few million.
"That's our sweet spot," Lin said.
Long odds
The chance of venture capital firms hitting a home run with their investments is slim — but a successful venture can reap millions.
"Once the money is raised, the success rate is 8.65 percent," said Len Lanzi, executive director of the Los Angeles Venture Association, who estimated that there are some 200 venture firms in Los Angeles County.
When early stage investments do hit, they hit big. Marina del Rey-based Dollar Shave Club Inc., which delivers razors and other personal grooming products to customers by mail, sold to Unilever for $1 billion in July 2016. Ring, a startup that specializes in camera-equipped doorbells for homes, was acquired by Amazon.com Inc. for $1 billion a year ago.
Jesse Draper, co-founder of Santa Monica-based Halogen Ventures, which invests in female founders and raised $10.4 million in 2017 for its first fund, said venture capital can be cutthroat.

"It's like the Wild West," said Draper. "Sometimes I bet on two people in a room, and you know immediately whether they'll give up. They have to think really big and be open and have coachability."
New venture
The big-money backer for Unicorn is Sarofim, who already has an established resume with venture capital funds. He's been running Trousdale Ventures in Austin, Texas, along with his partner Brian Grigsby, an Austin-based venture capitalist. Sarofim previously ran an L.A.-based firm called PS Ventures, which was folded into Trousdale.
Trousdale is still around, specializing in seed, startup and growth capital investments. Sarofim said the firm looks to make investments in technology, enterprise software, food manufacturing, lifestyle consumer products, security, financial technology, renewable energy, child development products, consumer packaged goods and entertainment industries. Trousdale typically makes investments of between $1 million and $5 million.
Sarofim said he will remain involved with Trousdale firm, but he's set his sights on Los Angeles. Trousdale has a track record of investing in L.A. companies, taking stakes in Pavemint, a Hollywood-based company whose parking app transforms private property into public parking opportunities that generate revenue for property owners. It also has invested in HopSkipDrive, a downtown-based ride-sharing service that shuttles children between school and activities.
Sarofim has also made Los Angeles his home. Two years ago, he purchased a property on Dabney Lane in Beverly Hills for $16.3 million. That's also where he has been running Trousdale's West Coast office. Unicorn is considering moving its offices to Beverly Hills near the Civic Center sometime over the next year, so Sarofim can manage other business interests besides just Unicorn.
Fortuitous meeting
Unicorn came into focus after Sarofim began talking with Lin and Hung about making an anchor investment in a new venture capital firm in 2018.
That investment initially grew out of a 2007 chance encounter between Sarofim and Hung at Hollywood's Geisha House, a sushi restaurant and bar with an Asian-themed, red-painted facade, that closed five years ago.
"The Sarofim family is huge in Houston. We stayed in touch because he was collecting brains," said Hung, who holds advanced degrees from the Wharton School at the University of Pennsylvania in Philadelphia; Massachusetts Institute of Technology in Cambridge, Mass.; and The London School of Economics and Political Science.

The two kept in touch over the years, and when Lin and Hung got together at Sarofim's new digs over a year ago, they talked about forming a closer bond. They all were running separate family offices to manage their wealth and wanted to up their game with Unicorn.
"He threw the gauntlet down and said, 'Let's do it,'" Hung recalled.
For reprint and licensing requests for this article, CLICK HERE.