Ares Bets Big on HVAC Provider Growth
CoolSys Inc. plans to use private equity firm's cash to triple revenue to $1.1 billion
Friday, March 29, 2019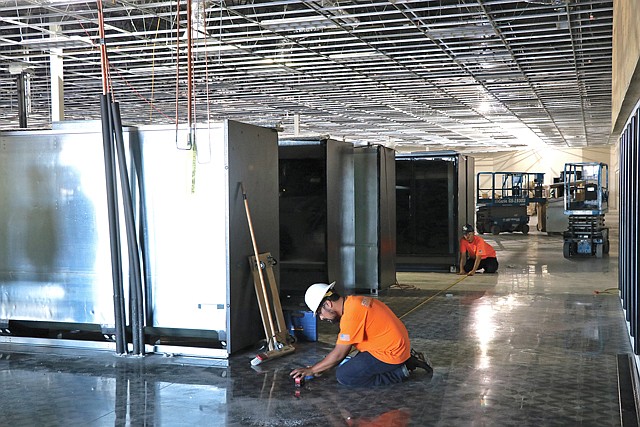 Century City-based Ares Management Corp., which has $131 billion in assets under management, said one of its private equity group funds has purchased CoolSys Inc. in an aggressive "buy and build" strategy aimed at tripling the size of the refrigeration and HVAC company.
Terms of the transaction were not disclosed.
Ares Management bought Brea-based CoolSys from Boston-based Audax Group Inc., which manages more than $12 billion in assets through its private equity business.
"I will have access to significantly more capital to pursue a larger and more transformative strategy," said CoolSys Chief Executive Adam Coffey.
CoolSys designs, builds and services heating, ventilation and air conditioning, or HVAC, and refrigeration systems for big-box retail and grocery chains, including Target Corp., Walmart Inc., Amazon.com Inc.'s Whole Foods Market Inc., Costco Wholesale Corp. and Starbucks Corp.
Over the next four years, the privately held company plans to nearly triple in size from last year's $400 million in annual revenue.
CoolSys bought four businesses in 2018. "We are always looking at deals," said Coffey. "We have a very acquisitive pipeline here."
He said Ares Management's large size and financial prowess will help CoolSys grow 30 percent per year as it marches toward an estimated annual revenue mark of $1.1 billion by 2023.
CoolSys was founded in 2001 and has 2,000 employees in 39 states.
• • •
Macquarie helps finance battery storage
The "green investment" arm of Australia-based Macquarie Group Ltd. closed on a third round of debt financing to build a network of battery storage sites in Southern California designed for certain electricity-constrained areas.
A Macquarie spokesman declined to disclose terms of the deal.
In December, Macquarie said it would finance $100 million for part of the 52-megawatt (MW) project for Southern California Edison, the electric utility unit of Rosemead-based Edison International, in the west Los Angeles Basin. The latest round of financing announced March 26 will complete that plan — now estimated to grow to a 63-MW project.
A megawatt is a unit for measuring power, equivalent to the energy produced by 10 automobile engines, according to an electricity trade group.
The energy storage systems are situated at several commercial, industrial and government host sites in Los Angeles and Orange counties, and will be used for flexible and reserve grid capacity.
New York-based CIT Group Inc., which led the initial financing through its power and energy finance unit, also was the lead investor in the second refinancing round for $100 million and in the latest round. CIT was joined in the third round of financing by Dutch banking company Rabobank, Japan's Sumitomo Mitsui Banking Corp., and Dutch-based ING.
Macquarie Capital bought the portfolio of battery storage systems from San Francisco-based Advanced MicroGrid Solutions Inc. in August 2016.
• • •
B. Riley establishes new credit unit
B. Riley Capital Management, a subsidiary of Woodland Hills-based B. Riley Financial Inc., named Tim Gramatovich chief investment officer of its newly established credit platform, Gateway Credit Partners.
The business unit will focus on identifying and acquiring undervalued securities in the noninvestment-grade corporate credit market.
These investments will be made specifically in so-called "collateralized debt obligations," which are high-leveraged financial investments pooled together as cash flow-generating assets, and then repackaged and sold to investors. Collateralized debt obligations, or CDOs, were criticized in the wake of the 2008 financial crisis as one of the major factors that led to the Great Recession.
In his new role, Gramatovich will be responsible for establishing the firm's presence in this market.
Gramatovich has more than 30 years of experience in the leveraged finance business. Prior to joining the firm, he was co-founder and chief investment officer of Santa Barbara-based Peritus Asset Management, founded in 2004.
Have a deal tip? Pat Maio can be reachedat pmaio@labusinessjournal.com or (323) 556-8329.
For reprint and licensing requests for this article, CLICK HERE.