STYLE | LOADING OUT
Mhair Zeitounian I Reload Management
Friday, March 15, 2019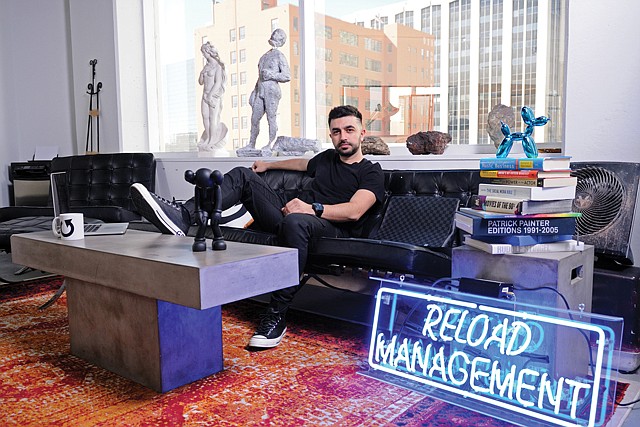 Mhair Zeitounian, president and talent manager at Reload Management, lives in Glendale, and technically that's where his talent agency is based. But like many millennials in L.A.'s sprawling business world, the 30-year-old company founder said his office spans the metropolitan area.
"You go where the work is," Zeitounian said of his almost 5-year-old agency, which represents music, digital and traditional film and television talent. "It's the hustle of my job — I'm always on the road just meeting new people and trying to make those connections for my clients."
For a visit with the Business Journal, Zeitounian set up temporary digs in a Fashion District high-rise downtown. The office felt more like an artist's studio, with outsized wall hangings and unfinished torso sculptures perched everywhere. Zeitounian brought along some toys and objects that usually adorn his home office: a tasty-looking plastic ice-cream cone from the pop-up Museum of Ice Cream, a miniature edition of Jeff Koons' "Balloon Dog (Blue)," a handful of limited-edition vinyl toys and a neon sign bearing the company's logo — harking back to L.A.'s so-called Golden Age of Neon, which spanned from 1925 to 1960.
"I love pop art," Zeitounian said, adding that playfulness and color set the right tone for him.
Among the toys that travel with Zeitounian is a collectible figure called "Small Lie" by artist Kaws.
"This guy is always on my desk," Zeitounian said, adding with affection, "He looks a little sad."
Aside from the portable mascot, Zeitounian said he's happy without a brick-and-mortar office. "I used to have an office job, and I felt the nature of an office job was very stagnant," he said.
Being glued to a desk is physically and mentally constraining, he said, but, "When you know you don't have to be anywhere, it sort of gives you room to play around and go explore."
Zeitounian said some days, he even manages to avoid opening his laptop, conducting all of his business on his smartphone. He also attends many industry panels and events.
Because the office moves with him, Zeitounian relies more on his attire than his surroundings to create a business style that resonates with his mostly young clientele. Although there is a fair amount of "cyber scouting" for talent, he said, he always makes a point to meet potential clients in person.
Zeitounian calls his look "edgy street — kind of a mix of edgy and classy." That means mixing casual clothes with higher-end designer items, including his Louis Vuitton shoulder bag and Tom Ford cologne.
Clad mostly in black, Zeitounian's ensemble included a Diesel watch, Diesel shirt, Converse Gore-Tex sneakers, and a color-block jacket from Dutch clothing brand Scotch & Soda to add a pop of brightness.
Zeitounian also uses his hair as a canvas for experimentation.
"People always say I have great hair, so I try to be creative with it," he said with a laugh. "Every two weeks, I have a chance to do something new."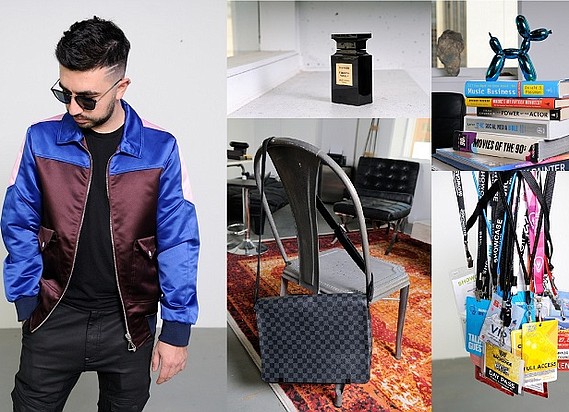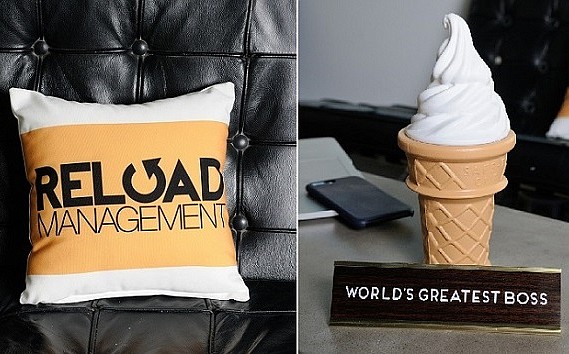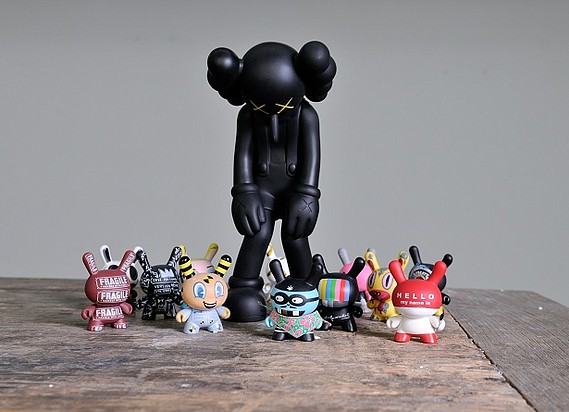 For reprint and licensing requests for this article, CLICK HERE.