Import Volume Down 10 Percent at Ports in Post-Holiday Slump
Friday, March 15, 2019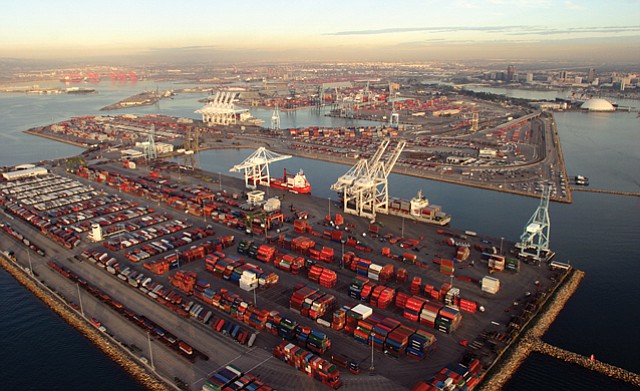 Cargo volumes sunk at the San Pedro Bay ports in February with imported goods sliding 10.2 percent compared to the same time last year.
Port officials said they will be looking at their operations but blame the drop off on the Lunar New Year in Asia, a time when production typically tapers off.
"With an uneven trade flow, we will be closely evaluating next steps for enhancing supply chain efficiencies," said Gene Seroka, Los Angeles port executive director, in a release.
The decline comes after both ports saw a rush of volume from Asia as retailers scrambled to import goods fearing President Trump would impose high tariffs on $250 billion worth of Chinese goods. But the March 1 deadline to impose the tariff was scraped as negotiations between the world's two largest economies progressed.
"The drive to increase inventory petered out," said Jock O'Connell, an international trade advisor at Beacon Economics.

Imports at the Port of Los Angeles slumped 9.1 percent to 348,316 twenty-foot equivalent units compared to the same time last year and overall volumes dropped 2.7 percent during the same time period. Imports at the Port of Long Beach fell 11.5 percent to 302,865 TEUs compared to the same time last year and volume dropped 9.8 percent.
Manufacturing, retail and trade reporter Rachel Uranga can be reached at ruranga@labusinessjournal.com or (323) 549-5225 ext. 251. Follow her on Twitter @racheluranga
For reprint and licensing requests for this article, CLICK HERE.