Air Lease Corp. Planes Grounded
AVIATION: Boeing plane crashes hit leasing co.'s fleet
Friday, March 15, 2019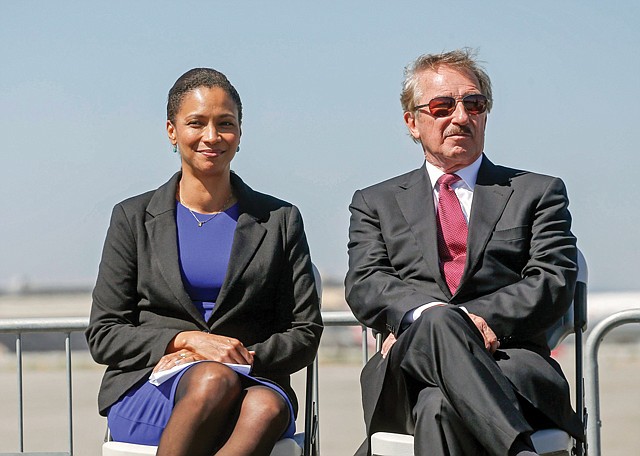 Last week's grounding of Boeing Co.'s 737 MAX 8 commercial jetliner has hit Century City aircraft leasing company Air Lease Corp., which has 14 of the airplanes in its possession and another 154 on order.
The worldwide ban on flights of the airliner model, after two recent crashes, means Air Lease can't cut any new deals to lease the 14 planes. And the longer the ban remains in force, the more challenges Air Lease could face in meeting debt covenants on that equipment, analysts said.
The temporary global ban of the 737 MAX 8 flights came after a March 10 crash of an Ethiopian Airlines Enterprise-operated aircraft shortly after takeoff from Addis Ababa's airport. About five months earlier, a 737 MAX 8 craft operated by Lion Mentari Airlines crashed shortly after takeoff from Indonesia's main airport.
Preliminary evidence from both crashes indicated pilots had difficulty with 737 MAX 8 software, though definitive findings on causation remain months away. Boeing announced last week, after the second crash, that it planned to introduce a software update for the plane.
Last week, several countries and airlines acted to ground their 737 MAX 8 planes. The United States was the last holdout, agreeing to ground the planes on March 13.
In a research note to investors last week, Cowen & Co. analysts Helane Becker, Conor Cunningham and Tyler Seidman named Air Lease and two other companies — Dublin-based AerCap Holdings and Fly Leasing Ltd., of Dun Laoghaire, Ireland — as the aircraft leasing firms with the most exposure to the aircraft grounding. If any of the companies' leases become nonperforming, the analysts wrote, that "could mean the company would not be in compliance with debt covenants."
In Air Lease's case, anticipated lease signings for the 14 aircraft affected will almost certainly be delayed, which could make it difficult for the company to cover its debt covenants.
But those planes represent only 5 percent of Air Lease's overall fleet of 275 aircraft, and the vast majority of Air Lease's planes are already leased out to airlines. Those airlines are responsible for making lease payments even if the planes themselves are not operational.
To be sure, the impact of the grounding on leasing firms like Air Lease will be far less than the impact on Chicago-based Boeing, which saw its stock lose 11 percent of its value over the three trading days after the Ethiopian Airlines crash. The aerospace company would be on the hook for any order cancellations, in addition to any damage payouts from the crashes should the airplane or its equipment be determined to have caused the crashes.
Prev Next
For reprint and licensing requests for this article, CLICK HERE.