Obituary: Roy Doumani, 1935-2019
Tuesday, March 12, 2019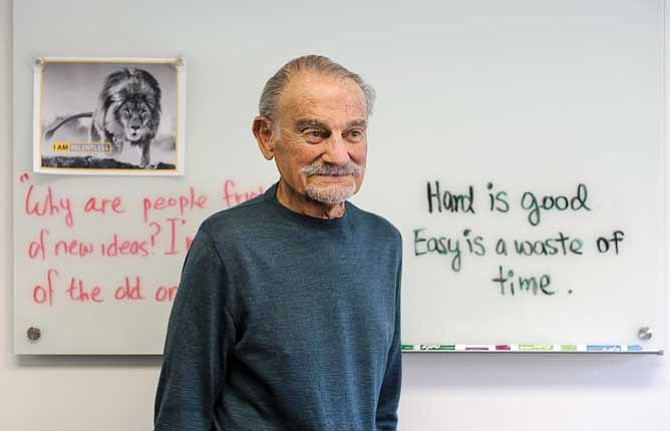 Roy Doumani, a keen Los Angeles businessman, philanthropist and driving force behind bioscience innovation whose education nurtured a generation of entrepreneurs at UCLA, has died. He was 83.
Doumani died of heart failure at his Marina del Rey home shortly after midnight on March 10 following a long illness, his family announced.
The executive director of the Business of Science Center at UCLA and professor at UCLA's David Geffen School of Medicine was the consummate L.A. businessman – whose lifelong ventures ranged from banking to real estate, from biotechnology to education, and to the arts.
He basked in the sheer glory of promoting business prospects for both his UCLA alma mater and for his students.
He also helped launch more than a dozen successful Los Angeles companies, from First Los Angeles Bank to Agensys Inc., a biotechnology firm which sold for $537 million, and Kite Pharma Inc., which sold in 2017 for nearly $12 billion.
"Roy Doumani was many things to many people," said Kite founder Dr. Arie Belldegrun, founding chairman of Allogene Therapeutics Inc. and holder of the Roy and Carol Doumani Chair in Urologic Oncology at the David Geffen School of Medicine, in an email. "A mentor. A professor. An entrepreneur. A visionary. A friend. For me, he was all of that and more."
Doumani was born Nov. 25, 1935 in Los Angeles to Peter and Lillian Abdun-nur Doumani, both immigrants from Lebanon.
He studied business and finance at UCLA, earned a law degree at USC, and served as a reserve officer and paratrooper in the U.S. Army.
His ongoing approach to life, the wiry man with the bristly mustache and goatee once said with a gleam, was innovation.
"I want to build things that make people live longer and healthier, and enjoy a better life," Doumani told the Business Journal last year upon being named to its Business Hall of Fame.
He launched the UCLA Business of Science Center, and Westwood Technologies, to help turn prodigious campus research into billions. He helped launch the California NanoSystems Institute at UCLA to turn nanoparticles into the next technology.
Over the course of two decades, Doumani helped fund and create such UCLA spinoffs as Agensys, Kite, Neural Analytics Inc., Momentum Biosciences, Neucures Inc., Trethera Corp., Spinal Singularity, to name a few.
"He should always be remembered as one of Los Angeles' biotech heroes," said Ahmed Enany, chief executive of the Southern California Biomedical Council, a Los Angeles-based trade group.
A quiet but forceful driver of change, Doumani served on the UCLA Board of Governors and endowed two academic chairs. He also served on the board of the Norton Simon Museum, while donating art to museums across the nation.
He is survived by his wife, Carol; and three brothers, Carl, Michael and Peter Doumani. Per his wishes, no services are planned.
"While he made his home here, he cast a long and global shadow, teaching scientists how to become business entrepreneurs so people suffering from cancer all of the world might have hope for a future," said Belldegrun, a family friend. "True to form, when he was once asked about those he helped in biotechnology, he said, 'I hope I've helped them as much as they've helped me.'"
Health business reporter Dana Bartholomew can be reached at dbartholomew@labusinessjournal.com. Follow him on Twitter @_DanaBart.
For reprint and licensing requests for this article, CLICK HERE.