CHILD'S PLAY
Co-working spaces for parents take off
Friday, March 8, 2019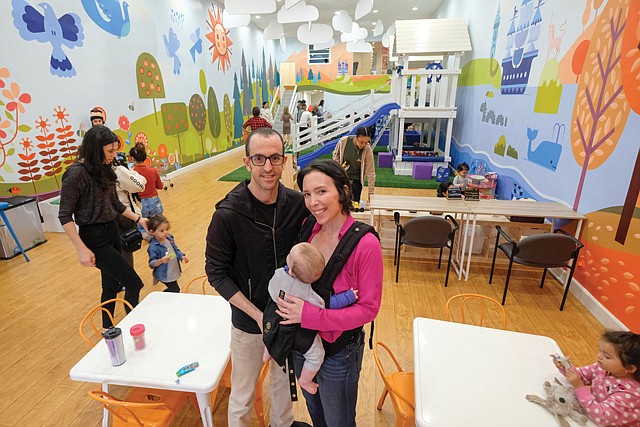 New mom Naomi Leight-Give'on was having a hard time balancing the demands of her professional work and parenting responsibilities.
Soon after she gave birth, Leight-Give'on began to teach part time, but she couldn't find child care that was affordable and flexible. Sometimes she'd hire a babysitter at home just so she could run to a nearby coffee house to focus.
"I thought, 'Why isn't there a solution for parents who need a few hours to get some things done?'" she said. The problem seemed particularly acute for workers in the gig economy, and that gave Leight-Give'on an idea.
Together with her husband and a family friend, Leight-Give'on opened Wiggle & Work, a co-working office with a new perk: on-site, affordable child care.
The 3,200-square-foot workspace in East Hollywood, which opened 10 months ago, lets parents book day care for children up to age 4 on their mobile device in two-hour slots for $10 to $20 an hour.
Wiggle & Work isn't the only game in town when it comes to child-friendly co-working spaces. In Santa Monica, mother and entrepreneur Keltse Bilbao was facing similar challenges when she came up with her plan for Big and Tiny, which opened seven months ago.
Both companies offer membership services that allow for unlimited drop-ins and pricing slides depending on how much time is reserved. On the weekends, the space can be booked for parties.
The co-working spaces provided what they couldn't find in their community, Bilbao and Leight-Give'on said, and child care slots at both co-working spaces quickly sell out.
Growing market
"There's a child care crisis," said Michelle McCready, deputy executive director of Virginia-based child advocacy nonprofit, Child Care Aware of America. The organization estimates the average price tag at a traditional child care center can easily rack up to $17,000 a year for child under 2 years of age and more than $11,000 annually for a child between 2 and 3 years old, which for many parents simply isn't affordable.

In what her organization calls child care deserts, demand for care far outweighs the supply, and many parents have to get creative, McCready said. "There is not a lot of child care solutions for families, so parents are creating their own."
Across the country, parents have formed informal cooperatives where they share nannies to offset the cost of child care. And web-based applications like Care.com Inc., which connects caregivers and families, have drawn many users.
Bilbao and Leight-Give'on, who initially bankrolled their companies with the help of family and friends, say, in less than a year, the demand for their services has grown steadily. Both Wiggle & Work and Big and Tiny are now looking to add locations and raise more funding.
"We don't want to just open two or three," said Leight-Give'on. "We want to go nationwide."
Business model
Both companies will have to prove to potential investors that their model of affordable, flexible child care can be profitable.
Neither company would disclose its revenues, but Leight-Give'on said the co-working space model helps keep costs down. That's in part because with parents on site in case of emergency, the companies aren't required to hold a state child care license.
Child care at Big and Tiny ranges from $14 to $23 an hour, and the company also offers enrichment classes, accepting children from 3 months old up to 6 years old. Unlike traditional child care, there's no long-term enrollment.
Both operations keep the student-teacher ratio at 4 to 1 at the most. Bilbao requires her caretakers to be certified preschool teachers while Leight-Give'on asks her caretakers to have taken some early childhood education classes.  
Bilbao said it can be difficult to figure how many care takers are needed throughout the day since enrollments can fluctuate. "One of the challenges in this business is not knowing what's coming," she said. "We learn how to be flexible."
For reprint and licensing requests for this article, CLICK HERE.