Biometrics Finds Footing
TECHNOLOGY: LAX pilot program seen as tipping point
Friday, March 8, 2019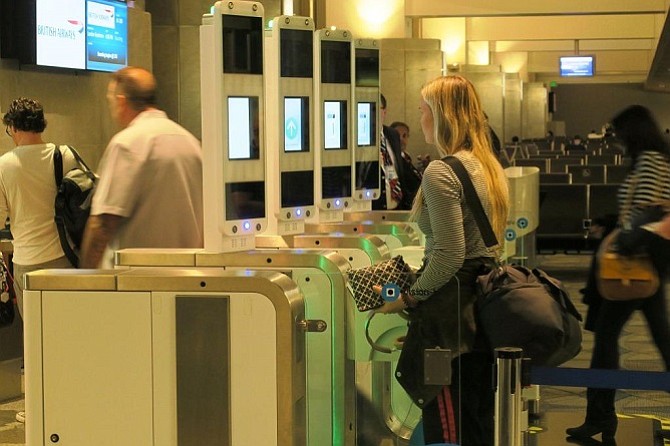 The Los Angeles region has become a testing ground for consumer technologies that employ facial recognition of biometric scans.
The clearest use cases so far are at Los Angeles International Airport, where machines installed in select terminals can scan registered passengers' fingerprints, allowing them to quickly pass through security checkpoints and board their flights.
But developers of the new technologies, including several local companies, are finding it difficult to get U.S. consumers to warm to the everyday use — and cost — of biometric scanning and facial recognition in other applications.
"There's a lot of conversation around biometrics, but in terms of practical use cases, it's still in its infancy," said Ryan Disraeli, chief executive of Marina del Rey-based fraud prevention firm TeleSign Inc.
In 2017, TeleSign discontinued its biometric program BehaviorID, which monitored users' online interactions with services and websites, cross-referencing that activity with a database to identify irregular behavior.
Ultimately, TeleSign redirected its efforts to products that were selling better.
"The maturity of biometrics needs to develop," Disraeli said.
New growth
Biometrics and facial recognition technologies have been around since the early 1990s, but recent breakthroughs in their development will drive faster growth in the market in the coming years, industry sources say.
According to industry research outfit Allied Market Research, the global facial recognition market will generate $9.6 billion in revenue by 2022, growing 21 percent over the time period from 2016 to 2022. Government security is driving much of the expansion, particularly for facial recognition applications, analysts say.
Pasadena-based digital security firm Cogent Inc., founded in 1990 by Ming Hsieh, works on government and commercial projects. The company has changed hands a few times since its founding, and its current owner, Gemalto, is expected to close a sale of its assets to French security firm Thales Group for roughly $5.8 billion by the end of this month.
For many years, Cogent has worked with government contractors, including Northrop Grumman Corp., to develop technology for the Homeland Security Department's Homeland Advanced Recognition Technology (HART) biometrics program. "What we provide is a very powerful core technology that has extreme capabilities for doing facial recognition," said Daniel Asraf, a vice president with current Cogent parent company Gemalto.
Cogent's technology has been in use at the American Airlines Inc. terminal at LAX since December 2018, employing biometrics to cross-check boarding passengers with DHS's system, the company said.
According to Gemalto, its Live Face Identification System achieved a 99.4 percent accuracy rating during a 2018 Homeland Security test.
Airport security
LAX launched a pilot program to test biometrics technologies in November of 2017. The airport is planning to seek bids for the development of automated boarding gates that use the technology, according LAWA's Chief Innovation Officer Justin Erbacci.
Erbacci said Portuguese firm Vision Box now runs three biometric gates in the Tom Bradley International Terminal as part of the pilot.
New York City-based Alclear (doing business as Clear) pays a fee to the airport agency to operate several kiosks at security checkpoints. Customers who register and pay for the service can speed through security by scanning their biometric data.
Consumer potential
Beyond the airport, some local companies are testing the market for other consumer applications of biometric and facial recognition technology.
Elecpro Group Inc., based in City of Industry, is developing a facial recognition "smart lock" for doors. Earlier this year, company executives were pleasantly surprised when they managed to raise more than five times their $10,000 goal in a Kickstarter campaign.
Still, Elecpro Vice President Vince Zhou said the facial recognition lock may not be ready for the consumer market because the technology is still too expensive. The price tag for one of the devices could be at least $370, he said, adding that the fingerprint version of the lock is slightly more affordable.
For now, the company plans to target wholesale customers like hotels and property managers. "We are trying to ease people into the idea of facial recognition," Zhou said.
For reprint and licensing requests for this article, CLICK HERE.