Parsons Decamps for Va.
ENGINEERING: Firm moves Pasadena HQ to DC metro
Friday, March 1, 2019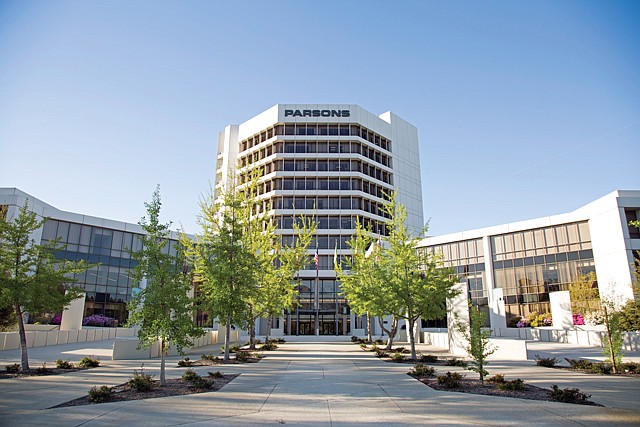 Los Angeles County is losing another major corporate headquarters.
Pasadena engineering firm Parsons Corp. announced Feb. 28 that it is moving its HQ to Centreville, Va., in the Washington, D.C., metro area, effective immediately, to be closer to its customer and employee bases.
Parsons, founded in 1944, has grown into an engineering and consulting giant, with more than 16,000 employees globally and 2018 revenue of $3.6 billion. The company ranked No. 8 on the Business Journal's 2018 private companies list, based on its reported $3 billion in 2017 revenue.
About 500 employees work at the Pasadena headquarters and about 800 at other locations in California.
According to spokeswoman Virginia Grebbien, no layoffs or relocations of those employees are planned, at least through the end of the lease period on the Pasadena building, which ends in 2026. She noted that many of the company's top executives have long worked in other locations, including Chief Executive Chuck Harrington, who works out of the firm's Charlotte, N.C., office.
New center of gravity
In the move announcement, Harrington cited the concentrations of company employees and customers in the Washington, D.C., metro area as the main reason for the headquarters move.
On the employee front, Harrington said, "Our strategic actions over the past 10 years, including acquisitions, have led to the Washington metropolitan area having Parsons' largest concentration of employees worldwide. The move of our corporate headquarters to the Washington area will support this concentration of employees in the region."
Just this past January, for example, Parsons acquired OGSystems, an imaging, mapping and data analytics company based in Chantilly, Va., just 5 miles from Parsons' Centreville office that has now become its headquarters.
As for the customer base, Parsons has over the years obtained numerous federal contracts, including from the Department of Defense. The Pentagon in Arlington, Va., is about 20 miles from Centreville.
"Relocating to the Washington region puts us in closer proximity to many of our existing and potential clients, as well as key decision-makers who influence policy and funding initiatives across our markets, particularly critical infrastructure," Harrington said.
But Parsons still plans to maintain its presence in the Los Angeles region and in California. According to the announcement, Parsons "remains committed to serving California-based clients."
Long local history
Parsons was founded downtown in 1944 by engineer Ralph Parsons and moved to Pasadena in the early 1970s. Locally, the company in 1948 built the Point Mugu Missile Test Facility, now the Point Mugu Naval Air Station, in Ventura County, and completed a major upgrade of Los Angeles' Hyperion Wastewater Treatment plant in the 1980s. More recently, Parsons coordinated the movement of the retired Space Shuttle Endeavour through L.A. city streets in 2012 to its new home at the California Science Center in Exposition Park.
For reprint and licensing requests for this article, CLICK HERE.
Prev Next