Offices Upgrade to Attract Tenants
REAL ESTATE: Westside complexes spend millions
Friday, June 28, 2019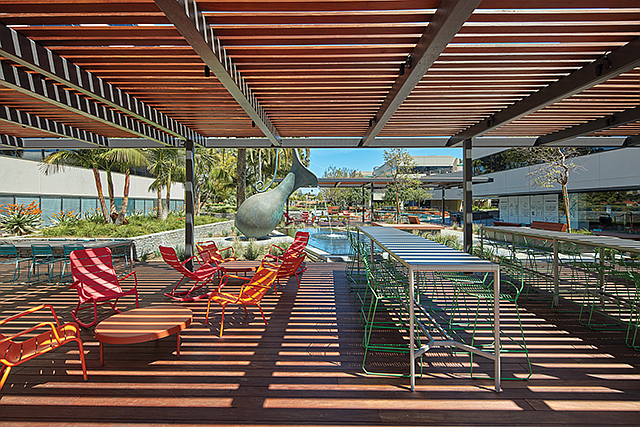 A pair of Westside office complexes unveiled multimillion-dollar renovations in June, seeking to entice business tenants that want chic, amenity-rich spaces to attract and retain talent as the labor pool tightens.
Playa District — formerly the Howard Hughes Center — has completed a $32 million renovation, and the Colorado Center in Santa Monica unveiled a $40 million investment in its common spaces, including a gym and high-end cafeteria.
"This part of West L.A. started changing," said Tim Marchal of Playa District's owner EQ Office, an arm of Blackstone Group's real estate funds.
Marchal said the leading technology companies known as FAANG — Facebook Inc., Apple Inc., Amazon.com Inc., Netflix Inc. and Google — all opened offices in the area recently, which has driven interest from other potential tenants. "In the last five or seven years, it just exploded," he said.
As part of the renovation, EQ bulldozed through the existing plaza and lobbies, creating an indoor-outdoor feel for the Playa District development. Blackstone had sold the property in 2014 to Hines Real Estate Investment Trust Inc. but later bought it back in 2016 as part of a $1.2 billion, 21-property acquisition.
In a nod to the center's aviation history, EQ's renovation also incorporated 23,000-pound airplane hangar doors that open onto a courtyard. Other amenities include fitness classes and a large outdoor area with grills and food trucks. The redesign was done by Rios Clementi Hale Studios.
The 1.4-million-square-foot campus is currently 81% occupied; tenants include All3Media America and Pepperdine University. Coworking company Industrious runs one floor of coworking space with amenities, including free breakfast and afternoon food offerings such as a sandwich bar.
Marchal and other office property owners have said coworking and flexible office space draws in new tenants that could eventually move into larger spaces in the same building as their companies grow. "If you don't have a flexible space offering, you're missing out," Marchal said.
The 1.2-million-square-foot Colorado Center in Santa Monica is 100% leased, but owners Boston Properties Inc. wanted to upgrade the property for tenants, spending $40 million on a new public plaza and a food hall. Operated by Patina Restaurant Group, the Colorado Kitchen food hall will have three eatery options and 17,000 square feet of common area space.
The renovation also included opening a 29,000-square-foot gym called the TriFit Club and Studios, which has tennis courts and a pool.
Jonathan Lange, vice president for Boston Properties' Los Angeles office, said this is the first time the property has been fully occupied. It was about 65% leased when the company purchased it three years ago — it's first foray into the L.A. market.
Tenants include Hulu, Bird Rides Inc. and Edmunds.com Inc.
"We were drawn to this because it's a full city block in the media district in Santa Monica," Lange said. "There are only a few pieces of real estate that offer that here."
Alexander Cameron, the group's director of leasing, said the updates to the property's common areas are aimed at offering a "quintessential Southern California lifestyle."
For reprint and licensing requests for this article, CLICK HERE.