Hospital Shifts to Mental Health
HEALTH CARE: Glendora move eliminates 184 jobs
Friday, June 28, 2019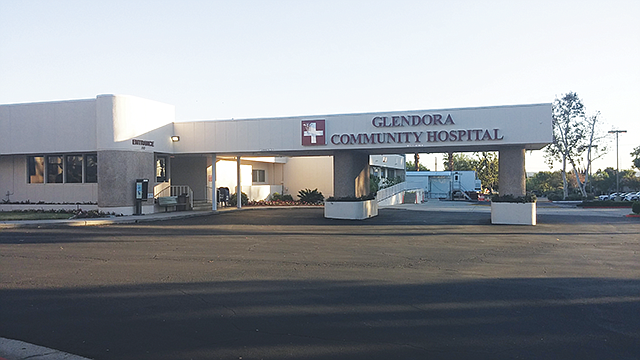 Glendora Community Hospital will close its acute care facility, eliminate 184 positions, and, beginning in September, transition to a 44-bed behavioral health facility.
The hospital is hoping that heavy demand for psychiatric services in Los Angeles County will help turn the facility around.
"The hospital has run at a significant loss for many years," said Glendora Community Chief Executive Parrish Scarboro. "The market (for acute care) is oversaturated."
Facilities for the mentally ill, which can be less expensive to staff, are in higher demand. There's often a waiting list for psychiatric beds at the Glendora hospital, unlike the acute care services that are generally at 10% to 15% capacity.
Industry analysts say there's a countywide shortage of beds for the mentally ill. A report by the California Hospital Association released last year found that the state fared far worse than the rest of the nation.
The report estimated that Los Angeles County was short 5,069 in-patient psychiatric beds. The county has about 23 psychiatric beds per 100,000 people.
More funding for these types of facilities may be coming down the pike. The Los Angeles County Department of Mental Health has been developing a plan to expand access through directly operated and contracted services, said Erick Matos, health deputy for County Supervisor Kathryn Barger. Officials have toured the Glendora location to explore opportunities for partnership.
Glendora Community Hospital operates a 21-bed, in-patient geriatric psychiatric facility. Most of the hospital's psychiatric patients stay from 11 to 20 days. They often arrive from nursing homes or other care facilities because of onset psychosis related to schizophrenia, bipolar disorder or dementia.
The hospital's decision to shift to behavioral services comes after a year of declining demand for acute care.
"We have very low emergency room volume," Scarboro said. "(In) our operating rooms, we do three or four surgeries a week." He attributed the decline in part to the 11 acute care hospitals within a 15-minute radius, including one less than a mile away.
At the same time, nurses at the hospital had been in a public battle with management as they made efforts to unionize. In a January letter to the Glendora City Council, several nurses accused hospital management of allowing "dangerous conditions and unsafe staffing levels that could seriously jeopardize patient safety."
In June, the hospital notified the California Department of Public Health and the Employment Development Department of its plans to shutter the emergency, surgery and intensive care units. The hospital plans to lay off 184 of its 300-person staff.
Some employees in the hospital's pharmacy, admissions, housekeeping and other support departments will be retained.
The closure will leave two-thirds of the 71,000-square-foot hospital unused. Scarboro said the area could be used to expand psychiatric services.
The facility, which has been around since the 1950s, was purchased in 2014 by Ontario-based Prime Healthcare Services Inc., which operates 45 acute care hospitals in 14 states.
For reprint and licensing requests for this article, CLICK HERE.