Wonderful Gets Sweet on Lemons
AGRICULTURE: Plans to market new seedless variety
Friday, June 21, 2019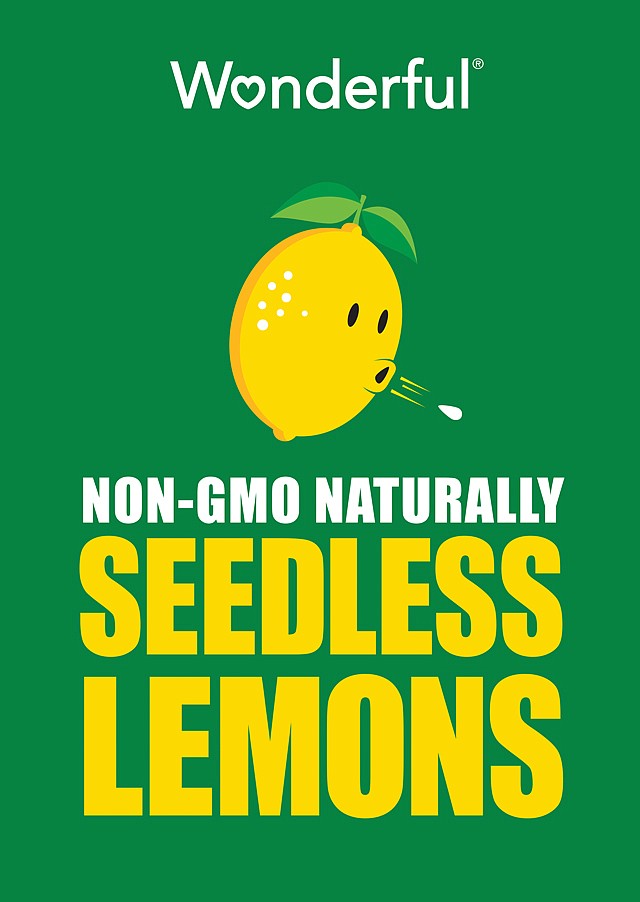 West Los Angeles agribusiness giant Wonderful Co. hopes it can work its marketing magic on yet another underappreciated product: the seedless lemon.
Wonderful, which in 2002 turned the juice from the much-overlooked pomegranate fruit into a premium-brand juggernaut, is hoping to repeat that success when it launches its seedless lemon brand in stores and among distributors this fall.
While seedless lemons have been around for decades — rival citrus grower Limoneira Co. of Santa Paula has been selling them for more than 20 years — the fruit has remained a niche category with limited growth in recent years.
Wonderful Co. is betting it can change that. It obtained exclusive rights to a seedless lemon variety developed by an undisclosed third party, spent years adapting and growing it in California, and now plans to market it.
Wonderful said it had determined through market research that lemon buyers are willing to pay a premium for seedless lemons. The company is convinced it can use this willingness — along with its advertising prowess — to expand the market for seedless lemons.
"As consumers' appetite for seedless varieties in produce continues to grow, Wonderful Seedless Lemons will disrupt the industry and become a top category driver for branded produce," Adam Cooper, the company's senior vice president of marketing, said in the announcement.
Cooper told the Business Journal that Wonderful has been selling seeded lemon varieties for more than 20 years; those lemons can be found at several grocery chains in Southern California, including Ralphs Grocery Co. Inc. (a subsidiary of Kroger Co.), Vons Cos. Inc. and its Pavilions stores (both subsidiaries of Albertsons Cos.), Trader Joe's Co., Costco Wholesale Corp. and Sam's Club (a subsidiary of Walmart Inc.).
Wonderful, a privately held company founded by Beverly Hills billionaires Lynda and Stewart Resnick, reported $4.2 billion in revenue in 2017, placing it at No. 5 on the Business Journal's Largest Private Companies list. The company has about 10,000 employees worldwide. In 2015, the company changed its name; previously, it had been known as Roll International and then became Roll Global.
Diversified offerings
Wonderful is one of the largest agricultural operations in California with more than 180,000 acres of farmland in the state. The company claims it is the largest farmer of tree nuts and second largest produce company in the United States. Its other citrus brands include Halos mandarin oranges and Sweet Scarlett's ruby red grapefruit. In addition to its agricultural assets, Wonderful also owns Fiji Water and Teleflora, a flower delivery service.
For reprint and licensing requests for this article, CLICK HERE.
Prev Next