STAYING SOUND
Los Angeles recording studios stand the test of time
Friday, June 21, 2019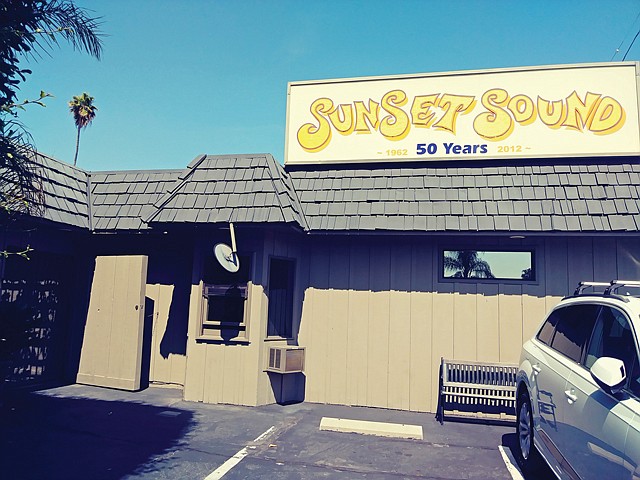 Sound City, located in Van Nuys, recently regained attention and acclaim when Dave Grohl of the Foo Fighters directed and produced a documentary about the studio's storied history. Nirvana and Red Hot Chili Peppers both recorded there, as did Stevie Nicks, Tom Petty and others.
In 1973, studio co-founder Tom Skeeter bought an expensive analog console that he stuck with through the 1980s when many other studios went digital, Tom's daughter, and studio president, Sandy Skeeter said.
Eventually they decided to lease out the studio. There were no commercial services there from May 2011 through 2016, but it reopened for commercial services in 2017. It has two producers in residence and is booked for several years.
The industry today
Today, many of the important recording studios of decades past are broadening their array of services. They still offer recording services for musicians, but some also lease out private office space or rent out larger rooms for events.
Waters said booking recording sessions at some at the venerable studios can be too expensive for artists who often record albums on their own dime.
"Capitol Records artists can't afford to record at Capitol — it's cost prohibitive," Veva Sound's Waters said. "A lot of legacy artists are the only ones who can afford the high-end studios."
Craig Hubler, the general manager for Sunset Sound, said as consumers have shifted toward digital downloads rather than buying full albums, it's affected the amount of money labels and artists have to spend on recording.
"The budgets have contracted for the vast majority of the artists because they don't have hard, physical sales anymore; it's all digital downloads," he said.
Hubler said a lot of the studio's revenue comes from the artists through their management companies and not the record labels.
Many artists have turned to recording in their home studios. Greenberg said there are some downsides to in-home recording — for one, it can take longer, and it can feel for some like they're disconnected from the broader industry.
But Hubler said while home recording changed the business, in the last few years, "The waters have settled."
"We've learned how to coexist," he added. "We're not competing with one another anymore."
That's partly thanks to a general recovery in the economy and the music industry's slow adaptation to new digital norms.
Recording studios' success is tied to the labels' success, said Cameell Hanna, studio manager at Serenity West Recording, which runs a handful of recording studios including the Sound Factory.
For reprint and licensing requests for this article, CLICK HERE.