Resale Readies for its Closeup
RETAIL: Secondhand luxury market set to double
Friday, June 14, 2019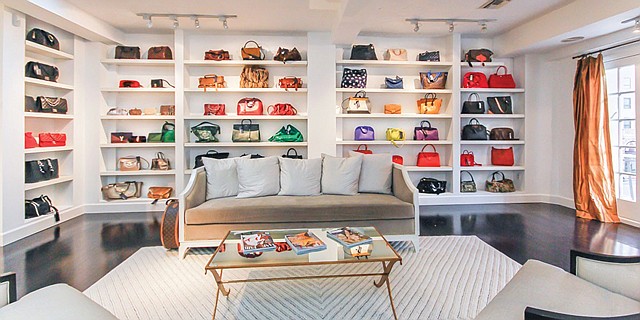 With $16,000 lemon-colored Birkin bags and $2,000 studded Dior clutches, Fashionphile's sleek white Beverly Hills showroom tucked near Rodeo Drive doesn't look like what it is: a secondhand store.
There's nothing musty about the secondhand luxury market, which is in the midst of a major makeover driven by ecommerce. Companies such as RealReal Inc., Poshmark Inc. and 1stdibs.com Inc. have opened up the world of used fashion for the mass market. Budget and eco-conscious consumers can click through virtual racks while in pajamas instead of traveling to a consignment store to comb through the aisles.
In the next five years, the secondhand apparel market is expected to double sales to $51 billion, according to resale marketplace ThredUP Inc.
Growing consumer interest and rising sales have drawn the attention of traditional luxury retailers. In April, Neiman Marcus Group Inc. announced it was acquiring a minority stake in Southern California-based Fashionphile, one of the first major luxury purveyors to invest in the fast-growing pre-owned market.
San Francisco-based RealReal is planning an initial public offering for its luxury consignment business.
And there's been a flurry of gently used luxury retailers like New York-based Rebag, owned by online site Trendly Inc., popping up across Southern California and online.
"We are growing up," said Sarah Davis, founder at Fashionphile, who started selling used clothes on eBay while going to law school in 1999. These days, she's hammering out the details for the Fashionphile stores slated to open in Neiman Marcus locations this summer.
A business model grows up
Like many resellers, Davis started out making individual sales of pre-owned and gently-used items on eBay Inc.'s website as a way to make extra money. "I never thought of myself as a businessperson," she said. "I thought business was men in suits."
But she found the sales addicting and slowly gained a steady clientele. She moved to Beverly Hills from Maryland in 2006 and partnered with her brother-in-law Ben Hemminger, operating out of a guesthouse across from the Beverly Hills Hotel.
In 2008, she opened up her first shop there, then another in San Francisco selling high-end bags and accessories.
Fashionphile has added two more locations in Carlsbad and New York City. In 2012, Davis relocated the headquarters from Beverly Hills to a 30,000-square-foot warehouse in Carlsbad, which she calls "the Willy Wonka factory for handbags."
Fashionphile's inventory consists of 14,000 pieces, and the company employs 146 people, mostly in its Carlsbad warehouse and offices in Los Angeles. Last year, sales grew 50%, only 2% of those transactions were in stores. Davis said the company is on track to do $200 million in sales this year.
Neiman Marcus, which reported a $31.2 million loss in the most recent quarter, has taken note.
The department store retailer is betting Fashionphile popups will draw in customers looking to sell their luxury items. With cash from those resales, they may spend more on new items while they're still in the store, analysts said.
"It's smart of Neiman Marcus," said Marie Driscoll, who specializes in the luxury market at Coresight Research Inc. She said the retailer wasn't drawing in enough people to its stores, but the in-store sites could change that.
"It's going to bring in a new consumer. Younger people are shopping this trend, and it's a way to expose younger people to luxury."
Other companies like mass apparel retailer H&M are offering their customers discounts to drop off old clothes. Driscoll said high-end designers would be wise to do the same as it could give them greater control of their inventory.
Sale-ing ahead
At least one of those fashion giants is on the defense against resale shops. French design house Chanel filed a federal lawsuit against RealReal in November, accusing the consignment company of, among other things, using the design giant's reputation to build its empire while selling at least half a dozen knockoffs.
Counterfeits can be a serious problem for an industry that is dependent on its reputation for sales, said Doris Raymond, president of The Way We Wore, a vintage and secondhand luxury store in Hancock Park. While Raymond, who has been in the business for four decades, sells Chanel and Louis Vuitton at her storefront, she's steered away from selling newer luxury apparel and bags because she isn't confident she can authenticate them.
At the Fashionphile warehouse, Davis has a team of two dozen people check the authenticity of bags through an extensive process. Davis said she thinks, in the long run, Chanel will come around to appreciate the secondary market.
The growth of resale luxury fashion points to a larger shift in the $1.8 trillion apparel and footwear industry as ecommerce displaces brick-and-mortar players and traditional retailers that are struggling to stay relevant in a quickly shifting market.
"Part of the allure of resale or recommerce is there aren't 25 of the same items; there are just two or three of them," Driscoll said. "That's such an important feature. For the last 20 years, retail is so much of the same thing over and over," she said.
As tastes shift, resale, rental and subscription models have become more widely accepted. And that's changing the way consumers think about spending.
A $2,000 Chanel bag might have more appeal if it can be rented out or resold later, helping the consumer keep some of the apparel's value and feel virtuous about their sustainability efforts.
For reprint and licensing requests for this article, CLICK HERE.