Angeles Equity Shoots for Three
SaMo PE firm locked up three deals last week, including APCT Inc. buy
Friday, June 14, 2019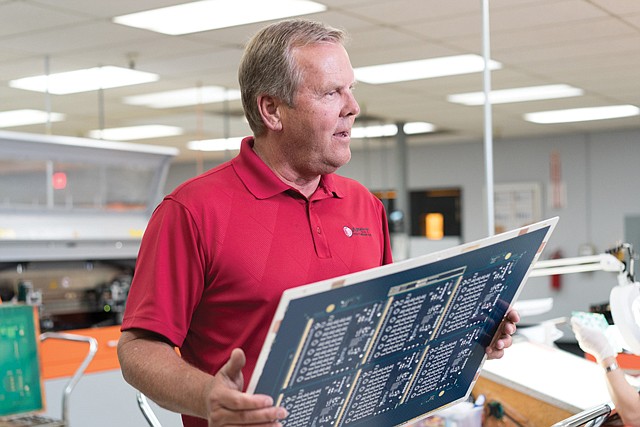 Santa Monica-based private equity firm Angeles Equity Partners announced its involvement in three deals last week — the purchases of a circuit board manufacturer, a pharmaceutical distributor, and a lumber and building materials provider.
The summer spending spree was headlined by the acquisition of Santa Clara-based APCT Inc., which specializes in prototyping, manufacturing and sourcing complex printed circuit boards on short notice for projects that include top secret military hardware, airplanes and consumer electronics.
Angeles Equity purchased the company from Shelton, Conn.-based private equity firm Saugatuck Capital Co. Financial terms of the deal were not disclosed, but Angeles Equity co-founder and Managing Partner Timothy Meyer, said the company's 2019 revenue could be in the $60 million to $100 million range.
"The business has good organic growth potential, and the opportunities to grow through … acquisitions is significant," Meyer said.
APCT was founded in 1977 by Chief Executive Steve Robinson. He said APCT turns circuit board orders around in 24 to 48 hours for customers who can't wait for shipments from Asian manufacturing partners in China, Japan, Taiwan and Vietnam.
Robinson said the Trump administration's 25% tariffs imposed on Chinese imports — which include printed circuit boards — will impact the U.S. manufacturing industry, but it remains difficult to assess by how much at this point.
"The 25% tariff is not a bad thing," Robinson said. "It's early, but it promotes certain opportunities for our current business that we didn't think of prior to the tariffs. It poses positive opportunities."
APCT has grown via several acquisitive moves since it was purchased in 2013 by Saugatuck Capital. The company most recently added two SoCal circuit board manufacturers — Placentia-based Cartel Electronics Inc. and its affiliate company, Orange-based Cirtech Inc. — in January 2018.
In a separate deal, Angeles Equity also acquired downtown-based Mini Pharmacy Enterprises Inc., a drug distributer specializing in providing diabetic supplies to consumers. Financial details of the transaction were not disclosed.
The acquisition represents Angeles
Equity's first portfolio purchase in the health care distribution sector, according
to firm co-founder and Managing Partner Jordan Katz.
Angeles Equity plans to install a new executive team with pharmacy expertise to help modernize the business, Katz said.
The firm's third deal announced last week was the purchase of Freeborn Lumber Co., an Albert Lea, Minn.-based lumber and building-materials supplier.
The acquisition was made in partnership with Santa Monica-based private equity outfit Clearlake Capital Group on behalf of the two firms' portfolio company, American Construction Source.
For reprint and licensing requests for this article, CLICK HERE.