PLAY PLANS
Toymakers worry China tariffs will disrupt supply chain, hurt business
Friday, June 7, 2019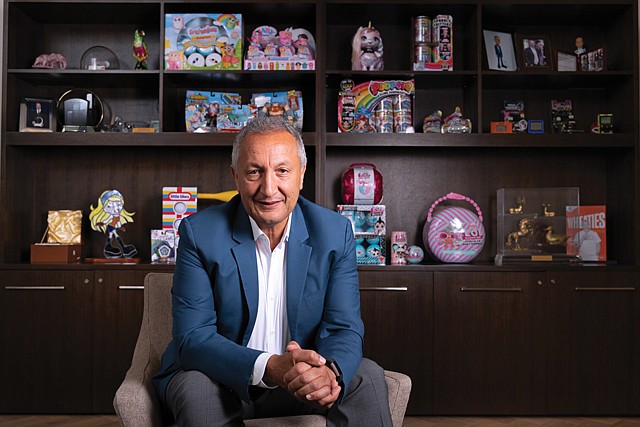 MGA Entertainment Inc.'s Chief Executive Isaac Larian should be enjoying the moment.
The Los Angeles-based toy company Larian founded in 1979 has notched $5.5 billion in sales from its best-selling L.O.L. Surprise line since its launch at the end of 2016. Even as toy sales slumped last year, doll sales showed strong gains of 7%, driven in large part by the MGA brand's popularity.
MGA also last month opened a sprawling new headquarters in Chatsworth on a 24-acre site that will include hundreds of apartments for its workers, a day care center and an incubator for startups.
But despite the company's coveted market position and local renown, for Larian, there's one big concern: President Donald Trump's trade war with China.
With 40 of MGA's 41 factories located in China, the tariffs imposed by the Trump administration on goods imported from that country could wreak havoc on supply chains and cut into the company's bottom line.
Larian and MGA are hardly alone in worrying about the impact of tariffs. Analysts said 85% of all toys sold in the United States are produced in China.
"This is going to be bad for everybody," Larian said.
The Trump administration raised tariffs to 25% on $200 billion worth of goods from China, and it's threatening to extend the markup to another $300 billion in Chinese goods, which would include toys, apparel, shoes and nearly everything else U.S. retailers and manufacturers import.
As home to many prominent toy companies, Southern California has a lot to lose if the tariffs go into effect. MGA is just one of the region's many toymakers. Mattel Inc., maker of Barbie and Hot Wheels, is headquartered in El Segundo, home to more than two dozen other toy companies — the highest concentration in the United States.
These companies, like the broader $21 billion U.S. toy industry, are deeply dependent on producers in China. And the new duties, which companies say could force them to raise prices, come as the toy industry is still reeling from the loss of a major retail sales channel — Toys R Us stores. The closure of the national retailer, credited with launching and sustaining dozens of product lines, weakened toy sales by 2% in 2018.
"This would be hugely damaging to the small toy companies," said Steve Pasierb, chief executive of the Toy Association Inc., an industry group.
Chinese factories
Trump has argued that China unfairly subsidizes factories and cuts prices to dominate markets, hurting American manufacturers and drawing away U.S. jobs.
But Larian said China's factories are better suited to making MGA's and other companies' toys, with specialized machinery and a workforce that is higher-skilled, less costly and can be employed seasonally, as demanded by the holiday-driven toy industry.
"It is a fantasy that our toy manufactures will move back to the United States," Larian said.

The regulatory requirements toymakers must meet in the U.S. are one of the factors that make it more difficult for them to just pick up and relocate stateside, according to Pasierb.
"It's really tough to move out of China," he said.
But it's also going to be tough to stay there if the tariffs take effect.
North American families spend an estimated $305 a year on toys, according to Toy Association data. Pasierb said new duties would bump up consumer prices for all Chinese imports, from clothes to shoes and other necessities, meaning the average family's spending on toys could fall — even as toy prices rise.

The longer the tensions draw out, the more complicated the picture becomes for American toy companies. About 30% of all toys globally are made in the Guangdong province in China, where the government is pushing to shift the industrial focus away from low-cost products like toys to higher-end manufacturing. If U.S. tariffs drive down demand for toys made in Guangdong, it could accelerate that transition.
"Of course the current friction will affect those kinds of industries," said Zhang Ping, China's consul general in Los Angeles.
Pasierb anticipates that, as manufacturing costs rise in China, some of the production will move to India and other parts of South and Southeast Asia. There's already growing production of plush toys, such as teddy bears, in Indonesia.
U.S. operations
Aside from its 40 production facilities in China, MGA operates one U.S. factory in Hudson, Ohio.
The factory, which produces the company's Little Tikes line, employs about 600 workers and is one of the last remaining toymaking plants in the country. Jobs like the ones at the Little Tikes factory aren't likely to come back, even with tariffs on Chinese-produced goods, Larian and other analysts said.
But the Ohio factory holds a special place in Larian's heart. When he purchased the operation in 2006, he'd planned to move it to Mexico, like many investors looking to cut labor costs. But he was so moved by a visit with workers there that he changed his mind.
"I am talking to people in the hallway, and they say, 'My wife works here, my daughter works here,'" he said. "We went out to dinner with our management that night, and I told everyone, 'Change of plans; I am not going to do it.' My CFO walked out."
Larian said he told the managers they had two years to turn the company around and break even. Overall, they have done a good job, he said, but some years, the factory doesn't make money.
Another investor might shed it, but Larian said it means too much to him.
"I don't want to have on my legacy or my history be that I closed the only standing toy manufacturer in America with a brand called Little Tikes," he said.
For reprint and licensing requests for this article, CLICK HERE.