Cadiz Looks to Water Down Bill
Infrastructure: Company's plan challenged by state legislation
Friday, June 7, 2019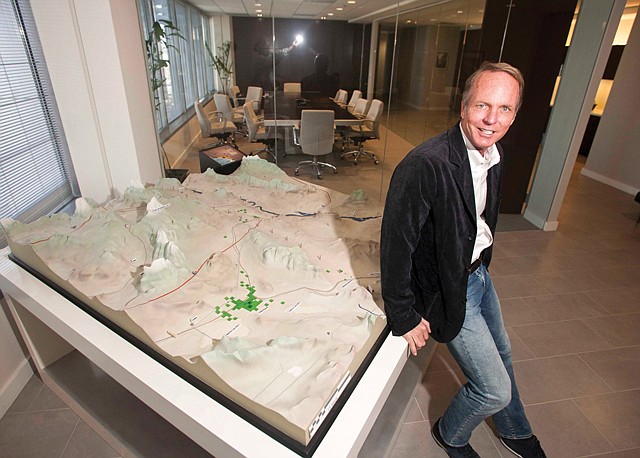 Downtown water developer Cadiz Inc. is trying once again to deflect state legislation challenging its plan to pump and transfer water from its desert aquifer to thirsty Southern California water agencies.
Last year, Cadiz successfully thwarted a bill requiring further environmental review and additional permits, which would have cost the company millions of dollars and meant a year or more in delays.
Cadiz has spent more than 20 years trying to get the project approved.
This year, the company is trying a different tack after virtually identical legislation — SB 307 introduced by Democratic state Sen. Richard Roth of Riverside — cleared the state Senate last month. Rather than ward the legislation off entirely, the company says it wants to work with legislators to limit the bill's scope.
In a letter to a state Assembly committee set to consider the bill June 10, Cadiz Chief Executive Scott Slater said the bill as currently drafted doesn't guarantee a fair hearing for the project to obtain the additional permits.
"We ask that the committee consider amendments that would allow for us and any future applicant under a regime outlined in SB 307 to have confidence that the review would be fair and not simply a mechanism to chill water and economic development," Slater said in the letter.
Cadiz is seeking final permits for its long-planned project to pump up to 50,000 acre-feet of water per year out of its aquifer north of Joshua Tree National Park and transfer that water via pipeline to the Metropolitan Water District of Southern California's Colorado River Aqueduct. The goal is to bring more water to population centers in coastal counties that frequently face water shortages.
The project has faced pushback from environmental groups, legal opposition in the courts, regulatory challenges and opposition within Congress over the last two decades. SB 307 is the latest battlefront.
Roth, the bill's sponsor, is hoping to capitalize on a new likely ally, Gov. Gavin Newsom. Previous Gov. Jerry Brown never took a position on the bill, but Newsom has indicated he would likely sign the legislation should it reach his desk.
That calculation appears also to have changed the picture for Cadiz.
"I think Cadiz sees the writing on the legislative wall on a bill that would impose another significant layer of environmental review on their proposed water distribution project," said Larry Kosmont, a Manhattan Beach-based economic development consultant. Kosmont was on the Metropolitan Water District board in the early 2000s when that agency was considering an earlier, larger-scale version of the project.
So far, though, there has been no official discussion of amendments to the bill, according to Roth's chief of staff, Elise Gyore. Any such discussion would likely have to wait until after the state budget is approved later this month, she said.
For reprint and licensing requests for this article, CLICK HERE.