LA Port Project is Derailed
Shipping: $130M facility sought to speed operations
Friday, July 26, 2019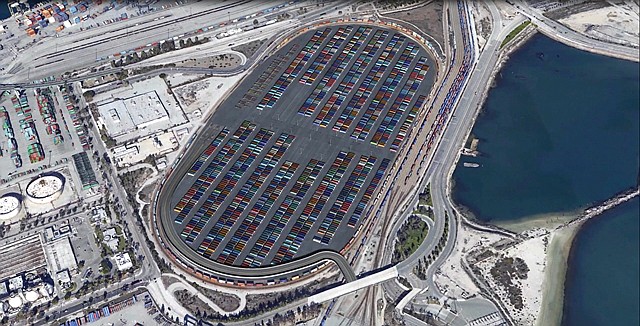 The idea looked great on paper.
Port of Los Angeles officials said a proposed plan to turn an 80-acre former coal storage site into a staging area for cargo containers would ease mounting congestion at the docks — and bring back some of the big shippers who were increasingly sending their cargo through competing ports on the East Coast.
The man with the plan was Jonathan Rosenthal, a private equity manager and entrepreneur who'd developed a friendly rapport with port officials, infrastructure development groups and International Brotherhood of Teamsters truck drivers. Dubbed the Harbor Performance Enhancement Center, Rosenthal's $130 million project had the public support of L.A. Port Executive Director Gene Seroka as well as investment from Australia's Macquarie Group, one of the world's largest infrastructure investment firms.
But in May, after three and a half years of working together to develop the site, Seroka told Rosenthal the project was off in a formal memo on port letterhead. "The Port of Los Angeles ('POLA') has determined the proposed project to be infeasible and provides notice of termination," the memo read.
Rosenthal wasn't happy. "At the port's encouragement, we've spent millions of dollars to begin the environmental permitting process and launch a one-year pilot program, fully approved and permitted by the port," Rosenthal said.
Officials have cited environmental criteria as reasons for terminating the project, and they've said HPEC lacked a viable operational and financial plan.
But what likely stalled the port's yearslong attempt to improve its operation is the very mechanism that keeps the port running day in and day out: the International Longshore and Warehouse Union, which represents thousands of dockworkers across the West Coast ports.
Privately, port officials often worry that any disagreement with the dockworkers could slow cargo movement and hurt the port's reputation among global shippers.
"Labor matters a lot, and they have incredible power," said Paul Bingham, director of transportation consulting at London-based IHS Markit Ltd. "I am not surprised at all this happened. If it was easy (to develop at the port), there would be a lot more near-dock facilities operating."
Behind the scenes
The dockworker's union had sought exclusive rights to provide trucking services for the project — an arrangement Rosenthal said he wasn't sure HPEC could afford.
Technically, the off-dock facility sits outside the jurisdiction of the ILWU, which covers workers employed by port terminal operators.
But Rosenthal said he was open to creating other nontrucking jobs for ILWU workers at the site. In a letter to ILWU President William Adams in February, Rosenthal offered to work with an ILWU employer to run HPEC's container yard. But Rosenthal said his efforts to work with the union were rebuffed.
Prev Next
For reprint and licensing requests for this article, CLICK HERE.