LA Commissions Study for Griffith Park Tramway
Thursday, July 25, 2019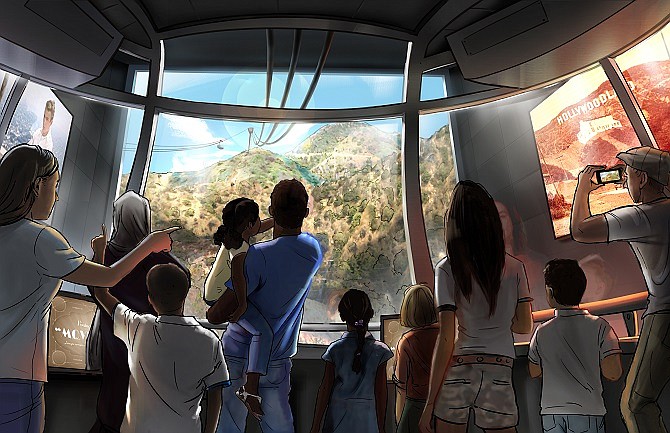 With multiple plans from private firms for aerial trams in or near Griffith Park, a city agency has commissioned a study to explore a tram line's feasibility and possible routes.
The Los Angeles Recreation and Parks Department signed a $535,000 contract earlier this month with Edmonton, Alberta-based Stantec Inc. to study aerial transit options in Griffith Park to reduce congestion and ease movement of tourists throughout the 4,200-acre site, one of the largest urban parks in the nation.
In a statement Simon Bluestone, Stantec vice president and longtime L.A. resident, said a tram "could be a game changer for park visitors and residents."
This isn't the first time aerial tram proposals have been put forward for the Griffith Park area. Fifteen years ago, a master plan for development of Griffith Park contained an aerial tram proposal, which ultimately went nowhere.
Over the last couple of years, two private sector plans have emerged for aerial tramways within Griffith Park while another private sector plan for an aerial gondola has been proposed nearby.
Burbank-based Warner Bros. Entertainment Inc. has proposed a $100 million aerial tram to ferry tourists from a parking lot next to its back lot to the north side of the summit of Mount Lee, behind the iconic Hollywood sign.
Former media and entertainment mogul Barry Diller and his wife, fashion designer Diane von Furstenberg, have put forward a $30 million plan for an aerial tram from the Los Angeles Zoo parking lot to the Hollywood sign. (The couple helped fund the High Line in New York.)
And not far away, a company led by former Los Angeles Dodgers owner Frank McCourt has proposed a $125 million aerial gondola project to carry fans between the baseball stadium parking lot and downtown's Union Station. McCourt retained ownership of the parking lot after he sold the team to Guggenheim Baseball Management for $2.15 billion in 2012.
The Stantec study will have a direct bearing on the two projects proposed for Griffith Park.
Warner Bros. spokeswoman Jessica Zacholl said the studio has done additional preliminary design and analysis work in the year since it unveiled the proposal. But the studio is now pausing the proposal to see what direction the city will take following the Stantec study.
"We believe we have the best route to the top of Mount Lee," Zacholl said.
The Diller-von Furstenberg plan has not yet entered the city planning process. An email to the office of Alexander von Furstenberg was not returned.
A couple of miles east of Griffith Park, McCourt's Aerial Rapid Transit Technologies project is undergoing an environmental review. The review was authorized by the Los Angeles County Metropolitan Transportation Authority's board of directors and is expected to continue through next year.
CORRECTION:
An earlier version of this story misidentified the leader of the proposed aerial gondola project between Union Station and Dodgers Stadium. The Aerial Rapid Transit Technologies project is led by former L.A. Dodgers owner Frank McCourt.
Education, energy, engineering/construction and infrastructure reporter Howard Fine can be reached at hfine@labusinessjournal.com. Follow him on Twitter @howardafine.
For reprint and licensing requests for this article, CLICK HERE.