Coffee Bean & Tea Leaf Acquired by Philippine Restaurant Group Jollibee
Originally published July 24, 2019 at 3:40 p.m., updated July 25, 2019 at 5:59 p.m.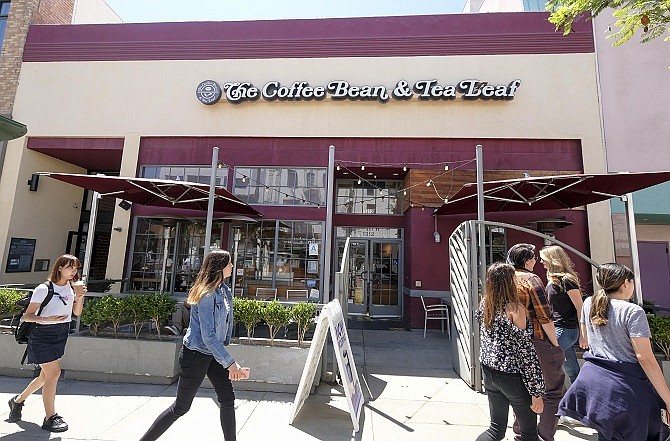 Jollibee's mascot just got a little buzz.
Philippine food giant Jollibee Foods Corp., best known locally for its restaurants' eclectic menu and smiling bee mascot, picked up struggling Los Angeles-based chain Coffee Bean & Tea Leaf in a $350 million deal.
The acquisition shifts ownership of the Southern California institution overseas while providing a foothold for Coffee Bean's expansion in Asia, where the brand is gaining popularity.
Founded in 1963 with a store in Brentwood, debt-laden Coffee Bean has struggled to compete in the $12 billion U.S. coffee shop industry, which is dominated by Seattle-based Starbucks Corp. and Canton, Mass.-based Dunkin' Donuts.
"Whenever an L.A.-raised company is bought that's not good news for us," said Stephen Cheung, president of World Trade Center Los Angeles.
"But on the flip side, it's created such a brand name internationally that it gained the interest of a brand like Jollibee," Cheung added. "It's a sign that L.A.-based companies continue to have a global recognition and dominance."
In July 24 filings with the Philippines Securities and Exchange Commission, Jollibee said it entered into an agreement to buy 100% of the Coffee Bean & Tea Leaf brand, owned by International Coffee & Tea. The deal is expected to close in 60 days.
Jollibee is investing $100 million — an 80% stake — in a holding company that will acquire 100% of Coffee Bean. Viet Thai International Joint Stock Co. will take a 20% stake. Jollibee said it also plans to issue shares worth at least $250 million in the holding company within six to nine months and plans to take the company public within five years.
A representative for Coffee Bean declined to comment on the deal.
Analysts say that even as the coffee franchise market flourishes, companies like Coffee Bean are at a disadvantage.
Despite its popularity, the coffee chain logged $21 million in losses last year, even as it raked in $312 million in revenue, according to Jollibee filings.
"While there is a large number of small coffee store franchises, they struggle to compete with the market power of Dunkin' and Starbucks, which together dominate coffee sales at the retail level," analysts with research firm IBIS World Inc. wrote in a report earlier this month.
"Coffee store franchises are becoming increasingly concentrated in the hands of fewer owners, as large, well-capitalized franchisee networks that own hundreds of stores play an expanding role," the report said.
Jollibee founder Tony Tan Caktiong thinks he can turn the U.S. chain around. Caktiong said in a statement that strengthening Coffee Bean's brand in Asia, where it has 336 stores, is his top priority. He estimates that the addition of the coffee shop brand will add 14% to Jollibee's global sales and help bring the company closer to its vision of being "one of the top five restaurant companies in the world."
Last year, Jollibee acquired Denver-based Smashburger and invested in Mexican fast-food company Tortas Frontera, founded by celebrity chef Rick Bayless. But the Coffee Bean acquisition is the largest to date for Jollibee.
Cheung, who began tracking Coffee Bean in 2011 as it entered the Asian market, said he saw it quickly take off. "A few years later when I was back in Seoul, I saw imitations popping up around them," he said.
Still, he added, "More recognizable brands like Starbucks are still dominating these markets."
Manufacturing, retail and trade reporter Rachel Uranga can be reached at ruranga@labusinessjournal.com or (323) 556-8351. Follow her on Twitter @racheluranga.
For reprint and licensing requests for this article, CLICK HERE.