Community Centered
Business partnerships help Ketchum YMCA adapt to a changing downtown
Friday, July 19, 2019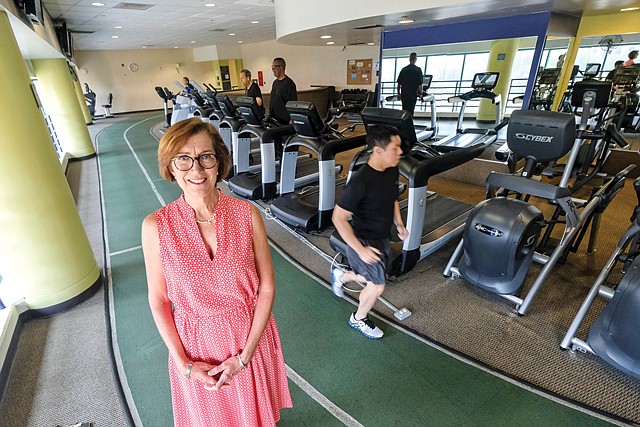 When the Ketchum-Downtown YMCA opened its doors in 1986, the business community almost immediately nicknamed it "The Yuppie Y" because of its reputation as a hot spot for young urban professionals to network while working out.
Unlike most neighborhood YMCAs, the $13 million, three-story building on an office complex roof at 401 S. Hope St. made its debut with a see-and-be-seen event, featuring a black-tie and black-carpet Red and Black Gala (YMCA colors). The event honored the Y's namesake and lead donor, Los Angeles real estate investor Stuart Ketchum, who gave $3 million toward the project. Its opening marked the first Y presence downtown in 17 years.
The Ketchum Y's highest-profile fundraiser, the annual Stair Climb, celebrated its 25th anniversary last year. The event remains a highly popular draw for individuals as well as teams sponsored by downtown corporations and law firms willing to power their way up 75 stories — that's 1,664 stairs — of downtown's U.S. Bank Tower to raise funds for the Y's youth and community programs.
Jennifer Nickerson, senior vice president of corporate citizenship for downtown-based City National Bank, called the Stair Climb a huge rallying point for City National. She has served on the board of managers for the Ketchum-Downtown Y since 2015 and has made the climb four times.
"Every year they hand me an award for the fastest female board member who climbs," joked Nickerson. "I'm also the only female board member who climbs, so no one else will be taking away my crown."
The civic engagement mission of the downtown YMCA — one of 26 branches of the larger YMCA of Metropolitan Los Angeles group and part of the nationwide nonprofit — hasn't changed in its 30 years of operation. The YMCA still maintains a high level of interaction and partnerships with companies doing business downtown. Its board of managers includes executives from Brookfield Properties, Gensler, Oaktree Capital Management, law firm Latham & Watkins and others.
Business partnerships
Downtown-Ketchum Y's Executive Director Carol Pfannkuche said the Y has partnerships with about 100 businesses, some of which subsidize Y membership fees for employees as an alternative to an in-house gym.
Still, those involved with the downtown Y say the identity of the facility has been called upon to change with the changing face of downtown, which is rapidly becoming a viable place to live as well as a place to work.
That means catering to the needs of residents as well as commuters, Pfannkuche said. "In order for downtown's renaissance to stick, people have to be able to live here and raise a family here throughout a generation. Downtown was commuter-centric. We are just starting to develop the enrichment of life that goes around work. And the Y is the center of that."
A YMCA affiliation, Pfannkuche added, can be an attraction for the potential employee eager to be part of an office that gives back to the community.
Nobody says "yuppie" anymore, nor can they ignore downtown as a fast-growing residential neighborhood. Central City Association of Los Angeles Chief Executive Jessica Lall said downtown has about 70,000 residents today compared with fewer than 10,000 in 2000. The organization predicts 250,000 downtown residents by 2040.

"I think the Y has … done a fantastic job of adapting to the changing makeup of downtown L.A.," Lall said. "They have been very involved with us at CCA, which is predominantly comprised of businesses and companies."
Lall cited a 2019 study on downtown residents from Loyola Marymount University in Westchester that said downtown residents identified a need for overall amenities to support the community, including parks and schools.
"The Y has really stepped up proactively to be part of filling those gaps," Lall added. "The business community benefits from that (when) people are able to move downtown and have a better quality of life, with support for children and seniors."
City National's Nickerson, for example, has a son who is a counselor-in-training at Downtown-Ketchum's summer camp. Although she doesn't live downtown, she can take advantage of the Y's location to drop him off and pick him up around her work schedule. "If you have a Y in your community, it speaks to the health and well-being of the whole community," she said.
Parent friendly
Rob Jernigan, co-regional managing principal for Gensler's Southwest region, said Gensler actively sought to place one of its architects and senior partners who was a young parent, Kelly vanOteghem, on the Ketchum-Downtown board of managers.
Whether an employee lives downtown, Jernigan believes having kid-friendly amenities close to the workplace makes sense. "In the old days, we put day care by the home because that's where the mother was," he said. "With a working mother, wouldn't you rather have your child two or three blocks from your office than adjacent to an empty house?"
Ketchum-Downtown Y's Pfannkuche and others are aware that the burgeoning downtown population has brought with it more boutique gyms, yoga studios and chain fitness clubs. Still, the idea is to offer something more than a workout.
"Ultimately, the YMCA is all about relationships," she said. "Many for-profit facilities, their business model is this: You come in, get trapped into a contract, and then they count on the fact that you are not going to show up. You come into the Y, we are going to welcome you and make it affordable for you. And then, if you don't show up, we're going to call you and say, 'Hey, you weren't here last week, we miss you.'
"It's so much more than fitness."
For reprint and licensing requests for this article, CLICK HERE.