Gig Law Could Hit Truckers
SMALL BUSINESS: Cause for concern among contractors
Friday, July 12, 2019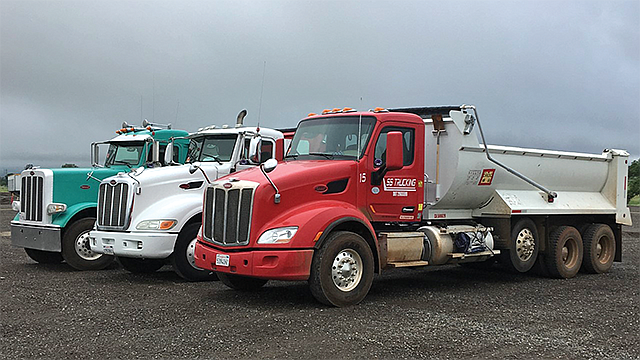 The gig economy is being tested, and it's not just ride-hailing companies like Uber Technologies Inc. and Lyft Inc. that could be impacted. 
A widely watched bill winding its way through the state legislature could force a range of freelance workers and small businesses, from rideshare drivers and truckers to therapists and yoga instructors, to become employees — fundamentally changing the nature of contract work.
"There's a possibility that we may not be able to continue the business as we know it," said Marco Silva, a 30-year-old truck driver who runs Silva Sons Transport Inc. with his father and brother.
The legislation would codify a 2018 California Supreme Court ruling that requires companies to show their contractors are free from direction and control, that they perform work outside the company, and that they run an independent business or trade.

If they can't prove those things, companies must treat the workers as employees. The proposed legislation would also expand wage, hour and benefit protection to employees.
"It's a huge game changer," said Jennifer Barrera, executive vice president of the California Chamber of Commerce. "It's going to be positive and negative depending on where you fall."
Already Silva, who estimates he can easily make six figures in a good year, said he's seen other truckers get turned away from jobs hauling demolition and construction debris because companies are concerned it could violate the ruling.
"Construction companies are starting to buy their own trucks, so they don't have to subcontract with people like me," he said.
Fine-tuning the legislation
The legislative effort, led by San Diego Assemblywoman Lorena Gonzalez and sponsored by the California Labor Federation, has sparked a statewide reckoning over the status of independent workers. 
Pro-labor groups argue the rules are necessary because employers have been lowering their labor costs at the expense of workers and taxpayers. Opponents contend contractors and businesses need more flexibility. 
The public face of the debate has largely been drivers for Uber and Lyft who want to be treated as employees — by being paid a minimum wage, being eligible for overtime and being allowed to organize as a union to bargain collectively with the companies.
"This is meant to impact primarily workers that don't have bargaining power, that are basically low-wage workers or even middle-income workers," Gonzalez said. But she added that there's more work to be done.
Many say the legislation would have a much broader impact, and the proposal has drawn fierce debate in the Capitol.
Hundreds of workers, union members and lobbyists showed up to a July 10 committee hearing in Sacramento where policy makers carved out more than a dozen professions from the legislation including beauticians, dentists, insurance agents and brokers. Behind the scenes, lobbyists are working to reword large parts of the bill, so it doesn't end up harming many of the workers it's intended to protect.
"I don't ever want to hurt workers," Gonzalez said.
Business impacts
Should the bill pass, it's likely to raise costs for many California companies.
Payroll taxes and other benefits could add up to 44% more labor costs, according to a 2018 study by Beacon Economics. 
Gonzalez countered that workers who are not classified correctly wind up costing more in the form of social safety net programs. 
The state's Division of Labor and Standards Enforcement estimated $7 billion is lost annually in payroll tax revenue from the arrangement. 
The issue has especially resonated in the trucking community where the California Trucking Association and two independent operators sued the state over the Supreme Court ruling, arguing it violates a federal law that prevents states from setting prices, routes and services.
"Owner-operators have always been a part of the trucking industry," said Chris Shimoda, an executive with the truckers' association. It's estimated about 7% of California's 1 million truckers own and operate their own trucks, like Silva. 
Trucking companies have come under fire after a campaign by the International Brotherhood of Teamsters revealed unfair employment practices at some small trucking companies.
Los Angeles City Attorney Mike Feuer filed a lawsuit last year against three trucking companies alleged to have underpaid drivers. The Teamsters have also helped file hundreds of drivers' claims with the office of California's Labor Commissioner for back wages and other unfair treatment.
Shimoda said there were some egregious practices in the industry that needed to be corrected, but he said the legislation as it stands could hurt independent drivers who have paid as much as $150,000 for their own trucks.
Silva, who was on a path to law school before purchasing his truck a few years ago, said the issue is complex.
"I understand why guys in the port want to become employees. Some are making minimum wage," he said. "But for me, there is no way I would make the amount of money I do as an employee. It's enough to support a family."
For reprint and licensing requests for this article, CLICK HERE.