THE SUITE LIFE
Amina Belouizdad I The Private Suite
Friday, July 5, 2019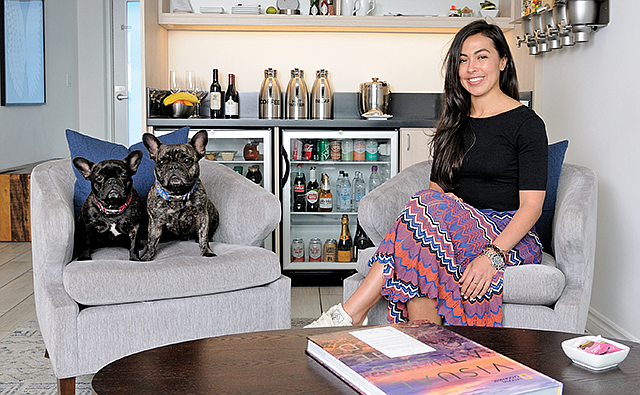 Amina Belouizdad, chief commercial officer of 2-year-old Private Suite at Los Angeles International Airport, jokes that she keeps bottles of Dom Perignon champagne on hand at all times "in case of emergency."
Here at the private terminal, being ready to pop the bubbly at a moment's notice is as much a part of proper flight preparation as an oxygen mask and miniature bag of pretzels.
True, a bottle of Dom is a special order, not something you'll find in the minibar in one of the terminal's 13 private suites. But pretty much anything else the pampered traveler could want is provided by the private terminal, which is owned and operated by Studio City-based Gavin de Becker and Associates security firm.
Travelers using the private terminal avoid Transportation Security Administration lines by arriving through a special entrance. A private car carries them across the tarmac directly to their scheduled flights.
Other perks include luggage handling, complimentary preordered meals, valet service, manicures, massages and haircuts, plus a bevy of snacks, neck pillows and silk eye masks for the flight. Belouizdad said LAX is the first U.S. airport to offer a private VIP terminal for commercial flights.
"We try to anticipate your every need, so you don't have to worry about it," said Belouizdad, who helped herself to jelly beans from a suite's candy dispenser, which she says is very popular with guests.
A membership to the VIP terminal runs $4,500 in annual dues, plus $2,700 for services provided for each domestic one-way flight and $3,000 on international one-way flights. For nonmembers, the per-flight fees are slightly steeper.
Even in celebrity-heavy Los Angeles, Belouizdad said most clients aren't famous — they're just looking for a hassle-free luxury travel experience.
Belouizdad, who holds an MBA from the Wharton School at the University of Pennsylvania and has a background in hospitality, oversees the company's commercial strategy, growth and expansion. She spends as much time in the air as she does in her office, which is across the street from the suites.
For her atypical career, she's created her own look. During this visit from the Business Journal, she combined a Missoni knit skirt with Fendi athletic shoes and an inexpensive tee.
"I love fashion. It's one of the ultimate ways you can express yourself," she said. "Like, I play instruments, but I'm not doing it every day in front of everyone. I love picking out my outfits every day."
Belouizdad said she likes "mixing high and low," for example, "I'll wear sneakers, and then I'll wear a really nice dress. Or I'll wear nice shoes and ripped jeans."
"To me, that is the art, mixing these things because if you are wearing designer head to toe, that's not style — that's wealth."
For reprint and licensing requests for this article, CLICK HERE.
Stories You May Also Be Interested In