Stakes are High in Grocer Talks
RETAIL: Strike could hit hard for stores and union
Friday, July 5, 2019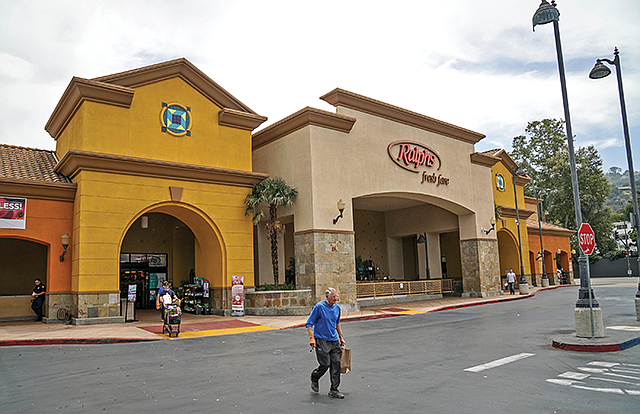 Before there were clerkless stores or online ordering, before Amazon became a household name and on-demand delivery became an expected perk, the longest labor standoff in supermarket history rocked Southern California — cutting into the market share of goliath chains Ralphs Grocery Co. Inc., Albertsons Cos. Inc. and Vons Cos. Inc., and costing more than $1 billion.
Sixteen years later, another strike could be on the horizon. And this time, as workers and the grocery stores that employ them face increased competition, the stakes may be even higher for both sides.

Nonunionized Walmart Inc. has come to dominate the grocery business, and the entrance of another giant, Amazon.com Inc., into the game has hastened the push toward fast delivery. All the while, employees' jobs are increasingly automated, and robots can do more and more of their work.
The checkout line is expected to disappear in the coming decade, some analysts believe.
"Conventional grocers are losing market every day to Amazon and alternative formats like Trader Joe's and Costco," said David Livingston, an independent supermarket consultant. "Going on strike against a retail format that is declining will only quicken their demise."
That's not how the situation is viewed by the seven local unions of United Food and Commercial Workers, which represents 60,000 workers in Southern California. That's not only about 10,000 fewer than before the strike 16 years ago, but the majority of those members now work part time – a shift from years past.
The union claims grocery companies want to lower wages for new checkers. Top wages for those workers would drop from to $32,000 from about $43,500 a year, assuming they worked full time. The grocers are offering less than 1% annual salary increases.
"When your back is up against the wall, what does one do except say that I can't take this anymore?" said John Grant, president of Local 770, which covers Los Angeles County and is the largest of the seven locals.
Strike authorized
Last month, 96% of union members casting a ballot voted to authorize a strike. The vote doesn't mean there will be a strike. Rather it gives union leaders the option to call for one. The next round of negotiations is scheduled to begin July 10.
The union got a boost July 1 when the Los Angeles County Federation of Labor, representing 800,000 workers and their families, endorsed the strike, raising the possibility of wider picket lines and boycotts. The umbrella union organization represents 300 local unions including truck drivers from the Teamsters.
During the last strike, store deliveries went unmade as Teamster truck drivers refused to cross picket lines.
The vote could provide a powerful bargaining chip to clerks and stockers that have seen their ranks shrink as automation has taken some of their jobs. But a strike could also cripple their already weakened union.
"In five or 10 years, these jobs may not exist," Livingston said. "A strike, everyone loses."
Many of the issues in play in 2003 and 2004 — including wages and health care — are at the center of today's dispute as the chains try to keep labor costs low amid competition from nontraditional, nonunion stores such as Walmart and Trader Joe's.
Union officials not only argue that some workers stand to lose wages, but they contend grocers want to reduce contributions to a group health care plan that could tilt the fund toward bankruptcy.
As the battle of wages plays out, the creep of automation hangs over the negotiations.
"There is no denying that artificial intelligence is playing a greater and greater role," said Grant, the union president. "Many analysts said the service store is going to be removed, and the check stand is going to look different than it did before."
What the union wants is a greater voice in how the investment in technology is deployed and how workers are positioned to train for new jobs, he said.
"We want these brick-and-mortars to succeed," Grant said. "We want a discussion to take place instead of being in a faceless locker room."
Supermarket concierge
Grant argues that stores such as Gelson's in Silver Lake, which is also union, has transitioned to become more service-oriented and is successful. The supermarket skews toward higher-end shoppers and has a concierge, a bar and a deli. Grant said that doesn't work in every neighborhood but added, "People go to brick-and-mortar (stores) as opposed to going online because, we would argue, of the human element."
But those humans no longer are needed as much in daily transactions.
Online grocery shopping still only composes a small part of the market, analysts say, in part because consumers still want to see their produce. But by 2022, it's estimated that online grocery shopping could grow to between 5% and 10% of the market, according to a CBRE Group Inc. report on food delivery released last month.
At the same time, technology — from overhead cameras that follow customers to smart sensors that track which items are taken from or put back on shelves — will shift in-store experiences and lessen the need for labor.
Albertsons and Vons, owned by New York-based private equity firm Cerberus Capital Management, along with Ralphs, which is held by Ohio-based Kroger Co. are both pouring money into ecommerce and other digital investments.
Last year, Kroger invested in U.K.-based online supermarket Ocado to develop 23 automated warehouse facilities in the United States.

"Ralphs is innovating to meet the ever-changing needs of our customer base by offering a wide variety of products and convenient checkout formats, including online ordering and home delivery options," said John Votava, a spokesman for the company. "In our app-based society, many of these formats are actually creating jobs in our stores to help fulfill orders, whether it be through self-checkout, scan bag-and-go or Ralphs pickup. "
But it hasn't changed the salary, workers point out.
"It's getting harder to live with the wage we get here," said Edwin Ruiz, a produce clerk at Ralphs in Sawtelle. He didn't vote on the strike and likely wouldn't participate even though he was sympathetic. "I do think that the idea of the strike is good if they don't come to an agreement soon." But he added, "It's more important for me to keep getting a wage."
Tammer Bagdasarian contributed to this report.
For reprint and licensing requests for this article, CLICK HERE.