PacWest Looks for Next Move
FINANCE: Bank probes options after Q4 deal nixed
Friday, January 25, 2019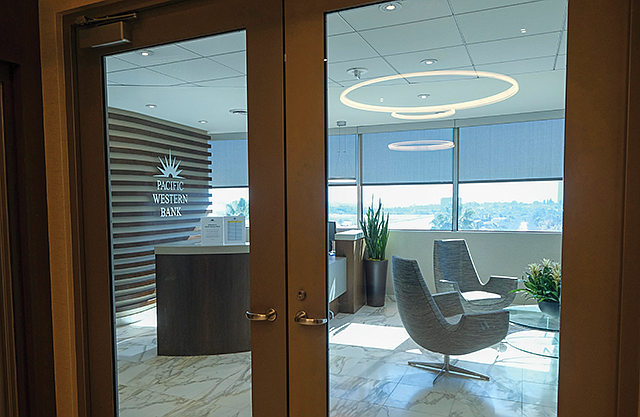 Beverly Hills-based PacWest Bancorp has cobbled together 29 acquisitions over the last two decades to make its Pacific Western Bank unit the second largest independent bank in the L.A. region with more than $25 billion in assets.
Acquisition No. 30, however, has proved a stumbling block for the firm.
The proposed purchase in September of Placerville-based El Dorado Savings Bank for $466.7 million in stock and cash fell apart over the last four months, leading to the deal's cancellation Jan. 9.
"It was very disappointing. It was just unfortunate," said John Eggemeyer, chairman of PacWest since its formation in 2000.
A major reason behind the deal's collapse was the performance of PacWest's stock, which dropped precipitously in the fourth quarter of 2018 along with much of the stock market.
Because a substantial portion of the El Dorado Savings acquisition was made up of PacWest stock, the deal value plummeted, too: By the time PacWest terminated the deal earlier this month, according to deal terms provided by the bank, the price tag of the proposed acquisition had shrunk by more than a quarter of its original value to $349.43 million. At one point, on Christmas Eve, the value of the deal had fallen to $313.16 million, down 32.9 percent from when the transaction was announced in September.
With a sizeable chuck of the deal value erased, the sellers didn't see much sense in selling their bank, and El Dorado Savings shareholders failed to ratify the transaction in a vote at a special meeting Jan. 9.
There could be another bid by PacWest for the NorCal bank, but both sides said that wasn't likely to happen in the immediate future.
"In order to stabilize things here, we are not looking to do a deal right away," El Dorado Savings Chairman Thomas Meuser said in an interview. "We have to keep things going forward as an independent bank. We told the employees that we are not soliciting or encouraging any offers.
"We are sorry it failed. We wanted it to go through."
Eggemeyer's musings echoed Meuser's sentiment.
"I was going to give the analogy of a girlfriend who you might go back with in time. But it's hard to know. It's hard to go backwards," Eggemeyer said.
"I think PacWest feels the board and management at El Dorado were incredibly honorable. That's not the issue but whether you can have a sense of comfort to get the vote in the future," he said. "I think right now, it's best for everybody to let the dust settle for a while.
Prev Next
For reprint and licensing requests for this article, CLICK HERE.