Local VC Money Finding Stride
After missing on Snap, LA firms hit big with Ring
Friday, January 25, 2019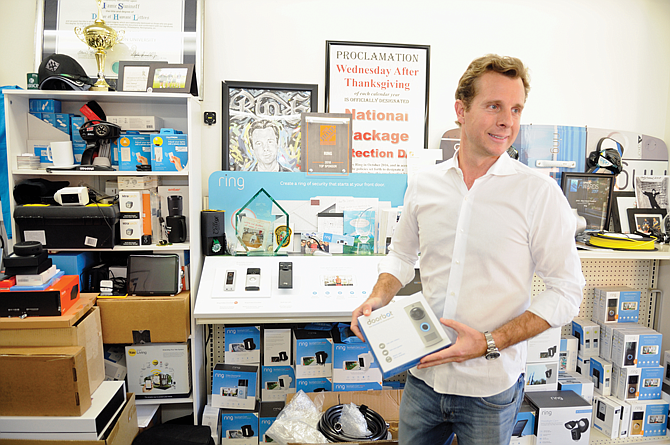 Two recent big-ticket Silicon Beach exits by Venice-based Snap Inc. and Santa Monica-based Ring Inc. show that Los Angeles-based venture capitalists might be getting better at identifying the best local startup talent.
After being shut out completely before Snap's initial public offering in March 2017 – there were zero local VC firms with money in the ephemeral photo app-maker before its initial public offering – local firms were well represented in Ring's investor base at the time of Ring's $1.2 billion sale in April to Amazon.com Inc.; seven of the 31 investors in the camera-equipped doorbell-maker were from Los Angeles, according to numbers provided by PitchBook Data Inc.
The local VC firms and angel investors who bet money on Ring included Upfront Ventures; Scott Marlette, founding partner of Santa Monica-based Slow Ventures; Sky Dayton, founder of Boingo Wireless Inc., based in Westwood; Michael Broukhim, chief executive of Beverly Grove-based FabFitFun Inc.; Beverly Hills-based M13 Ventures Management; Century City-based Queensbridge Venture Partners, founded by rapper Nasir "Nas" Jones; and Pasadena-based Calibrate Ventures Management.
Ring received a total of $284 million in funding from its 31 investors before it was purchased outright by Amazon last year.
Upfront was one of the larger contributors to Ring's funding and, according to Managing Partner Mark Suster, approached Ring first looking to invest based off company founder Jamie Siminoff's track record.
"Jamie Siminoff is amongst the most talented inventors and entrepreneurs that we know of in L.A. We had watched him on his previous two companies, and we decided that whatever he decided he wanted to do next, we wanted to work with him," Suster said.
Upfront participated in every Ring funding round, ultimately contributing more than $30 million to the company, Suster said.
That early and repeated investment strategy stood in stark contrast to Upfront and other local investors' failure to get in early on Snap, a miss Suster said still haunts the firm.
"Of all the deals I missed in L.A., that's the No. 1 I regret missing," he said. "We would have overwhelmingly loved to have invested – current problems notwithstanding. Last time I checked Snapchat, they had already fallen from grace but were still worth $8 billion."
Different platforms
Part of the reason for the divergent investment records on Snap and Ring comes down to the product the respective companies were offering, Suster said.
"I just felt like the risks were too high for me, and it wasn't worth it even if I made money," Suster said of investing in Snap.
The army of Snapchat competitors also made Upfront cautious.
"Snapchat was a consumer product that's not hardware, and it got immediate usage. There were a lot of competitors, so it wasn't clear that it was going to be the winner," Suster added.
There were additional factors that caused Suster to hold back on Snap. Prior to looking into the company, Upfront made a small investment in a similar company, San Francisco-based social network Skout Inc. Suster said following Upfront's investment in 2012, three young children were sexually abused via the app, The New York Times and other outlets reported. In the early days of Snapchat, the focus was on the app's disappearing messages – often of a salacious nature – and Suster said Upfront was wary of a similar scandal.
Despite the warning signs, Suster praised the technical work of Chief Executive Evan Spiegel, which, he said, is often overlooked.
"It was clear there were a lot of people using it," he said. "Evan is generationally talented. He changed the (user experience) for the entire industry. No one worked that way – the idea you open the app, and it starts with the camera on – he innovated the user base of our generation."
Ring's rise
When Santa Monica-headquartered Ring announced it was being sold for $1.2 billion to Amazon in April 2018, it was a massive leap from its humble beginnings in 2012.
Chief Executive Siminoff brought the original concept for Ring, a Wi-Fi and camera-enabled doorbell then called Doorbot, to the Walt Disney Co.-owned ABC network show "Shark Tank," where several billionaire judges passed on investing. Siminoff was out $10,000 after constructing the pitch – which included a front door set with working door and Doorbot camera – but the appearance on the show was good publicity, and orders for the product began pouring in.
After rebranding as Ring in 2014, the firm embarked on a series of funding rounds featuring participation from several local investors.
Dayton, the founder of Westwood wireless provider Boingo Wireless, was immediately impressed with Siminoff, describing him as a triple threat.
"He understands technology, he's an incredible marketer, and he cares deeply about his customers and improving their lives," Dayton said. "I loved how he found a way to make neighborhoods safer with a simple product anyone could install, and I jumped aboard."
Dayton, who said he uses Ring products, invested in its first round and "in every round until the second to last."
Future outlook
Ring and Snap's futures are still nebulous as both face stiff competition in their respective marketplaces.
Snap, valued at nearly $30 billion at the time of its March 2017 initial public offering, has lost more than $20 billion in value since the IPO. Various staff departures, a sliding stock price and discontent among shareholders have prompted some analysts to predict it could run out of cash toward the end of this year. Challenges from other social media platforms – particularly Facebook Inc.'s Instagram app – have also created headwinds.
Ring has come a long way from "Shark Tank," and Siminoff has big plans for the security firm. But it also must tackle competitors, including Boston-based security retailer SimpliSafe Inc., valued at $190 million; and Vivint Inc., a Utah-based firm last valued at $2 billion in November 2012.
Siminoff said he isn't worried about competition.
"I believe our mission-driven approach enables us to communicate value to customers, achieve success, and attract investors both locally in Los Angeles and nationally," he said.
"We plan to continue pursuing our mission of reducing crime in neighborhoods with the help of Amazon and their abundant resources," Siminoff said, adding that the company launched 13 new products at the recent Consumer Electronics Show.
For reprint and licensing requests for this article, CLICK HERE.