Local VC Money Finding Stride
After missing on Snap, LA firms hit big with Ring
Friday, January 25, 2019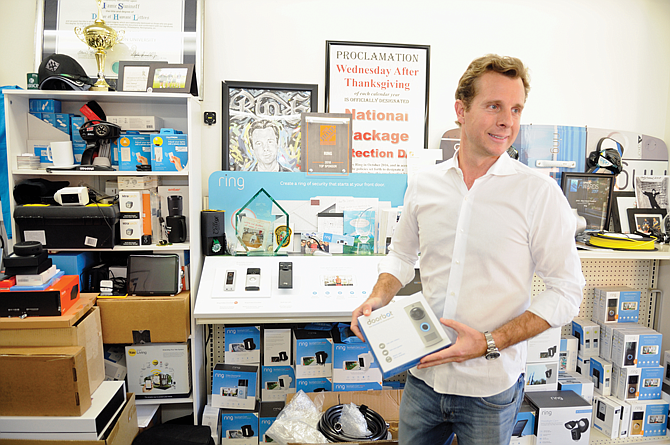 Two recent big-ticket Silicon Beach exits by Venice-based Snap Inc. and Santa Monica-based Ring Inc. show that Los Angeles-based venture capitalists might be getting better at identifying the best local startup talent.
After being shut out completely before Snap's initial public offering in March 2017 – there were zero local VC firms with money in the ephemeral photo app-maker before its initial public offering – local firms were well represented in Ring's investor base at the time of Ring's $1.2 billion sale in April to Amazon.com Inc.; seven of the 31 investors in the camera-equipped doorbell-maker were from Los Angeles, according to numbers provided by PitchBook Data Inc.
The local VC firms and angel investors who bet money on Ring included Upfront Ventures; Scott Marlette, founding partner of Santa Monica-based Slow Ventures; Sky Dayton, founder of Boingo Wireless Inc., based in Westwood; Michael Broukhim, chief executive of Beverly Grove-based FabFitFun Inc.; Beverly Hills-based M13 Ventures Management; Century City-based Queensbridge Venture Partners, founded by rapper Nasir "Nas" Jones; and Pasadena-based Calibrate Ventures Management.
Ring received a total of $284 million in funding from its 31 investors before it was purchased outright by Amazon last year.
Upfront was one of the larger contributors to Ring's funding and, according to Managing Partner Mark Suster, approached Ring first looking to invest based off company founder Jamie Siminoff's track record.
"Jamie Siminoff is amongst the most talented inventors and entrepreneurs that we know of in L.A. We had watched him on his previous two companies, and we decided that whatever he decided he wanted to do next, we wanted to work with him," Suster said.
Upfront participated in every Ring funding round, ultimately contributing more than $30 million to the company, Suster said.
That early and repeated investment strategy stood in stark contrast to Upfront and other local investors' failure to get in early on Snap, a miss Suster said still haunts the firm.
"Of all the deals I missed in L.A., that's the No. 1 I regret missing," he said. "We would have overwhelmingly loved to have invested – current problems notwithstanding. Last time I checked Snapchat, they had already fallen from grace but were still worth $8 billion."
Different platforms
Part of the reason for the divergent investment records on Snap and Ring comes down to the product the respective companies were offering, Suster said.
"I just felt like the risks were too high for me, and it wasn't worth it even if I made money," Suster said of investing in Snap.
For reprint and licensing requests for this article, CLICK HERE.
Prev Next